Director Joe Sill made a name for himself by creating a self-initiated spec ad for Tesla that ended up going viral – and catching the attention of Tesla founder Elon Musk. 
Joe's latest project, "Reach," for a proposed vertical takeoff and landing (VTOL) aircraft features the same themes of childhood and imagination as the Tesla ad, but it also looks back at the history of aviation.
Interestingly, all of the VFX shots were created entirely in After Effects, using Video Copilot's Element 3D plugin for texturing and lighting CG assets. We caught up with Joe for a little more info.
Q&A with Joe Sill: Making "Reach"
How did this project come about?
This project came to me through a crowdfunding agency called CrowdfundX, who were looking to create an emotional, uplifting piece about XTI's conceptual TriFan airplane.
So let's see: You wrote, directed, edited and did all the VFX work for this project. You are truly a renaissance man! I'm most impressed that you wrote it, honestly. What was that process like?
The process was great! I work with a shorthand of extremely talented individuals in different departments that are honestly so smart, and I'm always excited to work with them.
I'll take the client's notes and brief and go out and find my inspiration. I'll then chalk up the concept, bring it to the client to gauge their receptiveness and make revisions together.
From there, I'll bring those creative ideas to my team, and I'll discuss in great detail everything I'm looking to accomplish — and then they'll come back with all the answers on how to do it — or a better way that I didn't see coming.
That's the beauty of working with people that love what they do! It's always a wonderful synergy.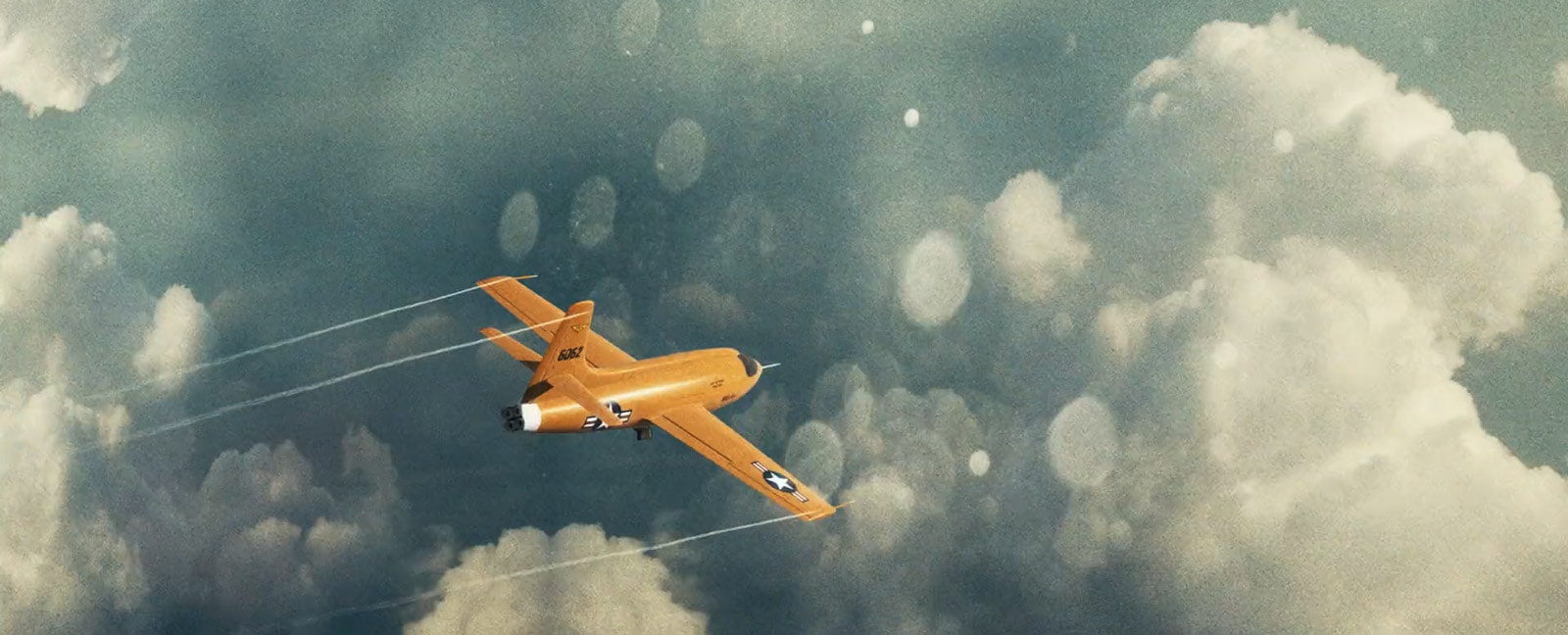 Let's talk about Element 3D. You used it for all the VFX shots, right? How did you come to that decision?
Element 3D brought all the planes to life at such a speed. We were on an unbelievably quick turnaround ("2 week overall post-production" quick), and I know Element 3D's capabilities of real-time rendering and texturing are incomparable, so it was a no-brainer.
I raised myself on After Effects, so compositing is second-nature for me. Even on set, I'm looking at the world from both an editor's and compositor's perspective. If it's not a necessary shot or doesn't frame up to be useful later, it doesn't get shot.
What did you like most about working with Element 3D?
I loved its real-time nature and efficient workflow — all the tools were there in one place. I'm no CG master by any means — I've got friends that are much better than I am for that!
Even on set, I'm looking at the world from both an editor's and compositor's perspective. If it's not a necessary shot or doesn't frame up to be useful later, it doesn't get shot.
So, for me who's a visualist director, it allows me the capability to express my ideas quickly and bring something to life, swiftly and effectively. It's ray-tracing shadow capabilities also allow me to set up a 3D world via comp lights in After Effects, and give a CG object a great about of realism. It's a compositor's best friend.
…and what did you like least?
I didn't model these CG planes — and if I needed to, Element would not have been the tool to use. Thankfully, all I needed to accomplish was to render, animate, light and texture at light speed. So it made complete sense.
What are you working on now/next?
I've been working on an original feature treatment of mine right now, as well as considering other scripts already developed — and starting pre-production on another commercial! Always another battle.
I'm constantly learning. Even this project brought new ideas to the table on how to accomplish a scope on a deadline.
Credits
Writer / Director: Joe Sill
Client: XTI Aircraft / CrowdFundX
EP: Jerad Anderson
Producer: Nick Erickson
Production Manager: Tyler Zelinsky
Manteca Production Coordinator: Ian Trueb
Director of Photography: Nick Roney
1st A.C.: Ryan Summersett
Production Designer: Tye Whipple
Gaffer: Tanner Hall
Production Sound: Matt Kendrick
Visual Effects & Compositing: Joe Sill
Editor: Joe Sill
Color Correction: Andrew Finch
Sound Designer: Jackie Zhou
PA's: Jesse Cohn • Chris Madrigal
Special Thanks: Matt Jackson, Van Nuys Airport, The Trueb Family, Scott & Myra Erickson, Ryan Johnson
Whitelist | 2015