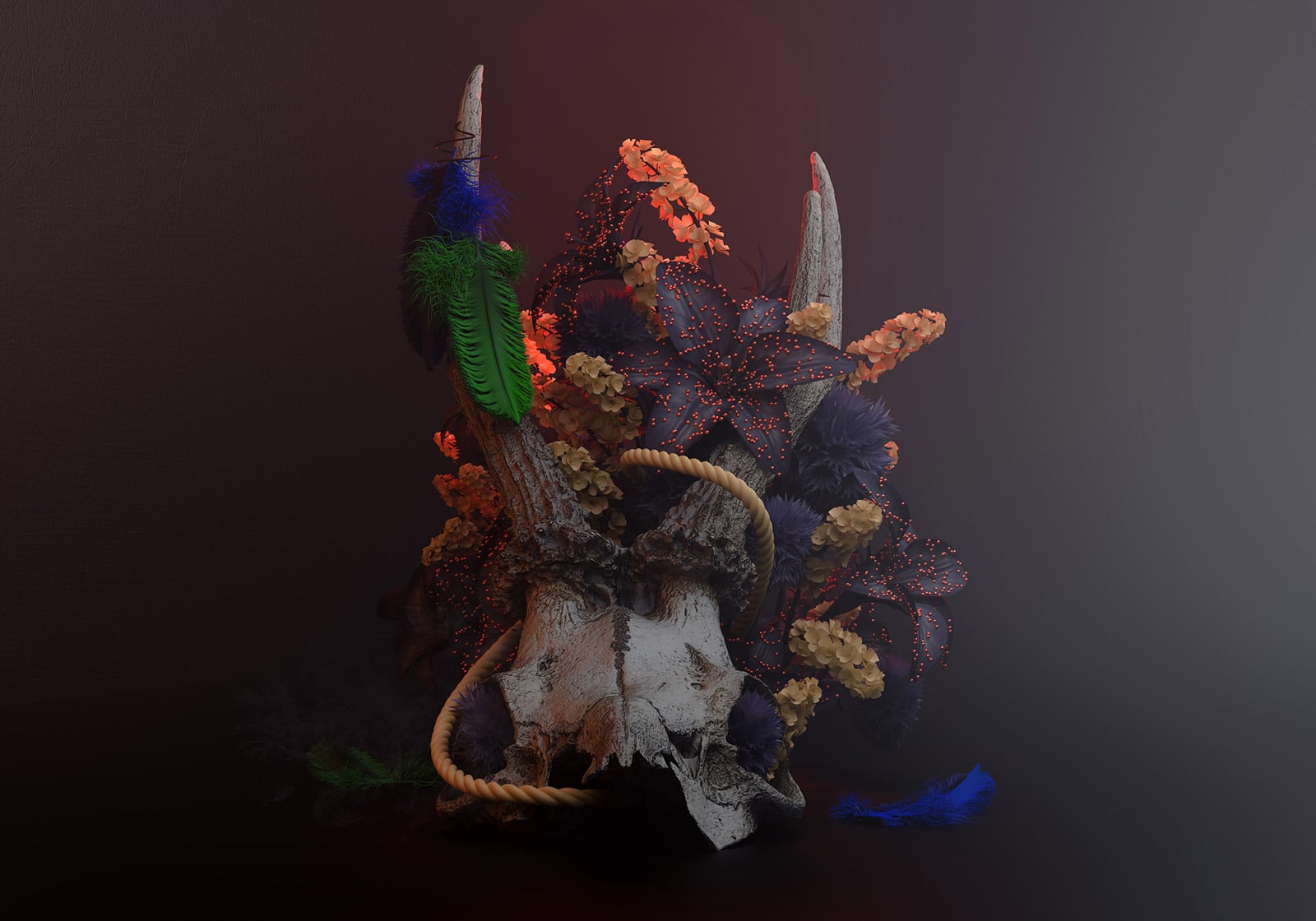 When Rafa Merino posted "Reborn" (above) on Facebook, I froze. Initially struck by its surreal beauty, I then wondered what I was looking at: A photograph? A painting?
Of course it was CG — which only deepened my interest.
I dropped Rafa a line to learn more about his process and his career. Our interview follows his winding path, dotted with beautiful imagery along the way.
Crafting perfection: Q&A with Rafa Merino
In your bio, you say you formerly worked at agencies. What are you doing now?
At the moment I am more focused on freelance work, it lets me be more selective when it comes to choosing projects, but also gives me a chance to give a more personal touch to the art direction and animation.
Working as freelancer offers me the freedom to establish collaborative relationships, and of being able to work with new people from the same area: animators, photographers, developers etc., but also with others a little bit further from the design world. Thanks to this I have the chance to develop more and more complex projects and explore more interesting and outstanding visual solutions.
The lighting and composition of "Reborn" reminds me of the Dutch still life masters. Were they an influence?
Absolutely. "Reborn" is about the fact that there are no endings, just new beginnings, and that kind of treatment allowed me to share this concept exactly how I wanted.
At the beginning, when I was thinking about how could I make all of this happen, I thought about photography. I looked at the collaboration by my friends Alfonso Herranz + Alicia – I had previous experience with them from the "Burger Time Project" — and I was looking for the same finish. Finally I did it in CGI to get a nice result.
In some of your still life pieces, I I see hints of 80s/Memphis-style design mixed in with futuristic aesthetics. Is that something you were into?
Partially, yes. I am quite obsessed with visuals made with easy geometrical shapes, which creates huge visuals with very little details, with just one pure light – the light and the shapes, without extras added.
Some of my references are Carrie Louise, Frank Hulsbomer, Carl Kleiner or studios like Akatre.
What was your role on the "Loft" films?
Loft was work that I co-directed with Juanma Mota, I was mainly involved in the art direction and also style-frames design.
It was an assignment of Hugo and Marie's, so without question I have to emphasize the quality and fluidity of the whole process.
Technically speaking, what tools do you use?
I work mainly with C4D with Arnold Render, Photoshop, Illustrator and After Effects. But from now on, I want photography to become more important in my work, as much in "still life" as in film. That´s why I am also trying to work in that direction.
How has the evolution of CG tools influenced your approach to your work?
They have had a great influence, mainly in the capacity of getting new visuals. A great evolution has been using Arnold Render, as it offers the chance to work while previewing the render almost in real time, thanks to its IPR (interactive preview render).
It offers me the chance to be able to work more deeply on the scene and get better results in less time. Without a doubt, it gives you a critical improvement when it comes to generating new scenes.
This is totally thanks to Marcos Fajardo, the Spaniard who created this render engine, and all his team from Solid Angle.
What would be a dream project for you?
A project where I could have freedom, a project where the client only phones you because they know that you know what you are doing. It is only when you have a trusting environment that the project can be much better.
Also, a project where you work with a team to all achieve the same purpose and everyone is motivated to make it real – that energy is magic!
What advice would you give to people just getting started?
Basically to dream, to work, and to try everything they have on their mind. They should believe in themselves and wake up everyday taking that one step closer to their goal.
They have to learn to act with humility to everyone around them, and they should always be true to themselves. Never surrender, and don't be afraid to restart as many times as necessary.
They should think more about the concept beyond the trick. They have to enjoy this career because it is wonderful.
---
Peruse all of Rafa's work on his site.