While Corona markets themselves as the finest beer around, it seems only suitable that they work with one of the finest directors, Nicolas Ménard.
Produced with Nexus Studios, The History of 'La Cerveza Más Fina' is a beautifully crafted stop motion film which charts Corona's rich history through their ups and downs, and how they've evolved over the years. With Nicolas at the helm, Jack Cunningham leading the art direction, and Gael García Bernal as the suave narrator, it's no wonder this film, while still being a commercial, feels like such a work of art.
The following is an interview with Nicolas Ménard where we chat about what it took to make such a well-crafted piece.
Enjoy!
---
First, congratulations on such an amazing film!
It's rare that the stars align in this way and this definitely seems like quite the ideal project to be a part of. Can you tell us a bit about the initial brief and how the project came about? 
Thanks very much, Joe! Yes, quite the rare opportunity indeed. Agency Observatory sent Nexus Studios a pitch for a film that would promote 100 years of Corona and Mexico's intertwined history. Aesthetically, it had to reference the work of Mexican artist Pedro Friedeberg, but it also had to be its own thing. Nexus saw similarities between our visual universes, so thought I'd be a good match.
It was a lot to wrap my head around. I knew Pedro's work but definitely wasn't an expert, and my knowledge of Mexican and booze history needed a quick fix!
Pedro's love for painting rooms informed the diorama structure of the film, and the physicality of his work (sculpture, figurines, furniture) led to the idea of a stop-frame animation. Luckily, they loved the idea and jumped straight into it.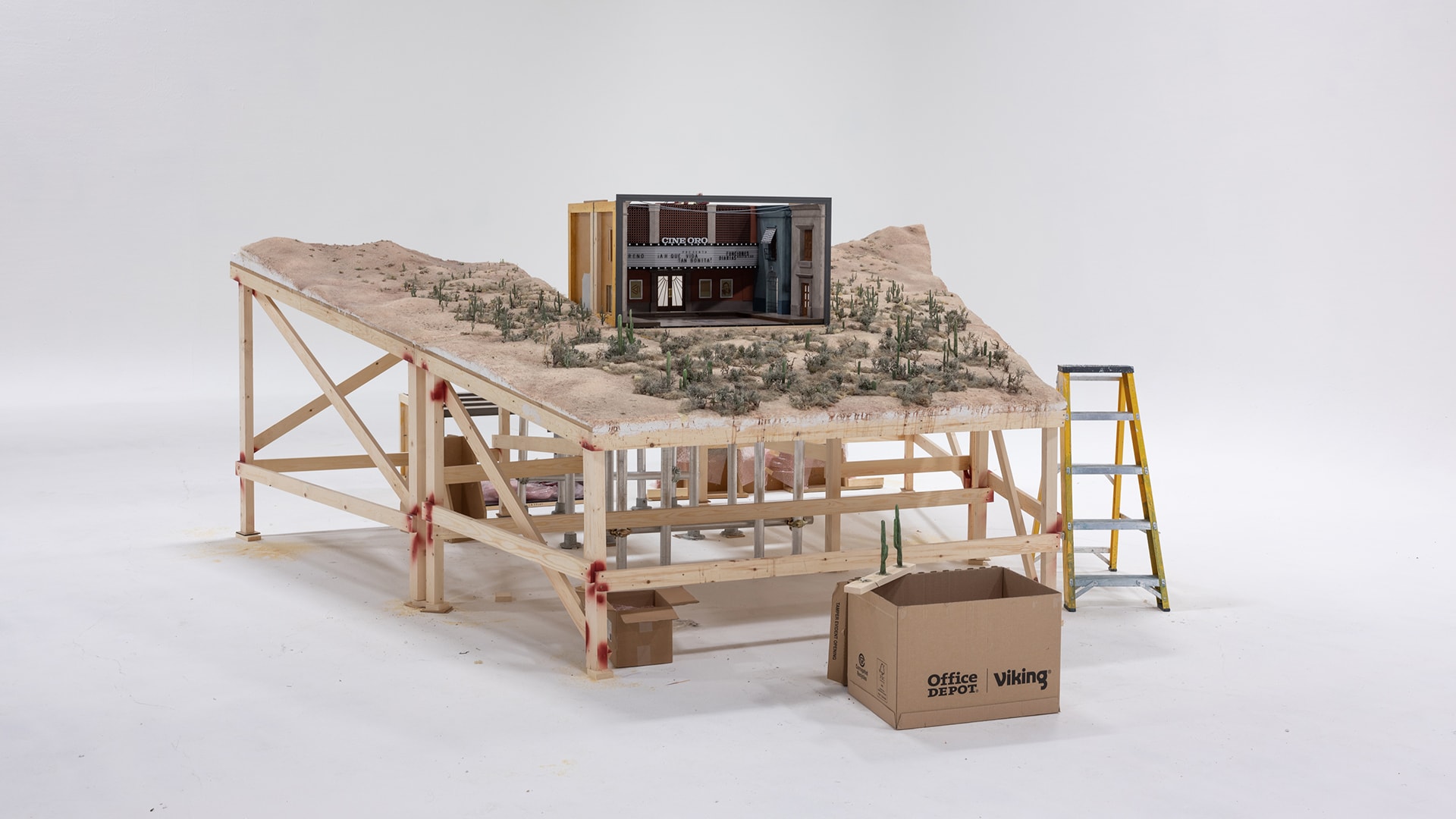 One of the things that I love about the film is its simplicity. It can be really difficult to keep our tendencies to complicate things at bay. Whether it be personally or especially when working with an agency and client. Was it hard at times, to resist the urge to "add more" and trust that simplicity was the way to go?
Definitely. I try to aim for clarity and simplicity in everything I do, but understandably clients want to make sure they get plenty for their buck. It's a tricky balancing act.
For each chapter of the film, we were asked to display a lengthy list of things relevant to that era or event. For example, one of them had to contain cargo ships, planes, trains, and a German bar, all in the same room! We couldn't squeeze it all in… but it forced us to come up with a solution that was legible in a few seconds, and striking enough that the client would be fine with keeping only a single boat and two tiny bars.
The quantity of elements we had to craft meant that we had to focus mainly on design and set building. In our very first animatic, it was already clear that the camera wouldn't spend much time on each chapter. For that reason — and also because of the tight shooting schedule — we tried to keep the animation as simple and evocative as possible, to avoid overwhelming the viewer with action and details.
Similarly, the art direction is spot on. What was the process like going from the 2D concept art to fully realized 3D form and were there any happy accidents along the way?
To create the world, I worked closely with art director and partner in crime Jack Cunningham. We are both animators with a strong interest in design, so we were on the same page in terms of the aesthetic we wanted to achieve from the get-go.
For the rooms, I'd usually start by drawing a small sketch accompanied by visual references. Jack would then run with it and come back with beautifully drawn artworks, adding his own ideas and a layer of ingenuity to it all. We could distribute the rooms between us so when one had spent too much time on a design, the other would have fresh eyes and could more easily fill the gaps. Jack had just finished a splendid commercial for Hometree — also in collaboration with Andy Gent — and provided a great deal of insight in terms of how to achieve a cinematic look using miniatures.
Once we were happy with our concept drawings, our team of modelers brought them into 3D. Callum Strachan would put the rooms together and prepare renders, helping us visualizing lightning and texture, but also our choices of colours.
Illustrator extraordinaire James Graham was our character designer. He emptied our stocks of paper, drawing piles and piles of sketches to create our cast of 71 characters. Andy Hickinbottom translated our very flat, 2D drawings into sculptures using 3ds Max.
We then sent our artworks and 3D models to Arch Model Studio, Andy Gent's acclaimed model-making workshop. Marina Ralph was leading the team of painters, sculptors, electricians and builders. It was an incredible experience to pop by Andy's studio every morning to see it all come to life!
Where did you find reference for this film and how did it inform the process?
A lot of research went into every component of the film. Corona provided a generous 200 pages document on their history, but we also built our own library of images. We dug through Mexican films and hundreds and hundreds of photos of Mexico through the eras.
The great thing about having Pedro's humongous body of work as a starting point was that every time we were short on visual concepts, one of his paintings would show us the way. At some point we were stuck with the design of the modern city, which was lacking some kind of twist. Pedro's cities are quite dense; very gothic or roman in influence. After browsing through his work, the idea of arranging the windows of our slick, minimal buildings in unusual patterns surfaced, and that brought a slight surrealism to the diorama.
Sometimes we would bump into interesting coincidences. The Peso Crisis scene takes place in a stylized version of the 90's Mexico trading floor. At the time, they had a bold black and white vinyl pattern covering the floor. We kept that in, but swapped the original pattern with a Pedro pattern, and that brought a lot of character to the set.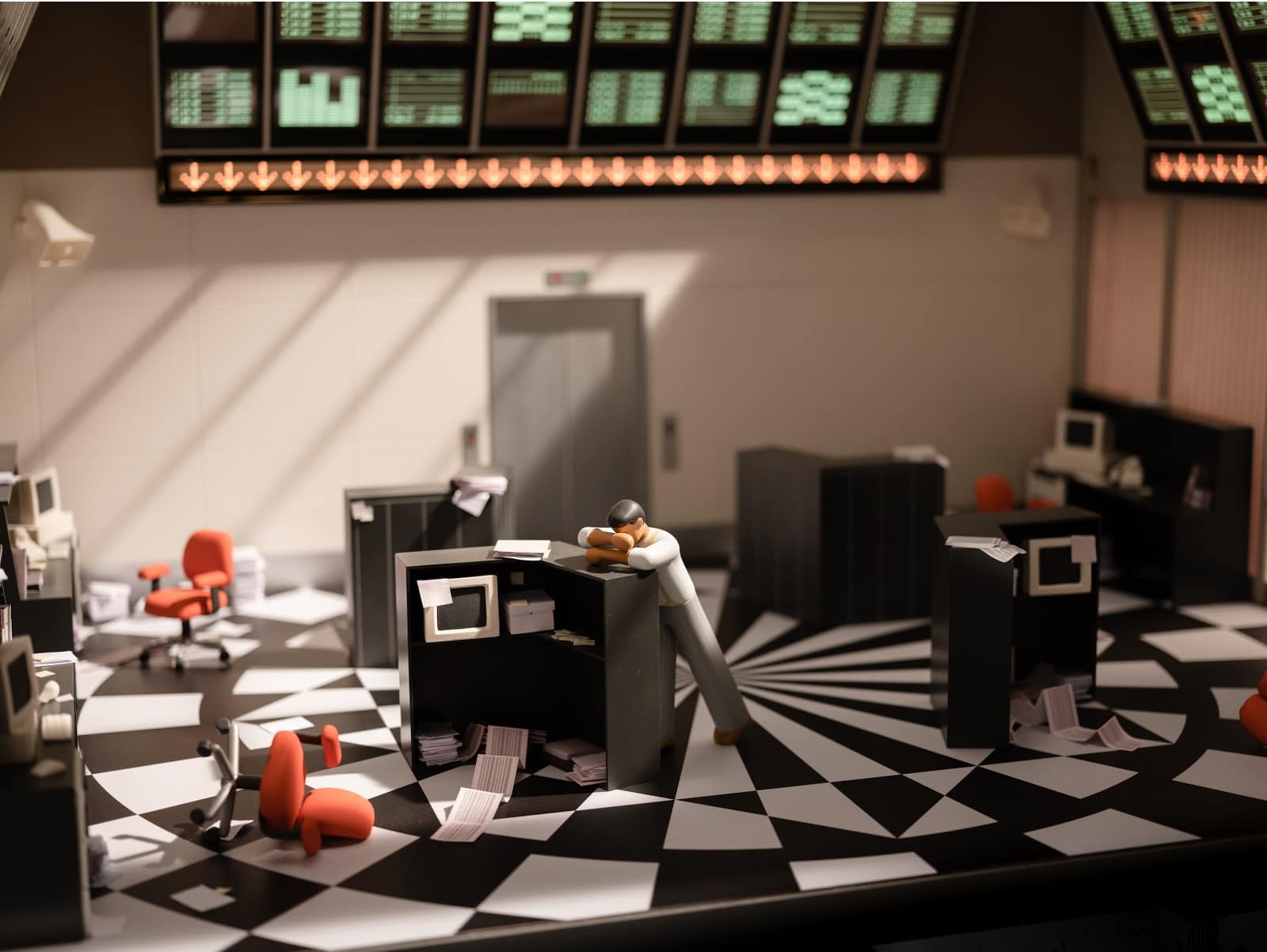 I love that each time you watch the film you pick up on new details in the backgrounds and the world in general. What was the process like setting the look?
After Jack did the first artwork for the cinema scene, Marina printed out the artwork and made a cardboard mock-up to scale. That gave us a pretty good idea of the physicality of it all. These were promising first steps, but it's when Callum started putting together a CG render of the vintage Corona brewery that the final look started to emerge. With all the details we added in, there was lots of back and forth to get each room right and to make them sing as a whole. It was hard to let go sometimes since we always wanted to polish more.
There is a smaller, but significant, live-action component to this piece. Directing for live-action is significantly different than directing animation. Add to that directing Gael García Bernal and I'd assume that was quite the experience. What was that day of production like?
As an animator and designer who's a lot more comfortable at the drawing table than on a film set, shooting Gael in Mexico was a thrilling experience. It's not every day you get to spin a Hollywood actor on a turntable…!
Gael was always going to be a part of the project as a narrator, but only at the last moment was it decided that he was going to be physically featured in the ad. We had to quickly find a solution to integrate him seamlessly in the film. As soon as the designs of the sets were signed off, four days later they were built in Mexico by the service company Madrefoca. I flew there with Jo Bierton, my producer. The shoot lasted only a day and took place in Churubusco Studios. There was what felt like a hundred people on set so it was a little mind-boggling. Anyhow, Gael was really lovely and collaborative, and super keen to be working on an animation. Corona was very much involved in the live-action part, being on set to ensure Gael delivered their message in a way they felt represented the brand.
A lot of this film was captured in camera but what was the post-production process like?
Yes, everything was captured in camera, and the post-production was an exercise of stitching it all together. Because of the short shooting schedule, it was easier to shoot the rooms individually. It meant that we could animate one room and set up another one simultaneously. The back wall of each room opened up to a blue or green screen, and the talented team at Freefolk took the footage and did all the mad roto work to make it all seem like a single shot.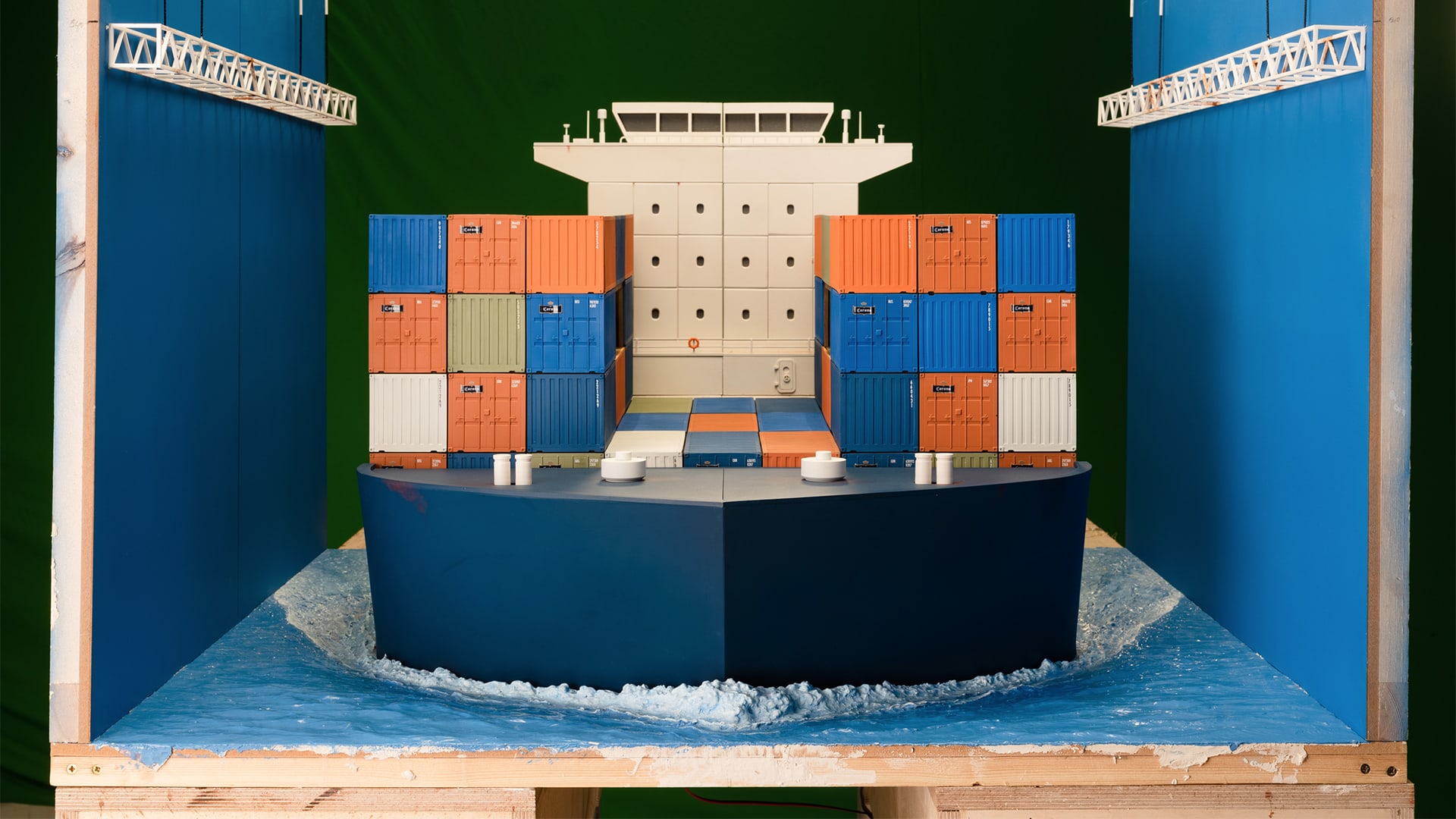 Throughout the experience, what was the hardest and easiest aspect of the project?
From a filmmaking standpoint, squeezing so much information into 60 seconds was the main challenge for me. Then design-wise, I reckon the hardest bit was to nail the tone of the characters in their translation from James Graham's charming sketches to a 3D model. It took quite a bit of tweaking, but it was worth it in the end because if we didn't get the first character right, we wouldn't have gotten any of them right. Another tricky bit was to think about having enough space for the camera to go through each room. We didn't want it to feel like everything was pushed away from the center to let the camera through, so a lot of consideration went into that. We also needed to make sure that the animators could actually reach the content inside each box, so we had to plan removable walls and panels.
The easiest part by far was shooting Gael; he animated himself, without the need of any frame by frame assistance…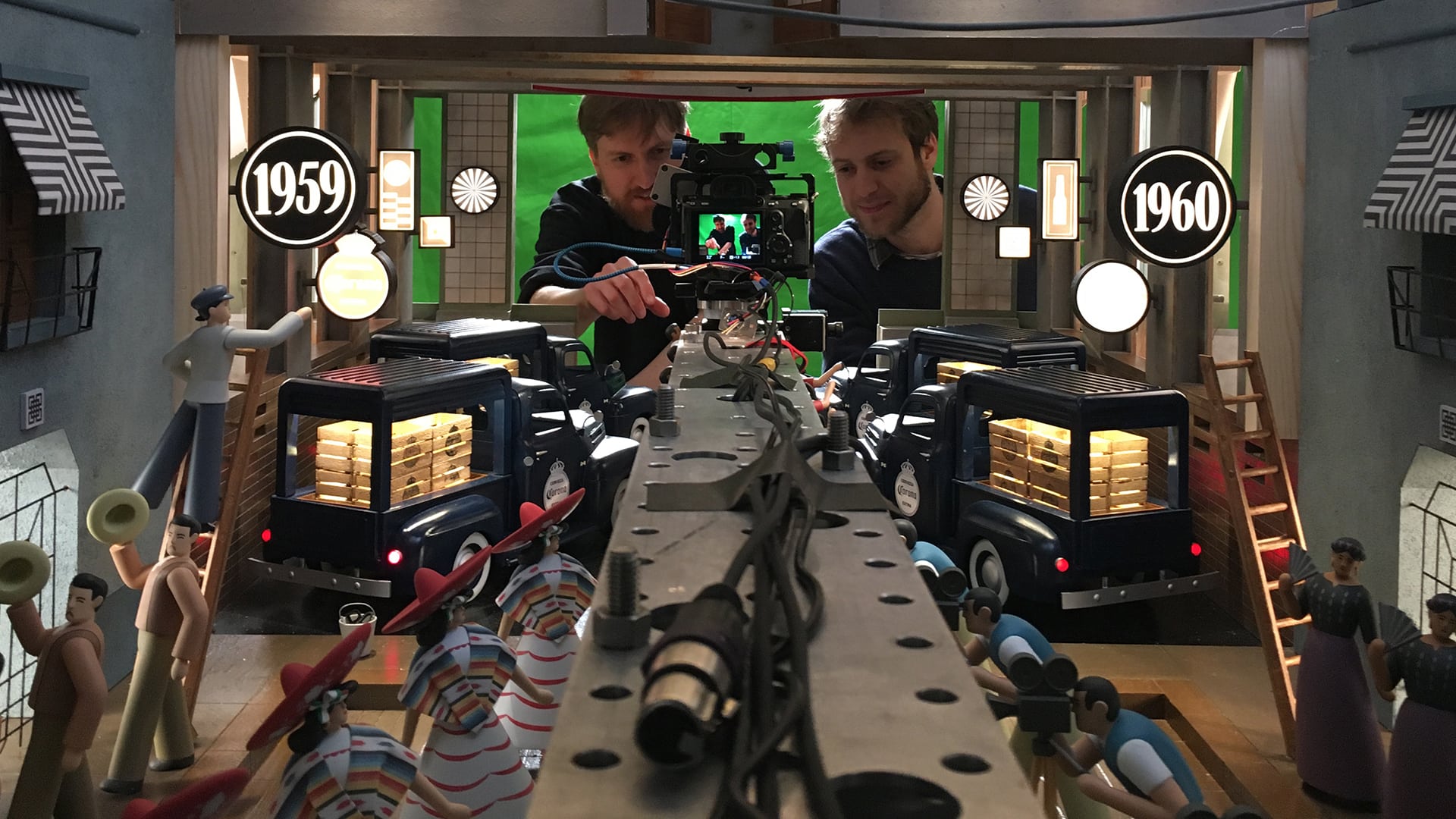 Finally, what's next for you?
The collaborative aspect of stop-frame makes me crave for more jobs shot in camera, whether in the form of independent films or commercials. I had a wonderful time working with such a fantastic crew, fingers crossed there's more to come!
Credits
Client: Corona, Mexico.
Chief Executive Officer: Carlos Lisboa
BU Chief of Marketing: Carlos Ranero
Brand Marketing Manager: Clarissa Pantoja
Communications Manager: Alejandro Gershberg
Connections Director: Javier Garcia
Experiential Marketing Manager: Rodolfo Vargas
Content Marketing Manager: Cesar Alcantara
Project Leader: Susana Medina
Agency: Observatory Marketing
Co-Chief Creative Officer: Todd Hunter
Creative Directors: Jessica Hundley & Nicole McDonald
Head of Production: Chris Totushek
Producer: Lula Fotis
Senior Brand Director: Erin Heyns
Brand Executive: Mack Montague
Production Company: Nexus Studios
ECD / Co-Founder: Chris O'Reilly
Director: Nicolas Ménard
Executive Producer: Luisa Murray
Producer: Jo Bierton
Production Manager: Rebecca Archer
Lead / Supervisor: Nico Domerego
Art Director: Jack Cunningham
Character Design: James Graham
Graphic Design: Cecilia Serafini
Design: Jamie Jones & Sarah Deane
Environment Design: Callum Strachan & Antoine Perez
Character Modellers: Andy Hickinbottom & Matt Clark
3D Generalists: Heloise Courtois, Victori Jalabert, Maxime Dartois, Zach Pindolia, Jerémie Cottard, Chloe Plat
2D Animation: Isaac Holland & Duncan Gist
Director of Photography: Malcolm Hadley
Camera Assistant: Mark Swaffield
Gaffer: Tim O'connell
Moco: Stuart Galloway
Rigging: Justin Pentecost
Spark: Max Milner
Strike Spark: Daniel Ansell
Puppet and Set Fabrication: Andy Gent
Art Department: Marina Ralph, Mick Chippington, Josie Corben, Magda Madra, Sofia Serrano, Mark Fisher, Vaida Klimaviciute, Claudia Brignalezi, Angela Pang, Louise Pratt, Andrew Saunders, Tom James, Gavin Richards, Claire Middleton, Claudia Brugnaletti, Jade Gerrard, Clea Raguideau, Angela Chorlton, Roy Bell, Annick Bosson, Beth Quinton, Fiona Stewart, Grant Humberstone, Ola Kucharska, Michael Nowacki, Mitch Barnes, Colin Armitage, Duncan Mude
Practical Lighting: Gary Welch
Runner: Chiara De Propis
Stop Frame Lead Animator: Tobias Fouracre
Stop Frame Animators: Matthew Cooper & Max Martin
BTS Cameraman: Thomas Heleta & Mark Van Heusden
BTS Photographer: Jacob Robinson
First Aid: Darren Boyling
Post Production: Freefolk
Lead Flame Artist: Steve Murgatroyd
Flame Artists: Brandon Danowski & Andy Copping
Nuke Artist: Rob Sheridan
Colourist: Duncan Russell
Post Producer: Laura Ricketts
Shooting Studio: Black Island
Lighting Equipment: Panalux
Camera Equipment: Clapham Road Studios
Editor: David Slade
Assistant Editor: Bruno Collins
Music: Bridget Samuels
Sound Design And Mix: Barking Owl