To coincide with the online premiere of my new short film Moon River, I thought it might be informative to talk about some of the variables to keep in mind when releasing such a project out into the world. 
To begin, I'd like to say that under no circumstance am I an "expert" of any kind. Far from it. Every independent film I've put out brings with it new roadblocks and discoveries. My hope for this article is to speak openly and honestly about my journey so far and the people and resources I've learned from. Hopefully, this can lead you on your own journey that will transcend the limitations of my knowledge alone.
Congrats! You finished it!
This may seem obvious, but if you don't finish the film, you can't put it out into the world. There are countless ways we can talk ourselves out of completing a personal project, so if you've got a finished film, congratulations! Regardless of how the world receives it, you should feel accomplished already!
Why did you make the film and who should care?
First, identify your goal! Is your film part of a larger idea you want to develop? Is it a stand-alone personal exploration? What do you want to get out of your film's release? The answers to these types of questions will better inform you about the audience you're looking for and the festivals or platforms you should submit to.
When I finished my short Rooms, after years of client work, I didn't know what to do with it! At the time, I was craving to make something of my own. I also hoped to use the film to stir up more customers. However, I didn't know the best route to take or who I should promote it to.
Rather than guess, I scoured the internet for information from people who had walked this path before. I also reached out to friends who were no strangers to the festival circuit or big industry platforms online. If you're genuine and honest about learning, most people are open to helping you and sharing their experiences.
Since releasing the film, Rooms has proved to be a valuable piece in my portfolio, bringing more client work to my studio.
Network = Knowledge
Start with who you know and allow that to grow! Reach out to communities online and local industry meetups to connect with new people. Communities and events like ASIFA, Pictoplasma, Blend, F5, and even organizing drinks with industry peers are great ways to make new friendships and contacts.
Also, even if you don't have a film IN a festival, you can still GO to the festivals! Frequenting film festivals is a great way to keep up with the latest animation and meet other filmmakers. Additionally, they offer networking opportunities and seminars from industry professionals about the different ways to market and promote your film. I attended the Ottawa Animation Festival virtually this past year and was amazed at all of the opportunities they had available.
The film release: traditional and online
The world of film festivals and online releases is vast and ever-changing. It's also a world that you will forever be trying to navigate and understand as platforms and technology change. But fear not, there is a lot of information already out there. Some sources that I particularly admire are GLAS Animation Festival, Short of the Week, and Cartoon Brew. These three specifically begin to demystify the film festival and online release debate. They also span a range of thinking and approaches.
There are countless other resources out there, but these three are a great starting point. Also, as times change, keep an eye out for new resources as certain models will naturally become outdated!
Synopsis to press release
When promoting your film, it's essential to write and speak about your project in clear, concise statements. Enter the press kit, press release, loglines, and synopsis. Entire articles could be written about each of these things. In my experience, I've found that most places, whether it's a festival or website you're submitting to want to see similar promotional materials.
Some of the basics are:
Link to a protected screener of your film
Extra short film statement or logline
Film synopsis
Credit list
Supporting film stills, posters, other promotional/ process materials
Director's bio
Director's photo
When thinking through your own materials, look at how others write about their work as well. Don't hesitate to get people's advice from different areas of expertise too. They may bring a unique perspective that could give you an edge!
When writing about both Rooms and Moon River, I reached out for advice from my public artist friend Mark Reigelman II who has to write and talk about his art all the time. He also taught me the more effort you put in organizing your press materials upfront, the easier you make it for an editor or website to run with your project if they're interested.
Additionally, building a website or landing page around your film is a great way to give these materials a place to live; this makes it easy for others to learn more about the work in one sharable location.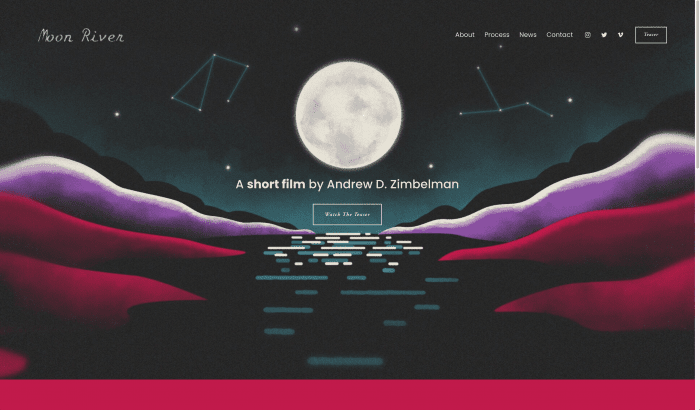 Interviews, chats, and the anxiety of hearing your own voice
If you get accepted into festivals or featured on websites, you'll find that people will want to talk to you more! You'll get opportunities to do interviews, director's chats, or introduce your film to an audience eager to learn more about you! For us often introverted artist types, these opportunities can be anxiety-inducing. They certainly are for me, and it's easy to want to avoid them.
But as my therapist tells me, the more we take these things on, the easier they get! In an increasingly saturated and noisy world, these promotional opportunities help you stand out! This, in turn, familiarizes people with your name and your art. Seize them and let one lead to more!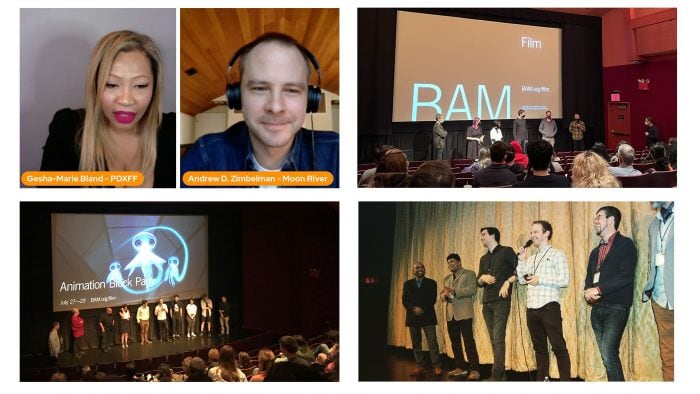 Rinse and repeat
Regardless of your vision for your film, others may see something different. Each film I've made has been received differently by the same outlets. Just because Rooms got accepted somewhere didn't mean that Moon River was received the same way.
Festivals and platforms are vehicles to promote your film. They shouldn't be the reason why we make the film. If your film isn't a current fit for one of them, it doesn't mean it won't find a home someplace else. Also, don't let a festival rejection stop you from submitting to that festival again with your next project. Learn from people's responses to each film you make! It will inform your next steps.
Most importantly, your independent work helps you develop your voice as an artist. It also gives that voice a way to evolve. Don't let inevitable rejections get in the way of that!
Enjoy the ride and keep on keepin' on!