Pepsi's creative services team tapped Versus to work on their latest spring spots—a collaboration between Pepsi and Peeps. The two brands teamed up two years ago when launching the limited-edition product to only 3,000 fans. Now, ready to make a bigger splash, the companies have ramped up for a larger consumer launch. 
For the next iteration of creative, Pepsi's creative services team deployed their grand ambitions for the campaign by announcing the release of their signature marshmallow-flavored cola. 
Given less than four weeks to deliver eight 10-15 second animations, the Versus team eagerly jumped on the challenging opportunity. Although time was of the essence, they made it their mission to meet the task at hand, producing realistic-looking Peeps so cute you could hug them (or preferably eat them), which delivered BIG for Pepsi.
The Versus team had three primary areas of focus: 
A colorful and fun Peeps World 

A beautiful, photo-real Pepsi can & all-new Pepsi Blue World 

A realistic-looking Peeps Bunny with a big personality
A Whole Blue World 
The first task for the team was modifying the Peeps World – a real spring dream landscape! Though Versus was supplied with the files for the colorful world of Peeps, the landscape was previously lit flat.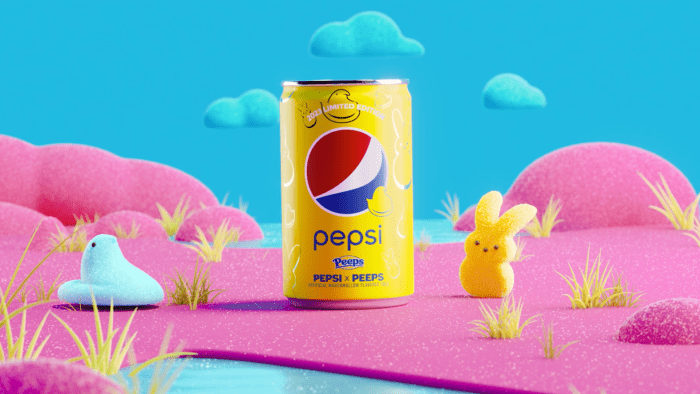 Versus pushed the look introducing a more realistic style by adding more depth with their choice of lighting & lenses – and even enhanced the texture of the Peeps sugar. They also modified and extended the environment as most concepts took place throughout a landscape that hadn't yet been created.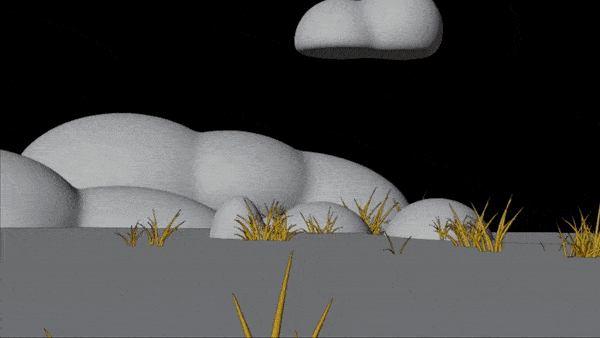 Then came developing the all-new Pepsi Blue World – where Pepsi and Peeps first meet. The beautiful reflective surface of the world is a nod to the can texture itself – reflecting the characters and adding a premium high-quality finish to contrast with the Peeps World.
Consumables Characters
Peeps are an iconic Easter basket staple, so the sugary marshmallow texture had to be realistic enough to convince their most loyal fans. Having to execute that level of detail enthralled the Versus team–the office chatter was blowing up as they saw the first renders of these yellow, blue, and pink superstars.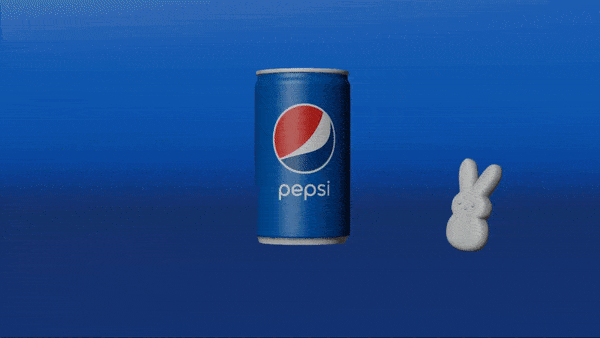 Versus enhanced the Peeps Bunnies & Chicks by giving subtle expressions and gestures in animation to create playful personalities making them downright adorable.
Pepsi Can 
How do you give a Pepsi can personality without altering its form?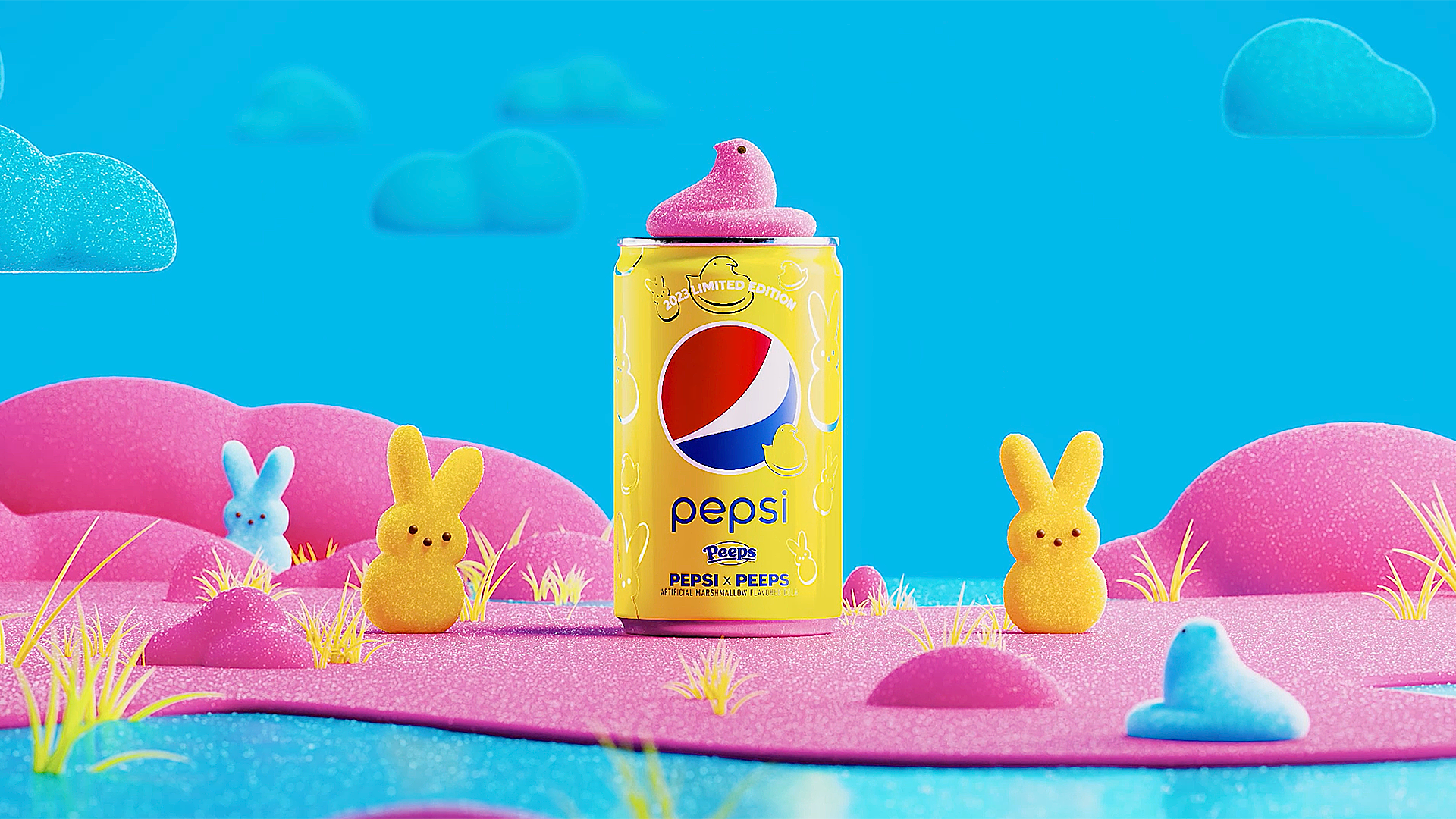 When working with a 130-year-old brand, saying they have "brand standards" is an understatement and animating a can that's being enjoyed by consumers more than one billion times a day means precision. 
Although the team couldn't manipulate the can form itself, they were able to give the Pepsi can a personality by leaning into its interactions with the bunnies along with creative camera angles and editing.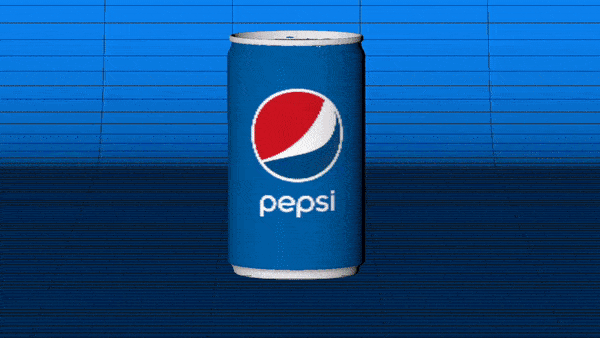 In the spot "Connect", you can see a perfect example of how performance, camera, and edit tell a story about the collaboration and connection between Pepsi and Peeps.
Delivering
"This project was an example of collaboration. Given the brief and the timeline, we had daily meetings with the Pepsi creative team to keep on track. Everyone was really open to understanding the process because on a timeline like this with 3D, you need to have all levels working together in order to both deliver on time and produce the highest quality work."
Kathryn Henderson, EP/Head of Production for Versus.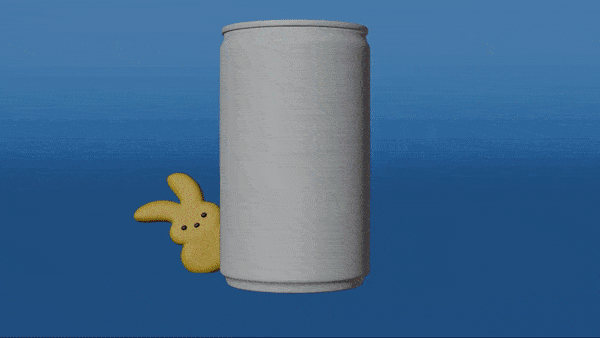 The campaign launched its last flight on March 20th.
The spots can be seen across social media and in an exclusive Snapchat activation that leverages innovative augmented reality technology to send fans on a virtual egg hunt.
Project Credits:
CLIENT:
PEPSICO BRAND & JUST BORN
BRANDS:
PEPSI x PEEPS
PEPSICO STUDIO:
Senior Creative Director: Josh Clark
Director: P.R. [Paul] Brown
Director of Production: Steve Frechtman
Brand Partner: Devon Watson
VERSUS CREATIVE PRODUCTION STUDIO:
Managing Director, Rob Meyers
Executive Creative Director, Justin Barnes
Executive Producer/Head of Production: Kathryn Henderson
Senior Producer: Stefani Pimenta
Senior Producer: Gina Bouchard
Creative Director: Luis Aguirre
3D Animator: Dave Rogers
3D Animator: Kawe de Sa
3D Animator: Arthur Cassimiro
Lighting & Rendering: Thiago de Sul