In the fall of 2022, the Supreme Court's decision to overturn Roe V. Wade ignited global outrage. A team of passionate creatives at Duke & Duck recognized the need to stand up for reproductive rights access and began discussing ways they could make a difference.
Utilizing their skills as a creative content studio, they banded together to amplify the voices of those affected by the decision. In partnership with the Dupont Underground art gallery, Duke & Duck created a showcase in the heart of Washington, DC.
The animated rally gave a platform for artists to express a united message:
Our Bodies. Our Choice. Our Voice.
The event featured looping animations from 20 artists, each sharing their perspectives on what reproductive access means to them. The videos were projected against the walls, transforming Dupont Underground into an immersive exhibition space where viewers could take in every detail.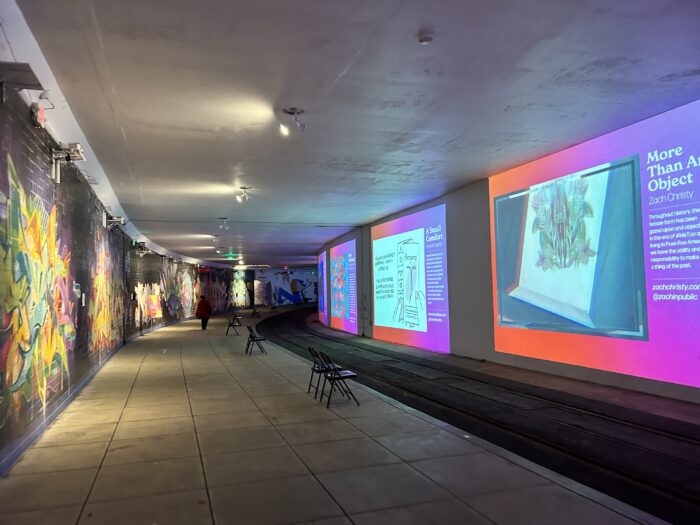 We felt so moved by the stories that wanted to help create a more lasting home for this showcase so it can be visited from anywhere in the world.
We asked Duke & Duck, along with each creator, to share their work from the event alongside a brief quote. The candid responses express the motivations, fears and hopes for the future that are so prevalent in the animations.
Reproductive choice is a bedrock human right, and the very idea that there is even a question about whether people should be allowed to make their own decisions about their bodies is infuriating.
Duke & Duck founder and managing director Alex Herder
The fight for reproductive rights is long, exhausting and perpetual. It's important to remind ourselves that our rights aren't guaranteed – we need to continue to pressure our representatives and leaders to protect safe, legal and accessible abortion for all.
A Tragedy Tangled Up In A Dream
by Abby Cali: 
This piece came out of a conversation I had with a dear friend who lives in a trigger-ban state and found out she was pregnant a few days after the overturn of Roe v Wade. The imagery references common symbols of birth, fertility, abundance, grief, and loss.
In Indian philosophy- Prakriti (Creatrix) and Shakti (Power) are feminine divines, synonymous with the Devi, the Divine Mother, who has the power to manifest, sustain, and transform the universe. The Animation shows two sides of the divine form- an emotional, motherly and graceful (in orange), and fierce, strong, and powerful (in blue). They are wholesome, and the circle implies the unity of all women.
Am I Nothing? Aliyah Oestreicher &
John Martinez: 
When Roe V. Wade was struck down, I was livid. My biggest question for the court was, "Am I nothing?" I partnered with talented Duke & Duck animator, John Martinez, to showcase this spiralling frustration and bring this vision to life. John used busy textures and abstract duplication to show chaos and to drive home the idea that this affects people everywhere.
It Is What It Is by Clara Ganz:
"It Is What It Is " was inspired by HAIM's song, "Man From the Magazine," written as an expression of the band's frustration with the misogyny that overwhelms not only the music industry but so many other areas of our world. This piece serves to empower others to take a stand in the face of precedent rather than succumb to the complacent mindset of "it is what it is."
The relief when I got my IUD was visceral. To this day, I still wax poetic about how much of a comfort it is to have, and I recommend it to those who ask. It's baffling that these and so many other preventative measures are under attack - our safety and choices are ours alone. Bodily autonomy should not be a luxury.
I've come to realize that euphoria in my identity relies on my control of choosing what parts of masculinity and femininity I take or reject. These judges, who will never meet me and never know this struggle, have decided that the uterus is the key element of my existence. The trans community already lives with so many laws prohibiting us from transitioning. Now we'll be boxed in even further.
Abortion's Rippling Effect by Ivan Miguel: 
Access to safe abortion in the U.S. has a statistical, data-backed domino effect on women's lives, their families, communities, and society. This piece visualizes some of the facts that several studies have researched, giving us an overall picture of how access to abortion affects us all.
Mother's Remedy by Katrina Deptula & Hannah Churn: 
Nature has always provided women with the means to control their reproductive health. Community healers have spread the knowledge of medicinal plants for abortifacient use since before recorded history. Herbal remedies are still used worldwide when access to clinical abortion is outlawed or prohibitively expensive. Trying to restrict abortion, therefore, seems more unnatural than allowing the choice.
In light of the recent tragic death of Mahsa Amini in Iran, we want this piece to remind us of the freedoms we have in our own country and our rights that are worth fighting for.
Being here—this time, this country, this body, each moment—is exhausting. We live in a world that hands us over to be surveilled, jailed, killed, and erased. Best case, strap the future to our backs, and we'll carry it until we've been worked to a flammable husk. Dobbs was another step in the ongoing erosion of our humanity.
This piece was originally a set of three illustrations created directly as a response to the overturning of Roe v. Wade. After hearing the news, I felt so overwhelmingly helpless. At that moment, the only thing I could think to do was to create my own form of protest through my art. The piece has been elevated through animation and is now meant to be interactive. Viewers are welcome to repeat the phrases on the screen out loud or in their heads as a form of self-affirmation.
As reproductive rights are stripped away, so is our privacy. Inspired by the many challenges my parents faced to conceive, this animation highlights the importance of protecting our rights to fertility care.
Throughout history, the female form has been gazed upon and objectified. In the era of #MeToo and living in Post-Roe America, we have the ability and responsibility to make that a thing of the past.
"my body is mine" is an animated poem about Zoë's journey with coming to know her body.