Editor's note: 
In this Motionographer exclusive, David Calcano, Co-Founder & Chief Creative Office at Fantoons, shares his journey from engineer to creative director.
Bringing his story to life in a uniquely Fantoons style, this piece is 50% article, 50% comic, but 100% authentic.
So now the big question: Who is David Calcano?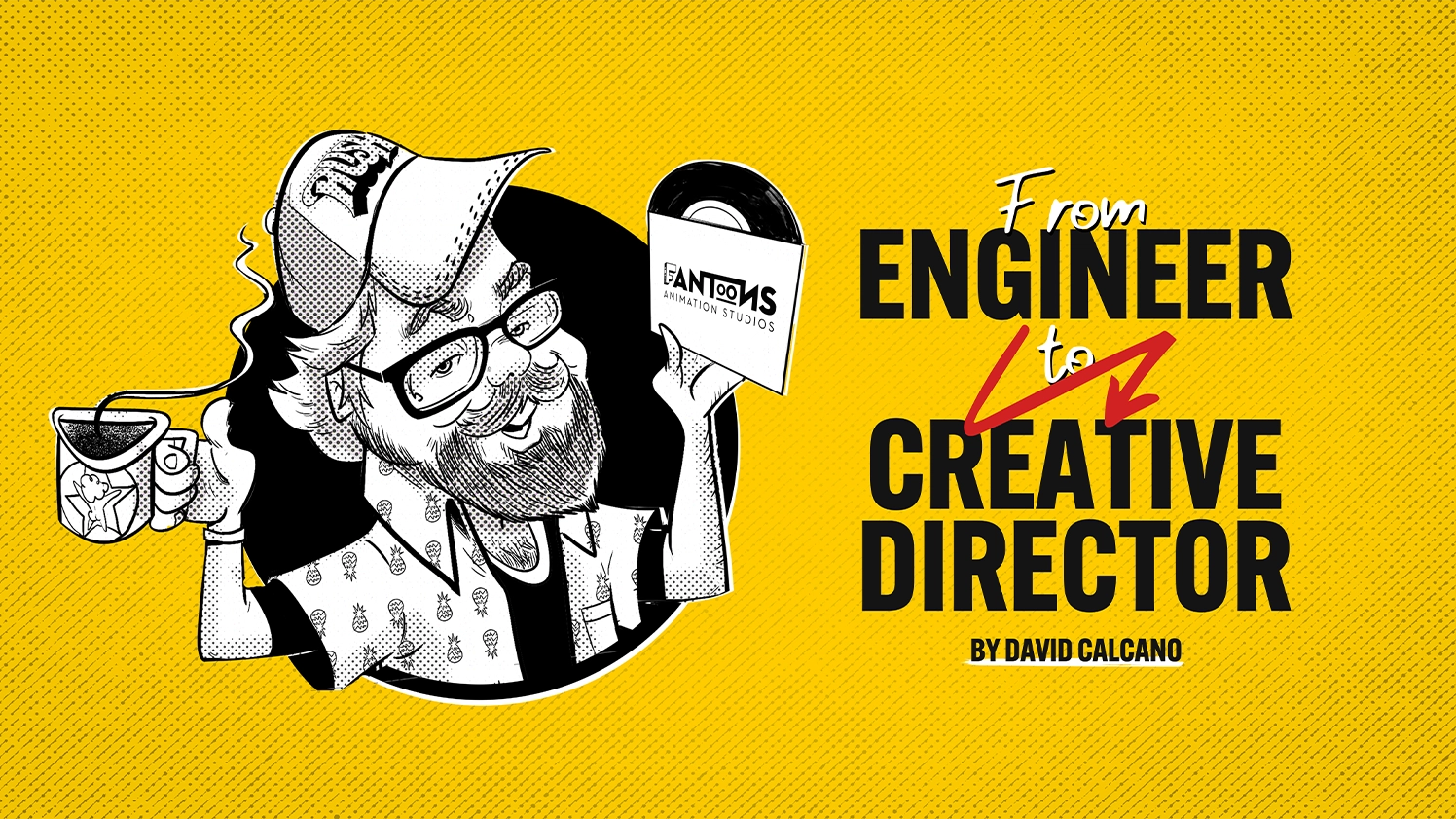 I am the co-founder and creative director of Fantoons Animation Studio in Los Angeles.
For this article, I focus on my journey –  my dreams, successes, and failures – but more importantly, how the heck I ended up starting a studio that now works with people like Jack Black, Iron Maiden, Rush, The Beach Boys, and Steve Martin.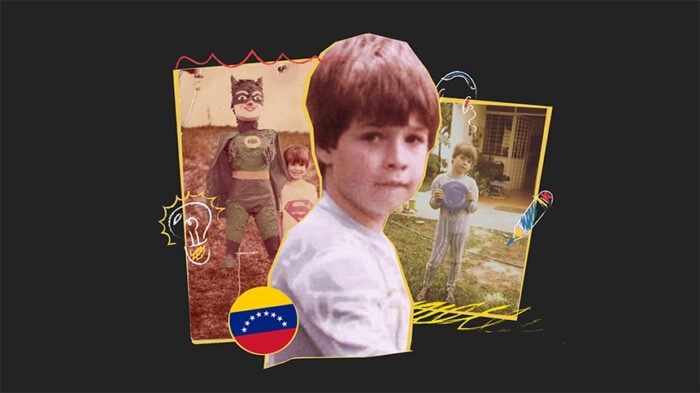 I'm originally from Venezuela and have always loved music and animation. My dream, though, was to be a writer.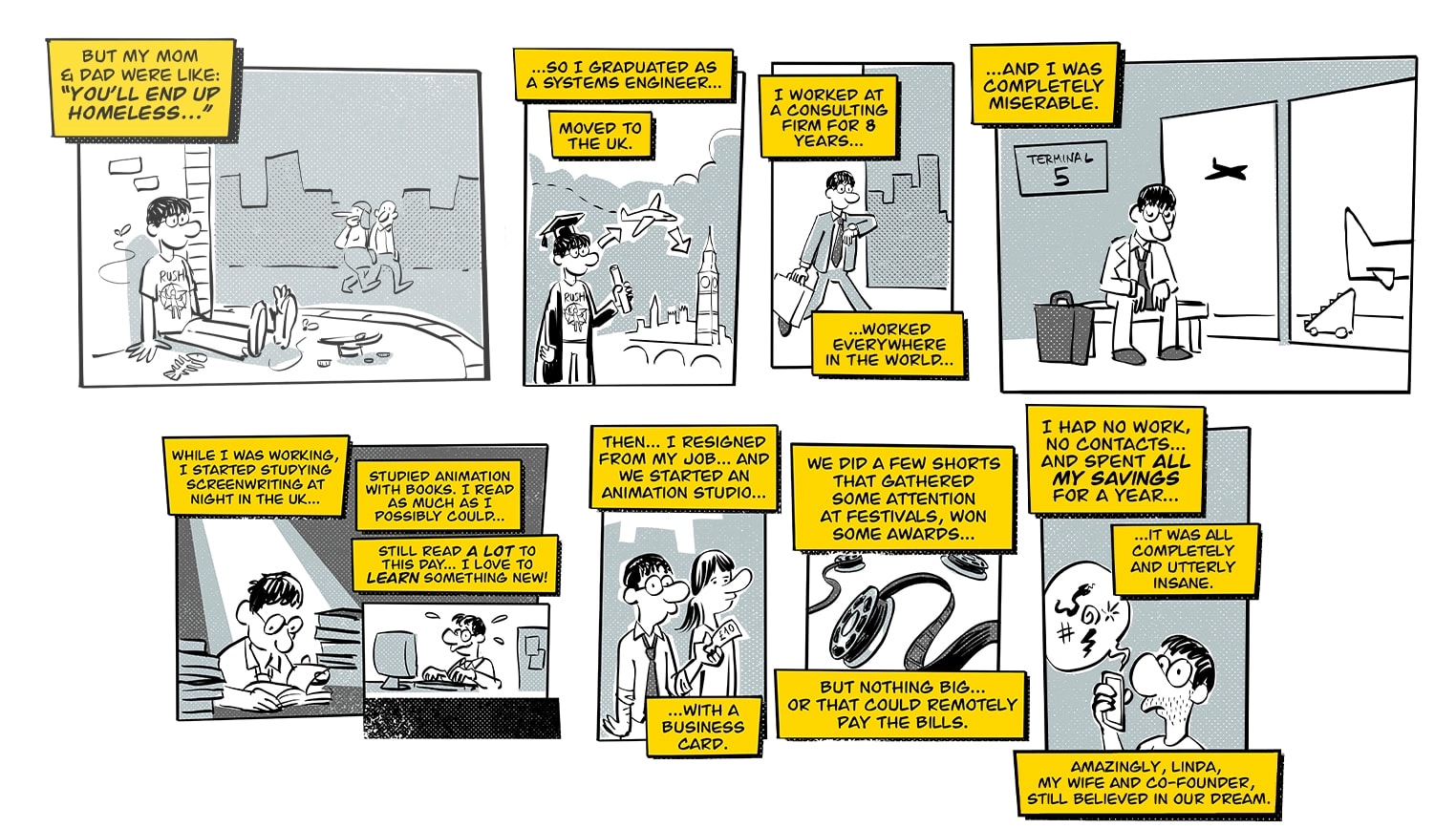 Then we started to get a tiny bit of work…
We were hired to create comic strips to promote a UK indie film called Anuvahood. Soon after, I had a friend that gave me the opportunity to create an animated web series, which ran for five years.
Around that time, I started Fantoons´ social media. I didn't have enough money for new animations, and being a lover of comics and illustrations, we started to do parodies, comics and art based around music…but nothing seemed to work.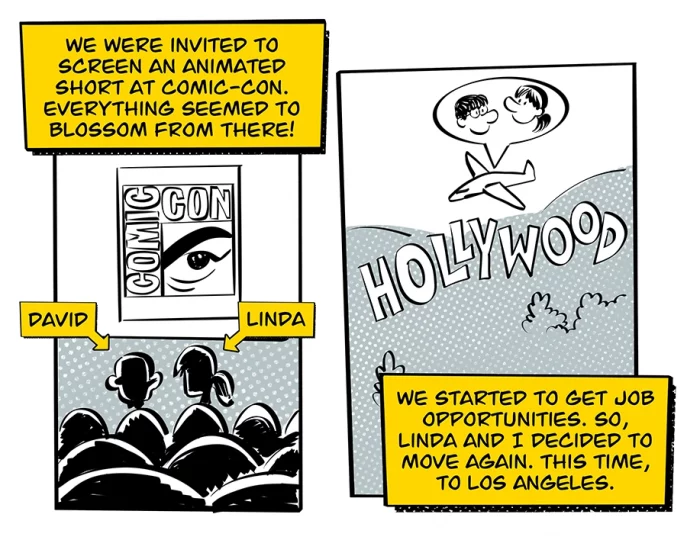 The land of opportunities and dreams.
We lived in a tiny apartment where my office was in a closet.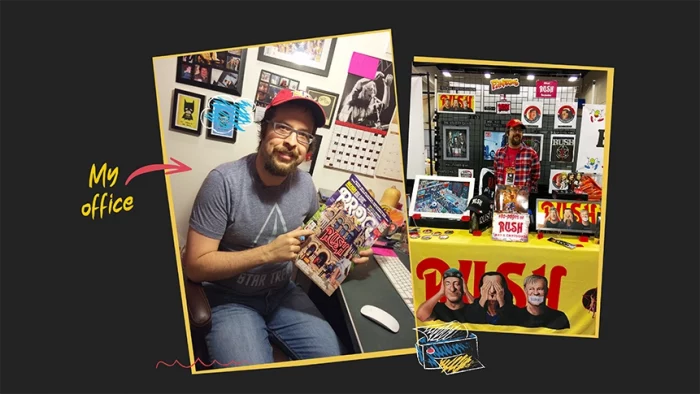 Things started to happen. Fantoons began producing small print runs of our social media comics, which landed us an exhibit at San Diego Comic-Con! I was amazed!
But…

The band and their manager loved the short so much that the animation opened each show of their Japanese tour–including a sold-out, 20,000-seat Budokan arena show in Tokyo!
Afterwards, they hired us to do all their visuals. It was a dream come true.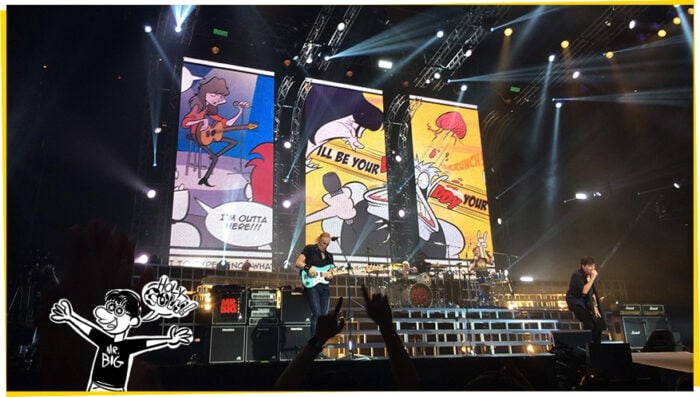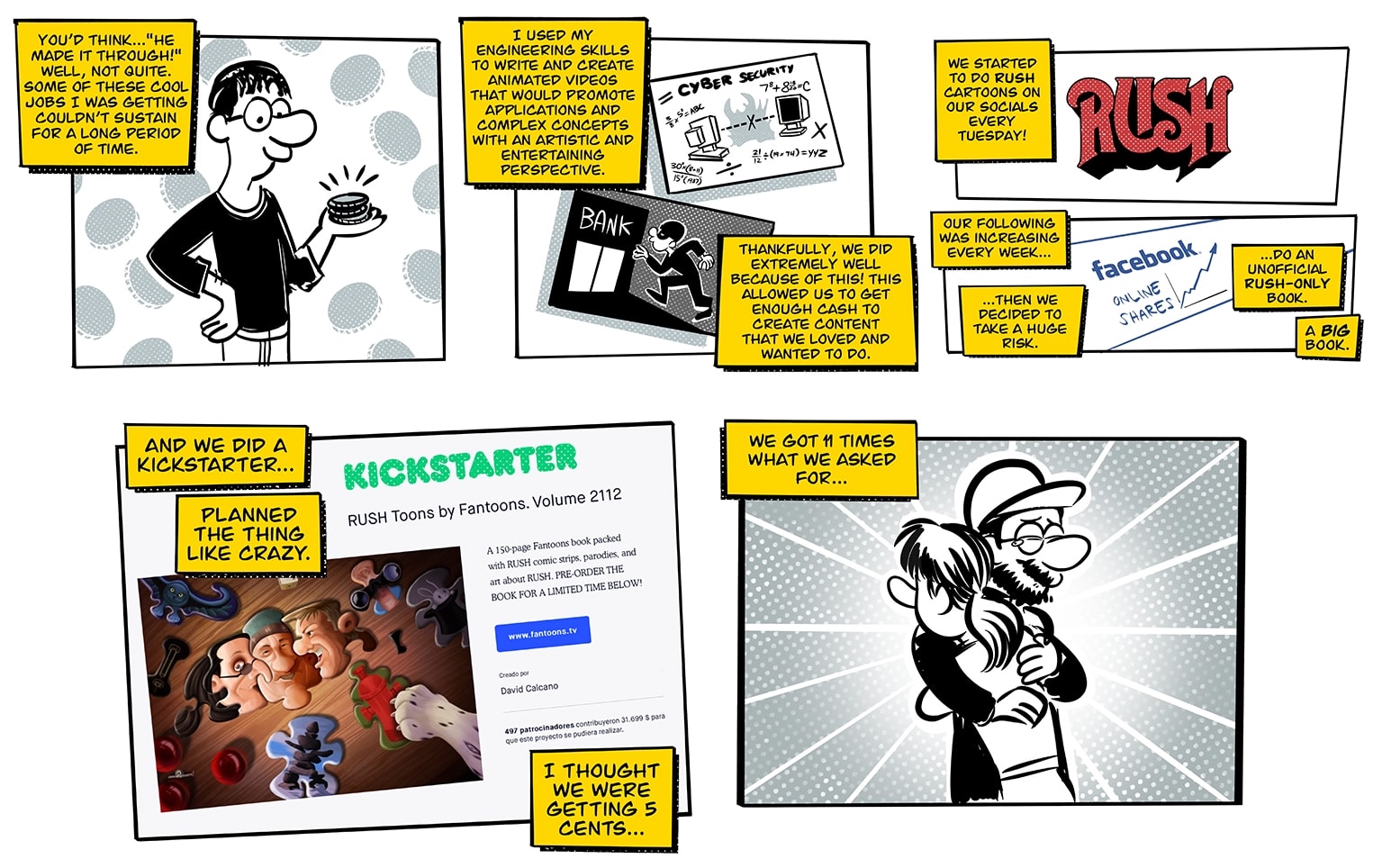 This somewhat validated that I was not fully insane after four years of strife.
I wanted to work with Rush officially, so I sent the book to their office in Canada. It was, again, a big risk. The band could have simply said no, but a miracle happened.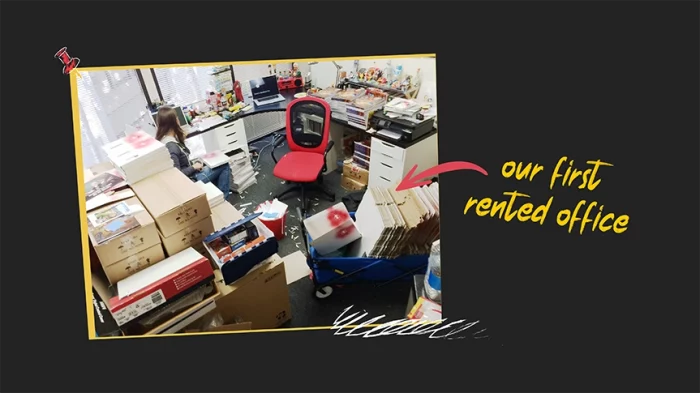 Our unofficial Rush book became official!
We've done seven books with the band, with two more in the works! We've also created animated videos for two of their biggest songs, one of which includes cameo voice roles from the band themselves!
Our Rush partnership has been the best and most satisfying relationship of my professional career. Taking risks and being stupid can turn into amazing things if you do it for the right reasons.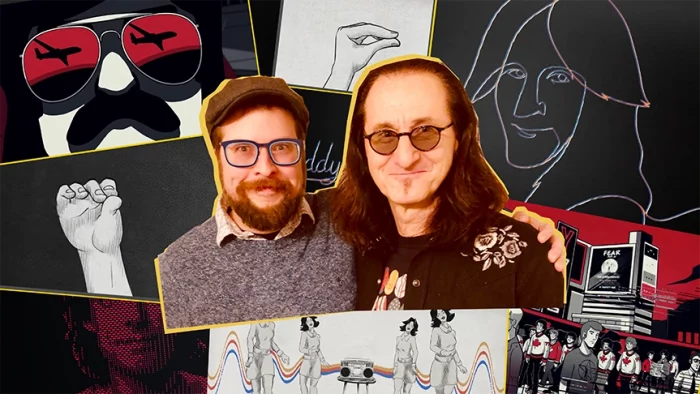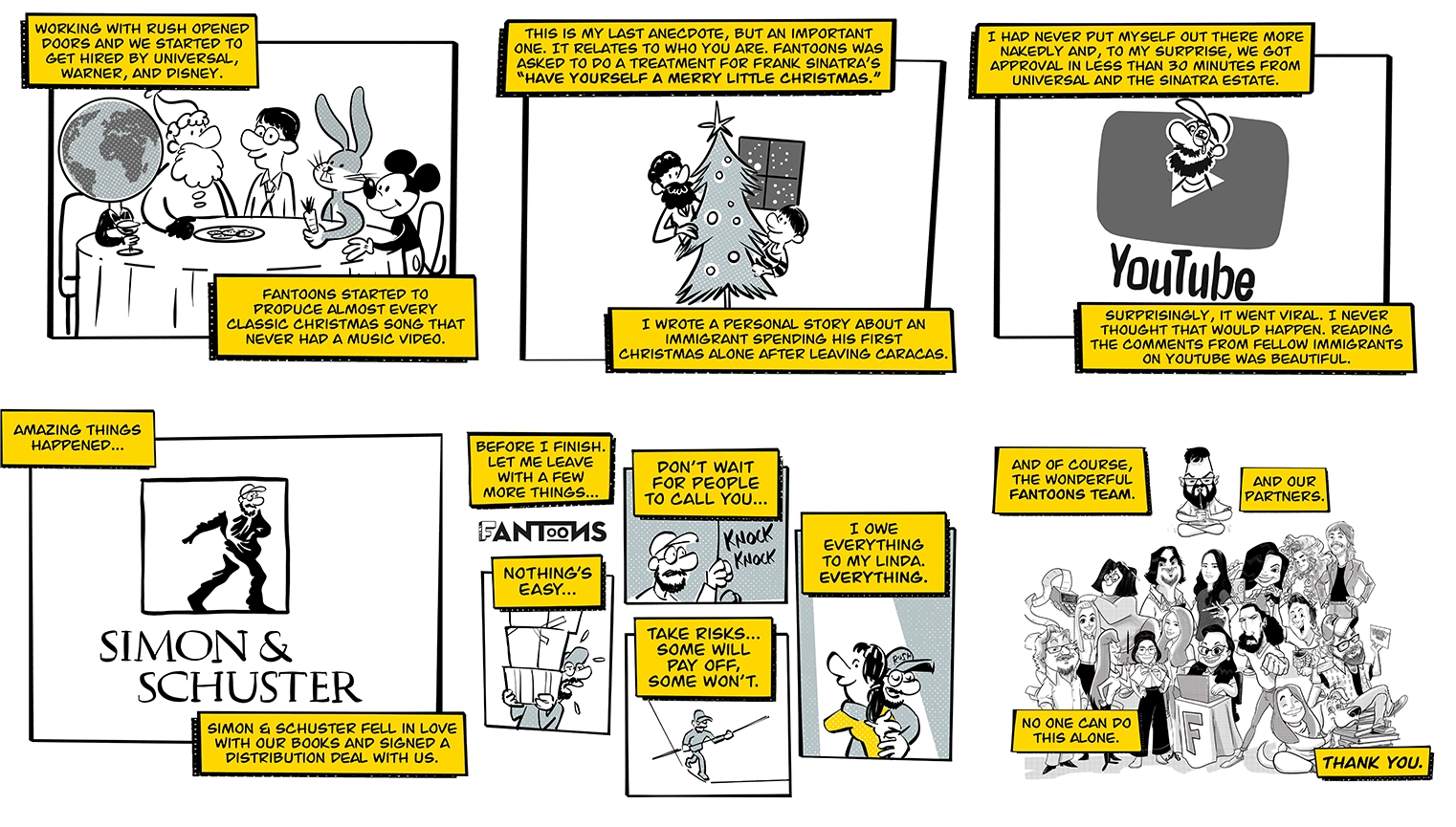 ---
---