Storytelling production company 1stAveMachine continues to expand its diverse, award-winning directorial roster with the signing of multi-hyphenate comedic talent David Ebert.
A writer, director, creative director, and actor, Ebert has showcased his versatility and humor both in front of and behind the camera for over a decade. While TV audiences may recognize him from ads for the likes of Geico, Checker's, and New York Lotto, and appearances on shows such as MTV's Guy Code, Ebert has also co-written the Emmy-nominated Netflix series It's Bruno!, created, wrote, produced, and starred in the TruTV series Ghost Story Club, and directed notable campaigns including Google's 2021 Pixel Fall Launch, YouTube's Brandcast 2021 starring Hasan Minhaj, and the recent Dunkin'/NFL cross-promotion.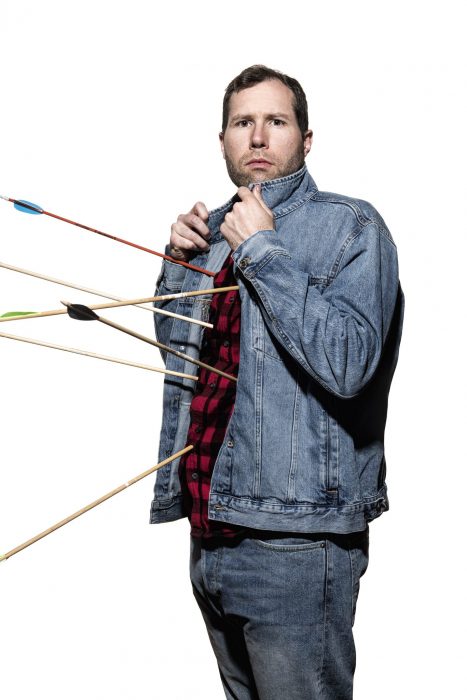 Most recently, Ebert directed and starred in 1stAveMachine's "Real Mayo" campaign for Kraft, using his (non-accredited) astrology knowledge to deliver personalized readings via TikTok and Twitter that tell people their fortunes based on the way they spread their mayo. The fun campaign received much love across the Internet, from Adweek to Thrillist. Additionally, Ebert was the Creative Director for "GroupHug," a 1stAveMachine-created TikTok channel aiming to help explain and amplify the impact and utility of TikTok for brands. Featuring over 80+ pieces of content made with 30+ creators, including sustainable product designer Thomas Peterberns (@johannplasto) and more, "GroupHug" is a deep dive into how creators and brands are finding success on TikTok. The series has been so well-received that Ebert and 1stAveMachine are currently in the process of planning a second season.
Known for melding high-concept narratives, technology, and comedy in his creative efforts, Ebert actually honed his deft timing and ability to rapidly generate ideas and hook an audience during his days with renowned improv theater group, Upright Citizens Brigade. "In improv, you are constantly being presented with new ideas from scene partners . What makes a scene feel like magic is how quickly you can adopt someone else's idea and build on it," he explains. "Similarly, when I read a brief, or when I'm presented with a big pivot mid-project, or when I'm on set and I'm working with talent, the ability to take someone else's idea and instantly honor and add to it has made the greatest impact on my career."
Inspired visually and tonally by the likes of Michele Gondry, Wes Anderson, Paul Thomas Anderson, and Spike Jonze to David Lynch, Jordan Peele, and Tim and Eric, Ebert says that at the heart of all his creative efforts, communication and messaging is key.
"I often see beautiful visuals in advertising but have no idea what their connection is to the story. Without a deep tie to the core communication visuals, even beautiful ones, are meaningless. So I begin by ingesting and clarifying the script's intent. That often leads to my helping craft that communication. From there, I derive the concept for the visuals, and then I work to beat out the flow of a piece to a rhythm. Most of my work is comedy, and I believe that a good comedy video should still communicate even with your eyes closed, like music."
With 1stAveMachine, Ebert has found an ideal company that is open to working with the director to further sculpt and develop his unique comedic voice. In fact, it was his collaboration with and support he received from 1stAveMachine and director Karim Charlebois-Zariffa on YouTube's Brandcast 2020 and 2021 projects that eventually compelled Ebert to join its roster.
"I've played many roles in different organizations, and 1stAveMachine met me as a copywriter, yet they were immediately open to my larger vision for the projects I was working on," he recalls. "After a short courtship, they entrusted me with the role of creative director on Brandcast 2020. When it comes to support, no one has given me the tools I needed when I needed them like 1stAve. Other companies have allowed me to work dual roles, but when I've asked for resources to deliver a product I feel proud of, they've come up short. 1st Ave never tells me 'no,' they say, 'let's figure it out together.' They are the first organization I've worked with instead of for."

In terms of what makes Ebert a perfect fit for 1stAveMachine and how his signing reflects the company's goals, Executive Producer/Partner "Working with David is pure joy! We are a collective group of dreamers, problem solvers and makers and David fits in perfectly. He is an amazing collaborator, he brings all of his many skill sets to each project and helps to make everyone (and the work) shine."
Social Media:
Facebook /1stAveMachine
Instagram @1stavemachine
LinkedIn /1stavemachine
About 1stAveMachine:
1stAveMachine is a mixed media production company and storytelling outfit. They create video, digital, and experimental content for TV, print, web, and mobile, all with a unified singular vision. They have won numerous awards since their formation, including Gold, Silver, and Bronze Cannes Lions, AICP, One Show, and ANDY awards, and many others. Their work has been featured across the globe and during the Super Bowl, and their division 1stAve Content has been instrumental in pairing the perfect influencers and creators with agencies and brands.