On the heels of a recent partnership with creative management company Sharon & Perry, collaboration with Brooklyn-based gallery Art Cake, and a successful campaign for White Castle, design led content creation studio Ataboy is growing its team with the addition of longtime collaborator Cameron Gray as their Executive Producer.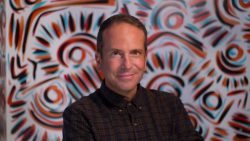 Cameron boasts a well-rounded background in both broadcast production and post production advertising, with his most recent role being the Executive Producer for New Light, and Senior Producer at The Mill prior. Throughout his career, Cameron's ability to solve complex problems, build successful strategic partnerships, and over deliver on expectation, has made him the go-to for challenging, multi-layer campaigns. He has collaborated with agencies such as Publicis, Vayner, Velocity, BBDO, Deutsch, Mythology and on campaigns for global brands that include: Pepsi, Target, Captain Morgan, 7-Eleven, Red Lobster, Stila Cosmetics, Home Depot, and MiO.
Before joining Ataboy, Cameron had already nurtured a connection with Founder and Creative Director Vikkal Parikh, and a healthy respect for the content studio's work. Having collaborated with the company already on a myriad of projects over the last decade, Cameron cited, "Ataboy has always felt like home. Vikkal creates a familial environment, where everyone has a seat at the table, so when I was approached to join the family full time, I lept."
As an Executive Producer, Cameron puts a special emphasis on being hands-on throughout the entire process, fostering a cohesive and supportive environment both internally and with clients. His approach champions transparent communication and genuine honesty in order to build trust, which he notes is the foundation for truly successful long-term client relationships. This has been both a priority and staple of his career, allowing him to give the client and the project he takes on his full attention from award to delivery.
"There are so many opportunities ahead that I am truly excited about in regards to the offerings we are able to provide at Ataboy, where I can keep a constant personal touch throughout every job," Cameron explains. "I look forward to maintaining and delivering the utmost highest level of work and creating narratives that expand the reach of Ataboy across local and regional territories."
Welcoming Cameron into the fold brings vast opportunity for Ataboy to continue building strong relationships with new clients as well as skillfully managing existing ones, an area in which he thrives. Founder and Creative Director Vikkal Parikh is equally excited for his joining, adding, "Having known Cameron for a decade, I am so excited to be teaming up. We have collaborated with him in the past on several projects and were always blown away by his professionalism and attention to details. Besides his experience in production, his people skills and entrepreneurial mindset makes him the perfect fit. He is not only incredibly talented but a genuinely good human being."
Social Media:
Facebook /AtaboyStudios
Twitter @ataboystudios
Instagram @ataboystudios
About Ataboy:
With strong emphasis on visual storytelling, Ataboy crafts rich experiences combining animation, live action, and motion design. By fostering great ideas into impactful pieces of bite-sized content, we are committed to creating captivating narratives that engage and entertain our audiences.