BROOKLYN – The Brooklyn Digital Foundry (the Foundry) – a mission-driven agency with over 20-years of experience collaborating with institutions and organizations spanning architecture, urban planning, sustainability, and social impact – has created and launched Building Better Climate #BuildingBetterClimate, a pro bono campaign to raise awareness of how the construction industry and our reliance on concrete contribute to the impending climate crisis.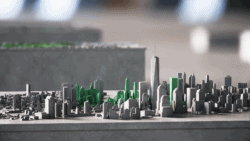 Working with leaders and organizations dedicated to fighting climate change, the Foundry developed the campaign concept, story and script, visual treatment, and distribution strategy for a powerful video highlighting the demand for building materials, construction-induced carbon emissions, industry innovation, and the urgent need for policy change.

The Foundry and our lead partners – the World Green Building Council (WGBC) and the United Nations – have released a 4-minute video for open-license, worldwide distribution by partners, contributors, influencers, activists, and the engaged public. Together, we seek to boost awareness and drive engagement with the WGBC's Net Zero Carbon Buildings Commitment, a frontrunner initiative of the United Nations Race to Zero campaign.
Please help us spread the word, distribute the video, and advance positive change.
Contributors
Victoria Kate Burrows – Director, Advancing Net Zero – World Green Building Council
The United Nations Climate Change Secretariat and Race To Zero campaign
Martha Campbell – Principal, REALIZE – Rocky Mountain Institute
Yasemin Kologlu – Design Director, Sustainable Design and Climate Action Leader – Skidmore Owings & Merrill
James Mandell – (former) Managing Director, Carbon-free Buildings Program – Rocky Mountain Institute
Philip Purnell – Professor of Materials and Structures – University of Leeds School of Civil Engineering
Gaurav Sant – Professor and Henry Samueli Fellow – UCLA Samueli School of Engineering
Wil Srubar, III, PhD – Associate Professor at University of Colorado Boulder, Founder and Managing Director at AureusEarth
Contact
Brooklyn Digital Foundry: Aggie Woodbury, Producer, woodbury@brooklynfoundry.com, 718-254-9048
About the Brooklyn Digital Foundry
For over twenty years, the Brooklyn Digital Foundry has partnered with difference makers, helping craft effective brands and strategies, create innovative digital platforms and products, and produce content that drives awareness and engagement.
Web: brooklynfoundry.com
LinkedIn: @brooklyn-foundry
Instagram: @brooklynfoundry
Twitter: @brooklynfoundry
About the World Green Building Council
The World Green Building Council (WorldGBC), a global action network of 70 Green Building Councils, working with businesses, organisations, and governments to drive the ambitions of the Paris Agreement and UN Global Goals for Sustainable Development. Through a systems change approach, our network leads the industry towards a net zero carbon, healthy, equitable and resilient built environment.
Web: worldgbc.org
LinkedIn: @world-green-building-council
Instagram: @worldgbc
Twitter: @worldgbc
About the Net Zero Carbon Buildings Commitment (NZCB)
To maximise chances of limiting global warming to below 2 degrees, the Net Zero Carbon Buildings Commitment challenges business, organisations, cities, states and regions to reach net zero carbon for all assets under their direct control by 2030, and to advocate for all buildings to be net zero carbon by 2050. By setting further and faster targets, NZCB Commitment signatories can be identified as frontrunners in the United Nations Race to Zero.