LOS ANGELES and CHICAGO – It was quite an accomplishment for the filmmakers from Sarofsky, Kartemquin Films, Museum + Crane, their partners at digital-native agency closer look, and global immunology company argenx, when the first installment of their original unbranded documentary series was invited to premiere at the 2020 Chicago International Film Festival.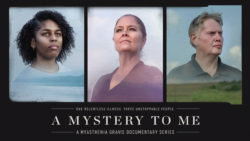 Directed by Ben Strang ("BEAST," SXSW Jury Award) and shot remotely during the pandemic, "A Mystery to Me" has garnered immense praise for its cinematic storytelling, and its "sense of unguarded intimacy." Created to humanize and raise awareness of the rare neuromuscular disease myasthenia gravis (MG), by design, it features three stories of individuals living with MG. Under Strang's direction, Vanetta Drummer-Fenton, Teresa Hill Putnam, and Glenn Phillips unpack the little-understood nuances of their experiences with MG, and through deeply vulnerable interviews, reflect on how to navigate the road ahead.
Since the auspicious festival debut for the series pilot, "A Mystery to Me" has continued to earn critical acclaim: Most recently, it brought home a Cannes Lions for Branded Content and Entertainment, was named as a Webby Honoree, and won this year's Brand Film Award in Unbranded Healthcare. It also has been hosted on https://www.mg-united.com, a community site launched by argenx, generating well over 100,000 page views and attracting 30,000 subscribers.
Notably, "A Mystery to Me: Chapter 1" has just launched on Vimeo as a highly coveted Vimeo Staff Pick. Over the past 15 years, this prestigious program has come to represent hallowed ground for filmmakers, driving hundreds of thousands of views, and launching many careers into the stratosphere. With this momentous development representing the project's public World Premiere, its creators are extremely gratified.
"We knew from the very beginning that in order to connect audiences to the unique life experience with MG, we would need to focus on the relatable human story within the experience, not the disease itself," explained Director Ben Strang.
"The films had to be shot remotely during the pandemic, too," said Executive Creative Director Erin Sarofsky, "which meant that it was pivotally important that we all spent time researching the compounded difficulties of MG to make sure our depiction of MG was both resonant and accurate."
"The deeply personal connection we formed with the subjects is what makes these films so special to me," Strang continued. "We were all in the trenches together, collectively figuring out how to make a remotely shot documentary, and the little moments we shared on Zoom together while figuring out how to set up a camera or laughing about getting the internet to work are what made us all so comfortable together, and what ultimately made the films so intimate, up-close, and authentic."
About Sarofsky
Director, creative director and designer Erin Sarofsky kick-started Sarofsky in 2009 and formed a group of extraordinarily talented makers who have been providing their services to leaders in the advertising and entertainment industries worldwide. Today, Sarofsky's makers use animation, visual effects, motion design and live-action to collaborate with customers from concept to delivery, producing work that is visceral, innovative and diverse. With artistry that encapsulates in-house long format, sublime commercials, brand films, title sequences and much more, Sarofsky's reputation for breakthrough design, its proven multi-media production expertise, and its fabulous Olson Kundig-designed studio in Chicago's West Loop all constitute key components of the attraction. Learn more at https://www.sarofsky.com.