Creative Agency McCann Health London, production company Jelly and Barcelona-based animation directors at Niceshit have collaborated to produce an animated musical film inspired by stories from the healthcare front line for Mental Health Awareness Week (9-15 May 2022). 
Supported by The Laura Hyde Foundation, who ensure that medical and emergency services personnel have access to the best mental health support available, 'The Feelings' brings to life a cast of charming characters – including 'Power Less', 'Rising Dread', and 'Red Rage' – to communicate common thoughts and feelings of front line healthcare workers. McCann researched and created the script which Niceshit designed and directed in a film that draws attention to the reality of what front line healthcare workers experience.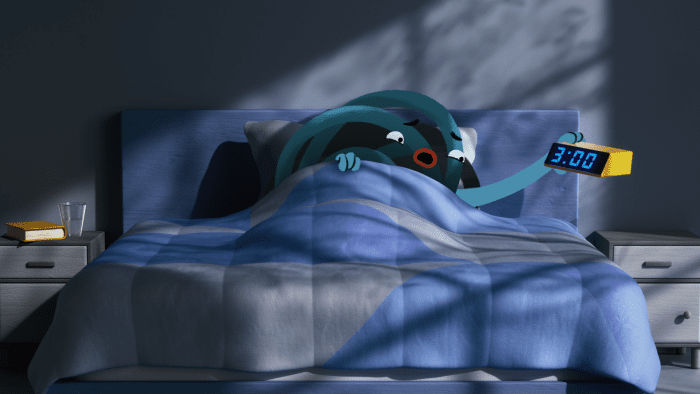 There are some staggering statistics about the increasing impact of mental health issues, particularly for frontline workers who, due to the intense demands of their job, were already a high-risk group for mental health issues, such as depression and PTSD. The Laura Hyde Foundation's Suicide Prevention Guide states that emergency services staff are over 40% more likely to be impacted by severe mental health issues and over 50% less likely to take up support.
Unfortunately, the impact of COVID-19 has made this situation even worse, putting even more pressure on the NHS workers and a greater strain on their mental health. What's more, the longer these issues go on unaddressed, the more damaging they can be.
The Laura Hyde Foundation Trustee Chair, Liam Barnes, comments: "Our healthcare and emergency services are still facing a pandemic to overcome. This time, it isn't Covid-19 but the state of mental health and wellbeing of the workforce, and we are yet to see the true effects of burnout, PTSD and many more conditions as a result of this testing time. The topic of mental health specifically for healthcare workers remains riddled with stigma. Any outputs that can help remove this such as 'The Feelings' are welcome by the Laura Hyde Foundation and we encourage anyone who is struggling right now, worried about a colleague/friend/family member or needing help to improve wellbeing in your workplace to contact us."
An original song leads the set of characters called 'The Feelings' through the different emotional states likely to be familiar to healthcare workers.
Guy Swimer, ECD of McCann Health London, says, "The Covid-19 pandemic put our healthcare system under pressure like never before – and the people who work within it. As an agency whose sole focus is health, we understand the challenges they have faced while doing such vital work, and we wanted to support front line workers by creating sharable and memorable content for social platforms."
The animation directors at Niceshit are known for their diverse and sensitive character work, exemplified in the design of the seven main characters in this film, and for their hybrid blend of design and animation techniques. The characters were developed based on the several emotional states identified by a group of first responders during the research phase and were crafted using brushes and hand-painted textures to add the humanity and sensitivity needed in treating this subject matter.
Of their unique approach to this brief, Niceshit comments: "Combining 3D environments with 2D characters is something that we love to explore and play with as we feel we get the best out of both techniques. By mixing these two worlds you get the beauty of lighting, 3D textures, and the use of camera movements combined with complete control of illustrating and animating the characters frame by frame."
On the message behind the campaign, Jelly Founder and Creative Director, Charlie Sells, comments: "It was great to be part of a campaign that has such an important message. Mental health has become a big topic amongst businesses and there's been a great progression in highlighting its importance in the workplace. This campaign encourages front line workers to articulate and speak about their feelings. Niceshit have created a beautiful and engaging animation with supporting characters we can all recognise. The playful song delivers such truth that hits hard. We all clapped for our heroes in lockdown to show our support –  I think we can now recognise even our heroes have feelings."
The hope is by characterising these feelings and naming them, it will make them easier to recognise, relate to, and talk about, helping to remove stigma and encourage healthcare staff to seek support for their own mental health.
As well as raising awareness, the campaign serves to highlight the many services and resources available to frontline healthcare workers specifically. The Laura Hyde Foundation provides mental health support for all healthcare and emergency services personnel, and can offer guidance and support to anybody who requires it. Other resources include Blue Light Together, and Headspace, who have now extended their free offer and are offering free access to all NHS staff with an NHS email address until 31 December 2022.
About The Feelings
Seven animated characters represent mental states that many people will recognise. From the Black Cloud where everything feels heavy and the future looks hopeless, through to Dead Numb, when something is so painful that you feel nothing at all; Red Rage when the smallest thing can send you into a fit of fury, through to Jangle Clanger; a sense of unease and restlessness of Power Less when it feels like things are slipping away, to Rising Dread and its associated panic and Deep Sadness that seems to follow you home. The characters are drawn in friendly ways with clear descriptions so that viewers can understand and maybe note if they have felt or feel the same.
About The Laura Hyde Foundation
The Laura Hyde Foundation was founded in late 2017 following the death of Laura Hyde on the 4th August 2016. The Laura Hyde Foundation's mission statement is to provide mental health awareness and support for all aspects of our medical and emergency personnel so to remove the stigma around raising and discussing mental health issues.
With mental health awareness growing all of the time with taglines such as #ITSOKNOTTOBEOK, the Laura Hyde Foundation focuses specifically on our medical and emergency personnel given their exposure to trauma, conflict and external pressures.
About McCann Health London
McCann Health is one of the most awarded global healthcare communications networks. Through combining science, creative and strategy we strive to deliver best-in-class services to some of the world's top, as well as emerging, health and wellness brands and companies. Our 2,500+ employees in 60 offices across 20 countries and 6 continents are united by one vision: to help our clients' brands and businesses play a meaningful role in people's lives.
McCann Health spans a range of global practices including strategic consulting, healthcare professional marketing, medical communications, consumer health and wellness, global health and specialty practices like pharmacy, payer and patient engagement.
McCann Health is a part of IPG Health.
About Niceshit
Based in Barcelona, and led by the director trio of Carmen, Guido, and Rodier – we are three curious minds who work together to create clever and innovative work that makes a lasting impression. Over time we have built a name for making impactful illustration and animation work executed to the highest standards for big brands, businesses, charities and clients from all over the world.
While we don't have a signature look or style, our love of character design, bold colours and humorous narratives often finds its way into the stories we tell. We love the holistic thinking and problem-solving that the challenges we take on call for.
About Jelly
We are a one-of-a-kind hybrid production company and artist management agency with bases in the UK, US, and Europe. Our hand-picked roster houses some of the world's finest talent. We're passionate about bringing authentic ideas to life and finding the perfect director, artist, or combination to craft unique creative. Whether it's illustration, type design, or a full-scale animation campaign, we work collaboratively to make memorable and effective, visually exciting content the world wants to see.
We care about the impact we have on people, society, and the environment, which is why we're committed to being a voice for change and a force for good.