Los Angeles-based creative and production company SixTwentySix Productions, is pleased to announce the signing of director Iris Kim for US representation in the commercial, music video, branded entertainment, and digital space.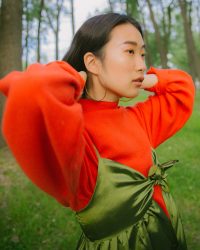 This latest signing aligns with the LA-based studio's expertise in creating authentic, relevant content connected to culture and its commitment to placing merit on talent of all voices, beliefs, and human experiences that allow for vibrant, captivating, and authentic storytelling for today's modern audience.
"We are so excited to have Iris join the team. As a person and as a director, Iris is precisely what our company stands for," comments SixTwentySix Partner and Managing Director Jake Krask. "As a creator, she has the ideas for content we are eager to continue creating for today's generation. Iris has such a strong, unique directing style and we look forward to supporting and developing her career."
"I think in Iris, we've found an outstanding, young storyteller who fits very naturally into the ethos and vibe of our expanding SixTwentySix family," adds Austin Barbera, SixTwentySix Partner and Executive Producer. "I'm thrilled about the contributions she's going to make to our work, culture, and clients."
Hailing from a small town in Ontario, Iris attended school in the heart of Canada's film & TV production industry capital, Toronto, which helped her to carve out the distinctive, juicy visual style of her work. Her passion for storytelling is driven by her affinity for honest conversations, both quiet and loud personalities, and vivid moments which she believes is the ultimate formula for making compelling films.
On joining SixTwentySix Productions, Iris says, "SixTwentySix and I started working together in the beginning of the year and from the start, I felt so supported with them. That's such a huge thing for me – knowing that the people I'm working with will always hear me. More recently, I've been ready to explore and have a bit of fun with work and I can't wait to do that with them. Honestly, I really just can't wait to start."
A director who appreciates the dramatics of a swooping dolly-in and a tight edit, Iris is recognized for a style that brings the viewer in and immerses them in the scene. Her music video background has allowed her to elevate and romanticize reality in two-to-three minute videos she considers 'short, short' films. "She has very unique camera angles and tricks to keep the visual interesting and knows how to balance it with directing the talent to create powerful images," shares Krask. "Iris really brings a youthful and new touch to her projects that makes them super entertaining to watch!"
Iris' body of work includes lensing national and international work for global brands and labels such as Interscope Records, Universal Music, and Republic Records. She has helmed innumerable music videos throughout her career including Johnny Orlando's "Adelaide," renforshort's "Virtual Reality," Anna Sofia's "Don't Play Pretend," Alex Porat's "Never Say ILY Again," and Adelaine Morin's "SPF 50." Her creative direction has also graced the likes of branded shows such as Urban Decay's Live Makeup Show "Ride or Die," where she served as a scriptwriter and creative director. Additionally, Iris' short film, English Made Easy, centering around the theme and nuances of the English language from the perspective of a Korean student, was a nominee for the TIFF x Instagram Shorts Festival.
At SixTwentySix Productions, Iris will join a roster of high-profile directors including Miles & AJ, Tyler Lee, Clifton Bell, and empowering female talents including Chandler Lass and Nina Kramer to name a few. Iris recently directed work for Adidas and upcoming, has another commercial project and two music videos slated for production.