Downy Pure Cotton takes audiences on a journey into a soft, dreamy cotton cloud world with its latest commercial.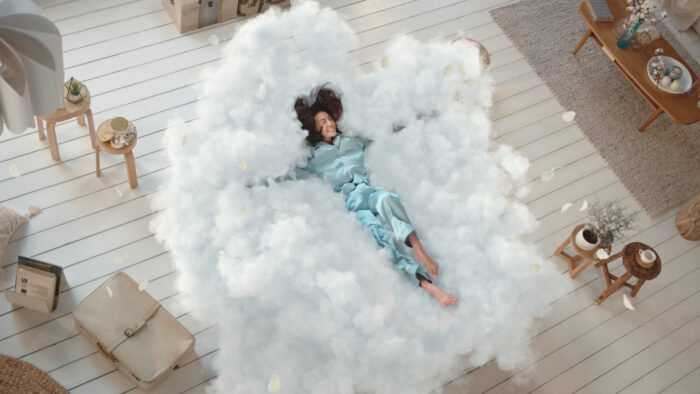 PGOne's Fluid team, who created the ad for Procter & Gamble's leading fabric conditioner brand, turned to VFX specialists Heckler, drawing on its extensive craft animation and technical expertise to bring the magical Downy world to life.
The film, which is currently running in Vietnam, features a woman transported into the cotton cloud world thanks to Downy Pure Cotton. Beginning with a soft towel transforming into a cloud as she touches it, and ending with her eagerly leaping into her bed, expecting the same magic. Here she sinks into soft cozy folds of clouds where her sheets used to be. A bed of clouds now whimsically afloat in her apartment, as she snugly falls asleep.
Heckler's VFX team used Houdini and VDB modeling to create the clouds, which were sculpted to capture the sense of softness of looking at a white fluffy cloud in the sky. The animation was based on small spheres that move around and interact with the woman, adding to the feeling of a soft fabric made of clouds.
The interactions between the woman and the clouds were achieved using a mix of simulation techniques and hand animation, making the cloud-balls move and react when she touches or jumps on them. The final result was enhanced by intricate composite work, which created transitions and enhanced the sense of light bouncing off the clouds, brightening the environment.
Heckler's creative director Cody Amos, said: "This is the kind of job I really like. The concept is nice and whimsical, and the goal was to create something you don't see every day; people floating around in clouds inside their apartment. It's also a technically challenging job. Realistic looking clouds that move and interact is a fairly complex FX task and a pretty tricky comp task too. It's also challenging aesthetically, as the clouds wanted to look both realistic but also soft and cottony. I think what we ended up with is pretty cool. It looks real but also surreal."

Director Antony Redman added: "When you have an actor interacting with CG, you just want it to look real at the end of the job. Well, she falls onto a bed that has changed into thousands of little clouds, and I buy it completely. That's all you can ask from a post house and it's the highest praise I can give to the CG boffins at Heckler."

Heckler's executive producer, Charu Menon added: "Our visual effects team faced several challenges in creating this world, including designing the clouds and figuring out the scale. While everyone has an idea of what clouds look like, generally the clouds we see are large. When they're seen close up they're much more misty. So for this reason, we didn't target a realistic scale, instead focusing on capturing the sense of 'softness' you get when looking at a cloud in the sky. We're thrilled to have created an environment which takes audiences on a journey to a world of clouds that are as soft and dreamy as their clothes."