The award-winning Mouvo conference will take place in Prague for the seventh time. The conference organizers are now selling tickets for the April event and recently announced the initial lineup of world-class speakers.
Organized by the Prague studio Oficina, Mouvo provides a platform for the best the global audiovisual culture has to offer at the intersection of graphic design, animation, film and interactive technologies.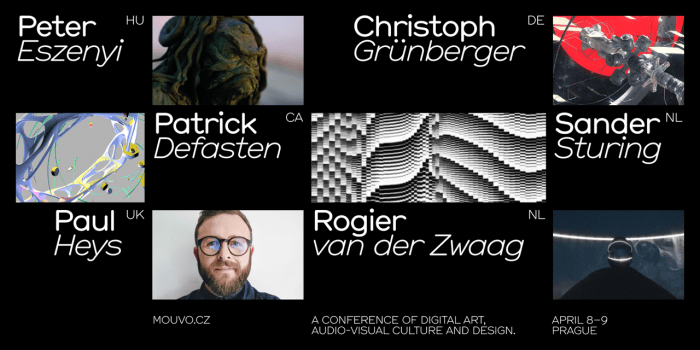 The conference returns to a two-day format, and this time the central theme is experience. Speakers will present how our perception and experience of audiovisual content shift. They will explore the impact of new technology, communication approaches and a wide spectrum of media options. Whether it concerns small interactions on personal devices or massive public installations, the diverse group of lecturers will share a view of the user, spectator and brand experience. To round it out, experience and its role in the creative industry will be a key topic.
Attendees will experience the conference in an exciting new location. Mouvo is partnering with the Prague Academy of Arts, Architecture and Design, bringing the event to the new Technology Center on Mikulandská Street. This innovative and modern environment is indicative of the evolution of the conference. This year, Mouvo is adding theoretical lectures which will further contextualize the presentations of the designers' work. 
"We started as a motion design conference. However, we love to expand our area of interest and expertise. Our goal is to provide the audience with deeper theoretical insight and broaden their perspectives by moving towards digital art, contemporary audiovisual culture and design," explains Vladka Cimbalnikova, the producer of the Mouvo conference and Oficina studio. 
To exemplify this shift, Christoph Grunberger, a German designer and author of Analog Algorithm and The Age of Data, will be among the presenters at the event. His second publication, a Kickstarter success, delves into programming and the use of data in contemporary art and design. 
The first batch of announced speakers includes Peter Eszenyi, an influential design director from Hungary. After ten years in advertising agencies, Peter spent the following decade in the field of film visual effects, creating numerous futuristic interfaces for Hollywood blockbusters such as Blade Runner 2049, Ghost in the Shell, Avengers and Pacific Rim. Peter also founded his own studio and devoted his time to a big passion project. Using photogrammetric techniques and archive photographs, he immortalized the awe-inspiring experience of the moon landing mission of Apollo 11 in 3D space. 
Patrick Doan is a Canadian designer and artist performing as Defasten. He centers on visual outputs rendered in real-time. Patrick has exhibited his work in the British Tate Gallery, MUTEK in Montreal, and the Transmediale in Berlin. He creates content mainly for live events, concerts, and performances. One of his recent projects is a visualization for a rave party in the metaverse.
Sander Sturing is a creative coder for the renowned Dutch studio Dumbar. He champions experimenting with processing and generative type design writing. Sander's technical skills allow Dumbar to accelerate innovative approaches when creating a visual identity and building brands. Whether it is new technological possibilities, working with data, programming, or producing their tools, integrating technology and motion design is key to Dumbar's work. The Dutch studio's innovative approach moves the brand experience to another level.
Paul Heys is a long-time lecturer at the British universities of Sunderland, Sheffield and Nottingham. He is currently working in design at the Vital studio, focusing exclusively on innovative developments in the automotive industry. Paul describes himself as a practicing fan of and commentator on the development of visual culture. On a theoretical level, he explores the historical context of current events. He examines how the paradigms of visual design shift and how well-established conventions of creative work break.
Dutch filmmaker, Rogier van der Zwaag, is a visual artist with a non-traditional creative approach to video production. His work is experimental and centers on his fascination with optical tricks and visual illusions. Roger plays with cameras, mirrors and physical objects made of paper, wood, wool, or even milk and rice. On top of personal projects, he uses his artistic trademark for commercial commissions. His successful projects include collaborations with Binkbeats and the Into The Great Wide Open festival.
The organizers will announce additional conference speakers on their social media. In the days prior the event, Mouvo fans will receive an exclusive opportunity to participate in a workshop called Coding and design with studio Dumbar's Sunder Sturing and Elvin van Dalen. The capacity is limited. 
Tickets and more information can be found at Mouvo, where you can also purchase a design piece from the limited Mouvo collection.
www.mouvo.cz
https://mouvo.cz/tickets/
https://mouvo.cz/workshops/