Legendary street culture brand Vans enlisted visionary creative production company Final Frontier to help activate the latest addition to their Knu Skool silhouette: The Knu Stack.
The Knu Stack adds a modern twist to their enduring '90s skate shoes, and Vans set out to create an impactful moment in the heart of New York City to bring the new look to life.
Consumers are ready and wanting us to show up in a fresh yet authentic way. This campaign is a bold swing at stopping people in their tracks, forcing reconsideration, and injecting a renewed energy for our brand. An important piece of that was our approach to OOH, which led to one of our most interactive activations: a 3D billboard in New York City. This year's campaign connects the dots between what our brand values, and the iconic products we make that have represented that ethos for decades. It's something larger and more holistic than we've done as a brand in the past."
Rob Teague - Vice President of Global Creative, Vans
Final Frontier had been seeking a larger-than-life opportunity to announce their expansion into the US, and there was no better way to kick things off than working with a cultural icon in NYC.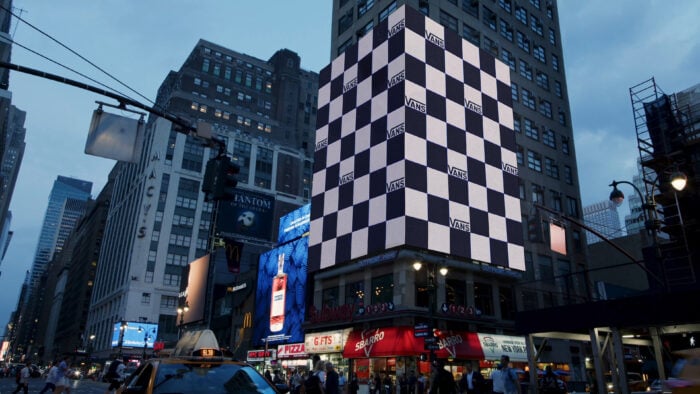 Partnering with renowned design and animation studio, Woodwork, the creative team were hell-bent on standing out amongst the busy New York skyline. The Naked Eye 3D billboard gave them the opportunity to quite literally think outside the box, as the giant 3D version of Little Simz is seen kicking through the classic VANS chequered branding and dangling the Knu Stack tantalisingly over the heads of passersby.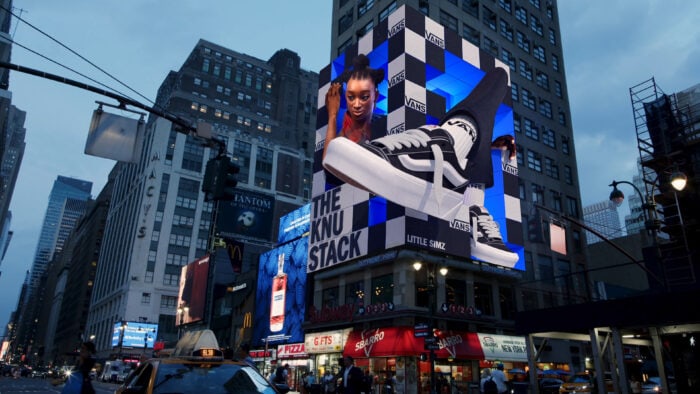 Woodwork Art Director Roberto Andreu reflected, "Working on a 3D billboard presents challenges, as the effect can only be fully appreciated from one angle. However, when it all comes together, the audience is in for an incredibly rewarding and immersive experience. The blend of CGI and realistic textures, mixed with the VANS' signature street chill and grungy vibe, made the whole project unique."
Although Little Simz's anatomical proportions were exaggerated to better fit the scene, the rapper herself was not needed to model for any portion of the work.
Andreu added, "For the character, we used photogrammetry of Little Simz to texture-map them onto her body parts and outfit, aligning with the campaign style. Given the unconventional proportions, we extended and reimagined the photography, adapting it to the new anatomy."
The creative team then meticulously rigged and animated the sequences to add movement and life to the character. They also lit the entire scene to replicate natural lighting and enhance the 3D effect, making it truly eye-catching.
Final Frontier Executive Creative Director Claus Cibils said, "I think we're in tune with Vans. Their way of being. It's about the culture. Going beyond. After working together, I've realised that they're what our ideal client should be. They're so free, which is rare for a major brand."
Final Frontier are no strangers to seeing their work on the global stage, but witnessing VANS towering over the streets of New York City at the entrance to Pennsylvania Station was something to behold, even for the most seasoned creatives.
"It's amazing," says Cibils. "I'm used to seeing things in 19:9 or 9:16. Incredible."
The 8-second animation is expected to be seen live by an estimated 4.5 million people. You can catch it until the end of August on the corner of 7th and 3rd.
---
---
Credits:
Client: Vans
Vice President, Creative: Rob Teague
Creative Director: Bruno Luglio
ACD/Art Director: David Happekotte
Director, Production: Nate Rogers
Senior Producer: Antonietta Croft
Senior Producer: Max Rubins
Creative Project Manager: Chase Weikal
Director of Music, Partnerships, Culture (Global): Steve Balser
Manager, Brand Management, Life + Style: Marissa Smith
Director, Digital Media (Global + Americas): Elena Carroll
Senior Manager, Media & Advertising (Americas): Katrina Hofmann
Manager, Media & Advertising (Americas): Amanda Randel
Senior Manager, Corporate Communications: Charlie Cawte
Production Company: Final Frontier
Executive Creative Director: Claus Cibils
Executive Producer: Julieta Zajaczkowski
Head of Production: Mary Antonieta Lopez
Producer: Milagros Vilapreño
Design & Animation Studio: Woodwork
Art director: Roberto Andreu
Creative director: Marvin Koppejan
3D lead: Ernst Noort
3D motion designers: Lennard Goede, Pascal Amestegui Fuentes
2D motion designer: Hidde Maas
Producer: Sabine van Wechem
Producer: Nina Fabel
Producer: Gayle van Bochove
---
---