The leaders from creative production studio Flavor and Cutters Studios are very proud to announce promotions for several long-standing team members. According to Flavor's Executive Producer Neal Cohen, Brian McCauley rises to Executive Creative Director, Brad Backofen and Colby Capes ascend to Associate Creative Director, and Mack Neaton becomes Senior Art Director, effective immediately.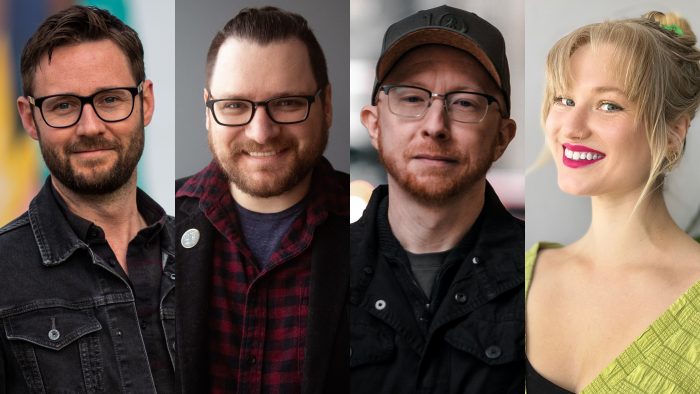 McCauley has been a Flavor All Star since his first freelance assignment in 2012. Proving the viability of working remotely as a hands-on creative director by consistently delivering extraordinary work and leadership for top-tier brands and global creative leaders, his credits include numerous top-rated Super Bowl spots, and a growing list of creative-industry speaking engagements.
Addressing McCauley's promotion first, Cohen explained, "Not only is Brian is a talented designer and animator, his skills as a client-centric creative director are extraordinary. By focusing deeply on understanding our clients' brand strategy and objectives, his creative solutions are amazingly impactful. Also, his appreciation for talent, and his leadership expertise, ensure our clients always get the best of everything we have to offer."

"For nearly a decade at Flavor, we've found that we always do our best work with a healthy blend of great artists and great clients," McCauley began. "Those mutually respectful relationships allow for breakthrough creativity. In short, with the promotions of Brad and Colby to ACD and Mack to Senior Art Director, the future of Flavor looks bold and bright."
Having arrived at Flavor just ahead of McCauley in 2011, Backofen has championed the studio's distinct creative vision and worked tirelessly to help expand its talent roster. A major player in creating Flavor's eye-popping designs for campaigns for Nike, McDonald's, Nissan, State Farm, Dairy Queen, Intel, KitchenAid, Jeep, Maytag, and Vera Bradley, to name but a few, he also takes deep pride in representing Flavor at prestigious design conferences worldwide.
Like McCauley and Backofen, Capes is also an Illinois Institute of Art graduate whose track record extends back to 2011. Over this span, his distinct touch has been applied to countless Cutters Studios projects. A key contributor to high-profile campaigns for AICP, Coca-Cola, Getty Images, Goose Island, McDonald's, S'well, and TEDMED, his accolades also include designing key art for feature films, and volumes of digital and analog art outside the advertising world.
Neaton joined Flavor immediately upon graduating from Columbia College Chicago. Her accolades include earning acclaim as the Design Grand Prize winner for AICE's Camp Kuleshov Chicago Awards in 2014 and 2016, serving as Art Director and featured artist for The Ocean Agency's groundbreaking 2019 "Glowing Glowing Gone" campaign for Adobe and Pantone, and directing indie artist Carlile's "Spare Me" music video, which screened in prestigious festivals across America. With vast commercial credits on campaigns for the likes of Nike, McDonald's, and Vera Bradley, Neaton's unique talents and her bright perspective remain essential ingredients in Flavor's arsenal.
To support its illustrious clients worldwide, Flavor is always looking to expand its roster of freelancers. Experienced and passionate designers, 2D/3D animators, character animators, VFX artists, compositors and Flame finishers are invited to send reels, portfolios, and resumes. City, state, or country of residence are non-issues in the group's mission to collaborate with the best of the best. Please visit this link and reach out for immediate consideration: http://cuttersstudios.com/freelancer.
About Flavor
Flavor is a phenomenal global collective of visual storytellers commanding the most powerful digital technologies on the planet. Together with its Cutters Studios partners Cutters, Dictionary Films and Another Country, Flavor represents unlimited production capabilities. Experience Flavor's globally impacting, industry defining animation, design and VFX works online at http://www.flavor.tv.