As the Indian film industry continues to grow at pace, so too does the demand for high-quality VFX. FutureWorks delivered VFX and color work on comedy-drama Selfiee, focusing on visual effects with seamless and lifelike results.
FutureWorks was brought on board by Dharma Productions to work on more than 1,500 shots for comedy-drama Selfiee, directed by Raj Mehta.
A remake of the Malayalam film Driving Licence, Selfiee features action star Akshay Kumar as Bollywood superstar Vijay Kumar, and Emraan Hashmi as Om Prakash Aggarwal, an RTO (Regional Transport Office) inspector and Kumar super-fan, who dreams of taking a selfie with his hero.
The Hindi-language film descends into a farcical battle between the superstar and his biggest fan when Kumar needs to get hold of a driver's license in a hurry, and Aggarwal is the only thing standing in his way.
With a big-name actor as the film's protagonist, Selfiee features several of his movies within the movie itself. Naturally, that meant blockbuster-quality VFX was required. FutureWorks had just two and half months to complete the project, with an 80-strong team of VFX artists.
Creating a CGI helicopter
The challenging timeline was further exacerbated by a particularly complex scene involving a helicopter.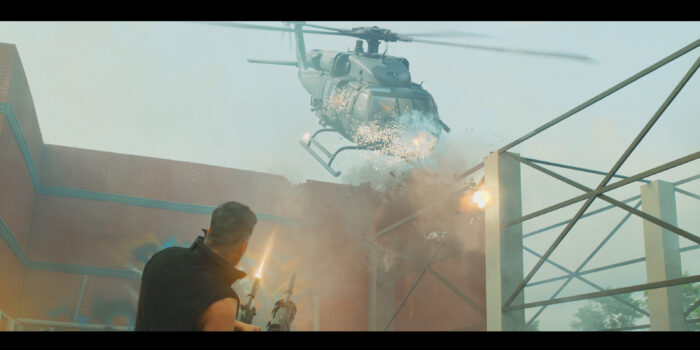 The production team had originally planned to use a fake physical helicopter hanging from a crane, which would just need the wire editing out in post. However, they weren't satisfied with the crane effect, so they took a last-minute decision to create a CGI helicopter instead. What's more, the FutureWorks team had to simulate the vehicle falling and exploding.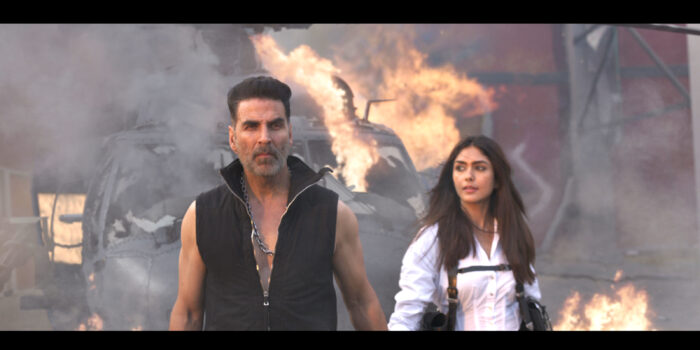 The team created the CGI chopper in Maya, and used the latest advancements in Katana for look development and final rendering. To create a realistic environment they used HDRI and LIDAR, while the explosion and its impact on the helicopter was created using Houdini. The CGI model required a high level of detail, covering everything from the rotors, engine, and cockpit, to the weathered look of the vehicle.
"As we initially thought that we would only be removing the wire from the fake chopper, we hadn't done the necessary prep work on-set that we would usually do," says Vinay Chupal, VFX Supervisor at FutureWorks. "So, we went back to the filming location to capture the information we needed to create the CGI chopper. The biggest challenge was to get the correct result with the right lighting conditions, and we had less than a month to put this together."
The resulting scene was a success, with the helicopter sequence seamlessly blending into the real-life action.
Building the crowd scenes
Another key area for the VFX in Selfiee was crowd multiplication. FutureWorks simulated big crowds of adoring fans, evoking the feeling of a busy city rather than the small town environment where the shooting took place. Having completed crowd multiplication scenes in many other productions, including 2022 sports drama Jaadugar, FutureWorks had lots of experience in this space.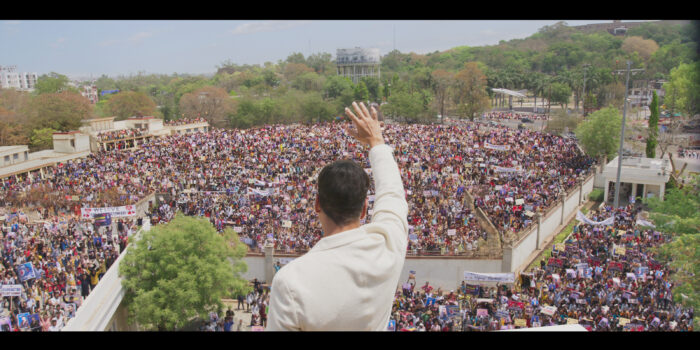 Selfiee includes several big crowd scenes, including one in a cricket stadium. The largest of these scenes features a crowd of around 500 who have turned up to welcome the arrival of movie star Kumar. This scene alone took 20 days to create. For the majority of the crowd, the FutureWorks team used 2D graphics, but for a few shots where more detail was needed, the team created 3D character models in Maya. Final compositing was completed in Nuke, using the software's 2.5D techniques to blend the 2D crowds into the live-action footage. This allowed for the creation of depth and parallax, giving the crowds a more realistic look.
"On the set, we shot the crowd in two or three layers, capturing the actors against a green screen, then we made a big plate out of those people," says Vinay. "We shot around 70 actors, performing different types of action, and combined them together in compositing, blending it to match with the camera and the lighting. We then used the plate in layers, which worked perfectly."
Tight timeline with a robust workflow
Completing the VFX work for Selfiee on such a tight timeline relied on a robust workflow.
"We have a smooth pipeline that we manage in ShotGrid, so the review process is now very simple for us, and we use this same workflow for every project," says Vinay.
What's more, the FutureWorks team used a render farm to distribute the rendering workload across multiple machines. This workflow helped to speed up the process to complete the shots in less time.
"The client was incredibly pleased with the result, which is the best you can ask for with any project," says Vinay. "Previously, these types of projects were just not possible in India, because low-budget movies didn't have the kind of high-end VFX that can seamlessly blend into live action. When people don't question your VFX — when it's blended so well that you can't tell what's real and what's not — that's when you know you did a good job."

FutureWorks' CEO Gaurav Gupta says: "With our team's dedication, technical expertise, and attention to detail, we'll continue to support the increasing need for high-quality VFX in blockbuster films in India and beyond."
---
---
About FutureWorks
Leading global content creators, studios and OTT's rely on FutureWorks' expert artists and technologists to deliver world-class services. FutureWorks is a leader in end-to-end film production from visual effects and picture & sound post, to the supply of high precision cameras and lenses. With a dedicated team of over 300 talented artists, spread across multiple integrated facilities in India, FutureWorks is recognized as a trusted partner by platforms worldwide.