Heckler has announced the appointment of Coralie Tapper as Creative Producer, Sydney. Coralie is an award-winning Producer and UPM with over ten years' experience in film and the creative industries. As a commercial producer Tapper has produced campaigns for clients including Coca Cola Global, Audi Australia, Tourism QLD, Destination NSW, Enova Energy, Afterpay, Australian Own and Coopers.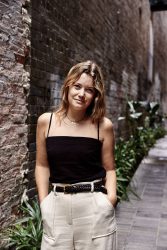 Her music video credits include working with Australian artists Tones & I, Julia Stone, Genesis Owusu, Matt Corby, Dope Lemon, Kita Alexander, Eves Karydas and Jarryd James.
"I'm a storyteller, creative facilitator and obsessive organiser and although logically minded, I am creative at the core. I have always loved collaborating with Heckler, they are truly the home of stand out talent with artists like Andrew Holmes and Jamie Watson. I am delighted to now call Heckler home, officially!" Coralie Tapper, Creative Producer , Heckler
"I knew Coralie would fit our company culture as she has the tenacity and integrity we require in our creatives. She inspires an artistic team atmosphere and collaborates to achieve award-winning results." Will Alexander, Co-Founder / Executive Producer
Heckler has offices across Sydney and Singapore and an expanding new client portfolio that Tapper will be working across. Offering Senior Post Producer experience, Tapper will also be overseeing a range of creative productions and campaigns, including long form and experiential projects.