Following a banner year with several key additions, Nomad is continuing to grow, this time from within, with the promotion of Assistant Editor Kallie Billadeau to Editor.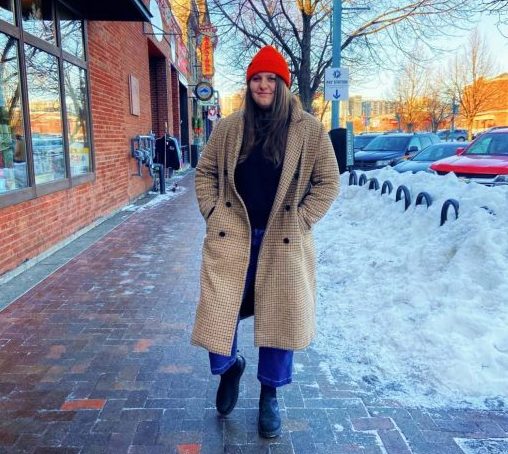 Over the course of nearly three years at Nomad, Kallie has worked on an extensive array of projects, including a number of documentaries and campaigns for world-class global brands like Jeep, Calvin Klein, Glossier, Aveeno, and more. As a former D-1 ice hockey player, she cites her Aveeno campaign, featuring WNBA star Skylar-Diggins Smith, as one of her proudest achievements, as well as her work on Under Armour's 2021 Pride Collection. Being a proud member of the LGBTQ+ community, Kallie was grateful to be able to help create a story that reflects the diversity of her community and raises awareness of underrepresented voices. Additionally, the first documentary she cut, "RESIST", about the Resistance Revival Chorus, was featured at the Tribeca Film Festival.
A lifelong creative, Kallie became interested in the art of editing at a young age, first honing her skills cutting her ice hockey team's end of year videos throughout middle and high school. Her passion continued to blossom throughout her time at Syracuse University, where she learned valuable time management and multitasking skills as well as developing her unique artistic style, which focuses heavily on using music and intricate sound design to elevate the visuals of each project.
Now, as a full-fledged member of Nomad's tight-knit creative team, Kallie joins the recent additions of Editor Sam Perkins, Senior Lead Flame Artist Steve Morris, ECD Chadwick Halbritter, and Partner/Editors Brandon Porter and Conor O'Neill.
"When I originally joined Nomad, the work they were doing was so far beyond anything I was involved with at the time, so I was extremely happy to have the chance to come on board," she says. "When I met [Nomad Managing Director/Partner] Jennifer [Lederman] and the rest of the Partners, it instantly felt like a family — one that I knew would constantly push me to become a better editor. So I'm incredibly excited to start this next chapter in my career and beyond lucky to be doing it at Nomad."
According to Lederman,
"When the NY Partners and I became involved in Nomad, we had concrete goals of creating a company that celebrated new talent and provided pathways for the staff to grow internally. Kallie is our first promotion to editor, so it's a celebrated event for us all. The fact is, Kallie's talent was impossible to ignore. She not only excelled at the projects we brought to her, she also sought out director relationships and was able to add really exceptional spots to her reel by doing so. She's a great role model to any assistant editor looking to grow."
Nomad Partner/Editor Jim Ulbrich is equally excited, adding that the decision to advance Kallie was an easy one.
"Kallie is a force. She's very driven, and she's earned the success she's experiencing. Ultimately, it was an easy decision for us to promote her to editor. It's obvious she has a passion for the craft, which is evident in her fun, somewhat irreverent editing style. It's always a pleasure to see what she's been up to and how she's enhanced a particular project. Overall, Kallie's work is helping to expand the scope of work we do at Nomad, and we couldn't be more proud of her."
About Nomad:
Nomad has built a reputation as a leading creative editorial company with integrated VFX, Color, and Design. Nomad Editors Jai Shukla, Jim Ulbrich, Amanda Moreau, Adam Schwartz, Deirdre Bell, Dan Maloney, Jared Coller, Brandon Porter, Conor O'Neill, Sam Perkins and Kallie Billadeau are available to work in New York, L.A., London and Tokyo.
Social Media:
Facebook /nomadeditco
Twitter @nomadeditco
Instagram @nomadeditco
LinkedIn /nomadeditco