CHICAGO – The partners behind "A Mystery to Me," an original documentary series created to raise awareness of the rare neuromuscular disease myasthenia gravis (MG), are extremely proud to have earned this year's Brand Film Award for their project, in the sixth annual program's Unbranded Healthcare category.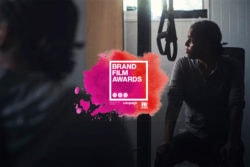 Presented to global immunology company argenx along with Sarofsky Pictures, Kartemquin Films, Museum + Crane, full-service digital agency Closerlook, and Syneos Health, the achievement honors "A Mystery to Me" as the best creation of awareness of a healthcare issue or disease/condition in regulated markets. The U.S. Brand Film Awards are convened by PRWeek, Campaign, and MM+M to celebrate the best in filmmaking on behalf of brands and enterprises.
Directed by Ben Strang ("BEAST") and produced by Chicago's Sarofsky Pictures in association with Kartemquin Films ("Minding the Gap") and Museum + Crane ("Feels Good Man"), "A Mystery to Me" features three stories of individuals living with MG: Vanetta Drummer-Fenton, Teresa Hill Putnam, and Glenn Phillips.
As recognized by the awards program, people living with MG must confront both the challenges presented by the rare autoimmune disease and the lack of public knowledge. In three mini-documentaries, the series' subjects tell their own stories, describing when they first realized something was wrong and chronicling their experiences. In all three vignettes, each subject faces a pivotal moment of catharsis, and ultimately learns how to thrive in their journey.
"A Mystery to Me" was shot remotely during the pandemic, resulting in what judges cited as, "a sense of unguarded intimacy."
Since its first installment debuted at the 2020 Chicago International Film Festival, the series has generated well over 100,000 page views. For argenx and all the project partners, the greatest accolade has been the positive feedback from the MG community.
"In the filmmaking process, what surprised us the most is how excited our incredible subjects were to participate in the production in such a tactile way," Strang explained. "No documentary is possible without great subjects, and this production is a testament to the immense enthusiasm and persistence of Vanetta, Teresa and Glenn. They were as much a part of the film crew as they were subjects, and we're so proud of the subtle moments we all collectively captured together."
Complete project credits and press materials are available upon request. To watch the film series and learn more about MG, please visit https://www.mg-united.com.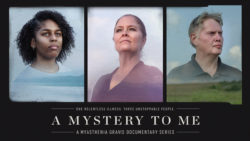 About Sarofsky
Director, creative director and designer Erin Sarofsky kick-started Sarofsky in 2009 and formed a group of extraordinarily talented makers who have been providing their services to leaders in the advertising and entertainment industries worldwide. Today, Sarofsky's makers use animation, visual effects, motion design and live-action to collaborate with customers from concept to delivery, producing work that is visceral, innovative and diverse. With artistry that encapsulates in-house long format, sublime commercials, brand films, title sequences and much more, Sarofsky's reputation for breakthrough design, its proven multi-media production expertise, and its fabulous Olson Kundig-designed studio in Chicago's West Loop all constitute key components of the attraction. Learn more at https://www.sarofsky.com.