P2 Content Creators are a Sydney based team of video creation experts. Hellbent on creating standout videos for ambitious retailers as much as local musicians.
The new video for 'Dracodraco' is our recent work for Sydney DJ Ninajirachi – a beautifully ethereal new track which demonstrates again that Ninajirachi is the real deal.
'Dracodraco' is a glistening, glitchy track, masterfully brought to life with 3D animation designed to replicate an ancient storybook. We follow the quest of a Dragon as it traverses foreign terrains in search of its lost family – each scene punctuated by the slow building synth before decimating the sparseness with a frenetic chopping of the song's parts, creating a dizzyingly fragmented crescendo.
Says Ninajirachi, "It looks amazing!! Thank you sooooo much, it looks sick!".
Josh McEvoy, P2 Director and Senior Animator remarked: "Now and again passion projects come your way – this was a sheer joy that required many hours of focus and craft to get the feeling we all wanted. We're thrilled with the final piece and happier still to have created something befitting Nina's musical power. Our biggest challenge in bringing this video to life was the sheer length of the video. Sustaining visual interest for close to 4 minutes was something that almost got us. Almost.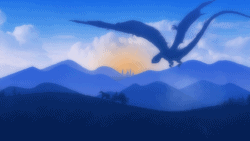 CREDITS:
Music by: Ninajirachi
Directed by: Josh McEvoy
Animation / Compositing: Josh McEvoy, Jon Nightingale, Aaron Stannard
Editing: Kristian Mather
3d Models: Licensed under Creative Commons