Post Office Studios, the immersive content studio of Kulfi Collective, has partnered with Gully Gang Records to create India's first music video using Unreal Engine's MetaHumans framework for their new song Spaceship.
The groundbreaking piece showcases the incredible potential of this new technology, the exciting possibilities it presents for creatives, and the Post Office's focus to combine cutting-edge tech with diverse creative talent to reimagine storytelling.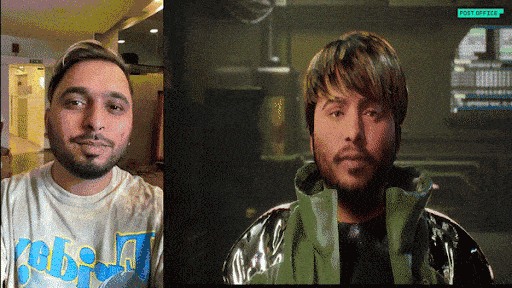 Spaceship brings together three emerging stars of the Indian hip-hop scene, Sammohit, Ikka, and Shah Rule, in one epic song as they rap about their ambitions and passions in their career, comparing these to travelling in outer space. This was an association with Gully Gang (a hip-hop music collective that unearths and manages desi hip-hop talent).
Creating the video involved a multi-step process, beginning with photo scans of the artists' faces from multiple angles to generate their digital likenesses. Post Office used a process called photogrammetry, which includes creating a 3D model of a face using photographs.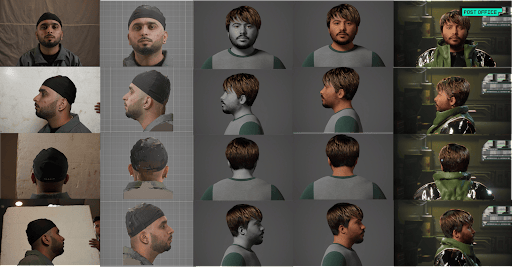 High-quality photos were taken from different angles and processed using MetaHumans to create an accurate 3D model. The resulting 3D model was then refined and edited to create a digital twin that closely resembles the original face. The rest of the body type, hairstyle, and other features were also adjusted to create characters that closely resembled their real-life counterparts.
By using this technology, Post Office was able to capture the facial expressions of the artists to match their real human expressions and add additional details such as wrinkles and creases.
The team also explored hacks by using an iPad and UE Live Link Face (an app that uses the front-facing camera and IR sensors from the face ID cluster of an iPad to capture facial movements in real-time and stream the data to a computer running Unreal Engine) to capture realistic facial expressions without the need for expensive camera tracking equipment or facilities.
The resulting digital characters were able to convey a range of emotions and movements, making it an effective tool for their project. To ensure accurate lip syncs that matched the facial expressions, they recorded various voiceovers of the artists for the software. Finally, the team created various digital worlds for the characters to inhabit, enabling them to scout for interesting camera angles in a virtual environment.
The video was directed by Vaibhav Negi from Post Office, and creatively led by Aadhav Ravi, Arnab Bose, Ajeeta Srivastava, Akshat Gupt, Aditya Tawde and Harsh Sharma. The production was handled by Catherine Nazareth and Ankur Chakravarty. The final result is a stunning visual masterpiece that combines cutting-edge technology with excellent storytelling.
Vaibhav Negi, Associate Creative Director, Post Office, said, "Real-time CGI film production is a fascinating medium that seamlessly merges the dynamic energy and collaborative spirit of live-action production with the boundless creative freedom and flexibility of digital animation. It offers a veritable playground of creative potential for all those involved, a place where imaginations can run wild and ideas can be brought to life in vivid, spectacular detail. Working with the team at Gully Gang on this space adventure was an absolute joy, and we're thrilled to continue exploring the limitless possibilities of this thrilling medium as we embark on a journey to tell all sorts of captivating stories."

"At Post Office, creativity and innovation are at the forefront of our work as we seek new ways to bring stories to life. By embracing innovation, we continue to create unique and compelling content that fascinates our audience and sets us apart from the rest. New technologies like Unreal, MetaHumans and Mixamo Preset are revolutionising animation production by providing stunningly realistic 3D models and environments in real-time. They offer more creative freedom and accessibility, empowering us to bring ideas to life in truly immersive and mind-blowing ways. They are slowly but surely transforming the industry, and we're excited to explore the possibilities they bring" added Aditya Tawde, Co-founder and Chief Creative Officer, Post Office.

Anmol Singh Dhand, A&R and Marketing Associate, Gully Gang said "Spaceship is a marquee project for us as it has three star rappers coming together to create something that's really out-of-this-world. This collaboration with Post Office to create the 'meta humans' video is something that's never been done before in the Indian music scene, a truly extra terrestrial video which transports the viewer to space!"
This innovative project is sure to captivate hip-hop music fans and animation enthusiasts from across the world. It is a testament to Post Office's mission to reimagine storytelling and push the limits of imagination and creativity.
---
About Kulfi Collective:
Kulfi Collective is a full stack content network that tells stories that shape culture. Kulfi brings together talent, tech and data to create and distribute muti-format, multi-platform premium content for GenY and GenZ audiences in India and across the world. Kulfi operates through three verticals – Supari Studios (branded content), Post Office (immersive content) and Keeda Media (original content).
Over the last ten years, Kulfi has produced more than 10,000 minutes of content that has been viewed over two billion times online for some of the most ambitious brands and platforms in the world such as Red Bull, Google, Audible, Netflix, Tinder, Spotify and Flipkart among others.
---
About Post Office Studios:
Post Office is the immersive content studio of Kulfi Collective focussed on producing design-driven, tech-enabled, virtual experiences for brands and platforms. They are a global network of designers, animators and creative technologists that push the boundaries of imaginative storytelling.
As a part of the vertical, they create innovative and immersive content in motion design, AR & VR and have collaborated with brands like Red Bull, Tinder and Warner Media in India and internationally.
---