HBO Max released the second season of the highly anticipated Ridley Scott sci-fi drama, Raised by Wolves, on February 3.
The series is created by Aaron Guzikowski, acclaimed writer and visionary behind the highly lauded film Prisoners. In this new season of RAISED BY WOLVES, Android partners Mother (Amanda Collin) and Father (Abubakar Salim), along with their brood of six human children, join a newly formed atheistic colony in Kepler 22 b's mysterious tropical zone. But navigating this strange new society is only the start of their troubles as Mother's "natural child" threatens to drive what little remains of the human race to extinction.
STUDIO AKA was invited to design and animate the Main Title sequence for the series – which garnered them an Emmy nomination – and the studio has now added new segments to the original sequence to reflect story developments in this second season.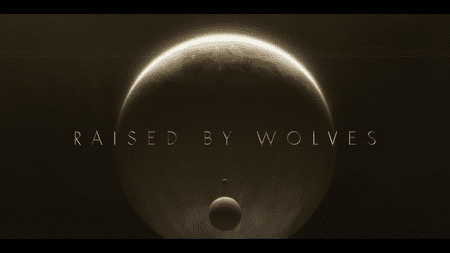 Studio AKA director Steven Small designed intricately rendered hand-drawn shots depicting the destruction of our planet and all remaining life departing to find refuge elsewhere in the solar system. Along with a team of animators, Small drew references from a wide array of source materials, using a combination of 3D, rotoscoping and simple line artwork to create these captivating sequences portraying chaos and destruction.
Small says of the project:
"We were invited to extend the title sequence of RAISED BY WOLVES for Season 2. The writer Aaron Guzikowski summarised a few concepts to outline where the show was going. Our minds suitably bent, he went on to task us with creating additional imagery to accompany the next chapter. We used Maya, Houdini, and After Effects to generate much of the reference for these new scenes and then set to work, digitally hand-painting and adding further animation frame by frame. Fittingly, the technology employed does not obscure the hand-rendered nature of the work we crafted."
Credit list:
Client: Scott Free Films & HBO Max
Cast: RAISED BY WOLVES stars Amanda Collin, Abubakar Salim, Travis Fimmel, Niamh Algar, Kim Engelbrecht, Winta McGrath, Jordan Loughran, Matias Varela, Felix Jamieson, Ethan Hazzard, Aasiya Shah, Ivy Wong, Peter Christoffersen, Selina Jones, Morgan Santo, James Harkness, and Jennifer Saayeng.
Producers: RAISED BY WOLVES is produced by Ridley Scott's Scott Free Productions, with Scott, Aaron Guzikowski, David W. Zucker ("The Man in the High Castle"), Jordan Sheehan ("The Terror"), Adam Kolbrenner ("Prisoners") and Mark Huffam ("The Martian") serving as executive producers. The series was created by Guzikowski, acclaimed writer and visionary behind the highly lauded film "Prisoners."
Animation Production Company: Studio AKA
Main Titles Direction: Steve Small