Microsoft Cloud Services Azure is celebrating 10 years in 2021. To imprint this remarkable milestone in time, Azure's design team is rebranding and launching a new positioning for this next chapter.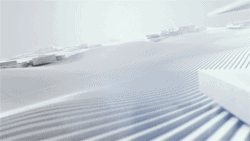 To kick off the effort, Microsoft reached out to the New York-based creative shop RISE, an up-and-coming agency formed by the twenty-two times Cannes Lion-winning trio of Flavio Vidigal (BBDO, HUGE, Firstborn), Andre Poli (Wieden+Kennedy, RGA/Nike), and Andre Holzmeister (Interpublic/CUBOCC, HUGE) to conceptualize, design and craft this vision to life in an outstanding 60s manifesto film.
In collaboration with the Emmy-awarded Director Otto Arsenault (Lady Gaga, Björk, Calvin Klein, Dior), who's leading the C+AI Studios team at Microsoft, RISE was set out to discover what it means to be a cloud service in a more poetic state, rather than just another tech product out there.
"My main goal when delivering the briefing to RISE's team was that we nurtured the creative side of what's possible with this product. Azure is everywhere and nowhere. It powers innovation. It's an invisible driving force that enables businesses all over the world." — Says Otto Arsenault, Creative Director at Microsoft C+AI Studios.
The agency took the challenge, and in their words, "in a true collaboration with the C+AI team," they started to work on ideas.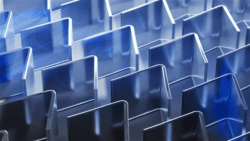 "We wanted the film to pay off that statement! But at the same time, we had a duty to maintaining consistency with Microsoft overall look, so we tried to push the boundaries as far as we could in terms of craft without losing the feel of the brand." — Says Andre Holzmeister, Film Director, and Partner at Rise.
The script tells the story of how possibilities are born out of a singular thought, a voice that only innovative minds can hear, and it takes you through their journey to becoming real.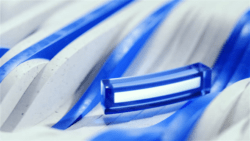 Mixed in with beautiful cinematic sound design and delivered by multiple voices, in an optimistic, conversational, and thoughtful tone, the voice-over casts sounds of people from all over the world. Diverse in ethnicity, gender, accents, and age.
As a result, this beautifully crafted journey takes the viewer through an abstract and absolutely gorgeous scenery in a world full of possibilities—the world of Azure.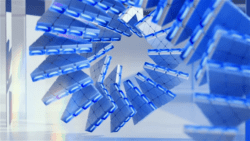 "Otto and I go from way back. The mutual admiration and trust in each other's creative bar is something that created a perfect environment and an outstanding synergy between our teams." — Says Flavio Vidigal, Partner and Chief Creative Officer at Rise.
Both Otto and Holzmeister sign the piece as directors with the co-direction of Flavio Montiel, who also served the role of design and art director. See the full credits below.
CHIEF CREATIVE OFFICER: FLAVIO VIDIGAL
CREATIVE DIRECTOR: ANDRE POLI
FILM DIRECTOR: ANDRE HOLZMEISTER
FILM CO-DIRECTOR: FLAVIO MONTIEL
DESIGN DIRECTOR: FLAVIO MONTIEL
MOTION DESIGNER / 3D ARTIST: LEANDRO BELTRAN
MOTION DESIGNER / 3D ARTIST: MAU BORBA
MOTION DESIGNER / 3D ARTIST: VINICIUS LAVOR
STORYBOARD ARTIST: ROGERIO PHUL
EXECUTIVE PRODUCER: ETIENNE DU JARDIN
PRODUCER: MATHEUS NOBRE
MANAGING DIRECTOR: PEDRO VIDIGAL
CLIENT: MICROSOFT C+AI STUDIOS
SOUND DESIGN: COMBUSTION