How can you live your best creative work-life by embracing a hybrid model? That's the question innovator-turned author Robb Wagner answers in "The Stimulated Method," a playbook boiling down 10 years of knowledge, insights, rules, and counterintuitive mindset shifts gained through his own hybrid experience working on real-world, seven-figure creative projects.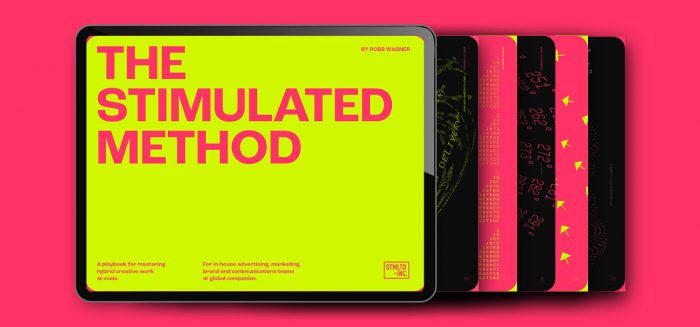 Now available on Amazon and Apple Books, this step-by-step guide teaches in-house creative, marketing, brand and communications teams at global companies how to scale their animation, motion, development and design using the hybrid methodology employed by Wagner for such recognized brands as Disney, Viacom and Carnival Cruise Line, among others.
Key takeaways from "The Stimulated Method"
* Learn best practices for keeping up with increasing demand for digital marketing, advertising, and communications assets.
* Achieve a higher level of creative work using fewer resources and less effort overall.
* Gain more control over your budgets and schedules with formulas for remote work budgeting that accurately estimate and control hybrid work costs and timelines.
* Find out how to vet the specialists that will save your company time, protect your budgets and help drive creative success.
* Learn how to create bulletproof remote job briefs, your first step toward mastering hybrid creative work at scale.
* Discover why a system to automate assets, links, information, and communication will increase productivity among in-house teams and remote artists alike when they are no longer mired in the repetition of tedious workflow management.
* Understand how adopting hybrid creative work will help your company navigate global paradigm shifts like an economic downturn or a pandemic.
"I invented my hybrid method to transform my creative business, little knowing how it would change my life," Wagner explains. "After years of being overworked and exhausted from my creative job, suddenly I had a balanced life and I was happier."
Visit Amazon.com or the Apple Books app to purchase your copy of "The Stimulated Method" e-book for $27.99.
About Stimulated-Inc.
Stimulated-Inc. produces high-level creative solutions for global brands. Founded in 2005 by experiential artist Robb Wagner, the creative studio specializes in hyper-transformations – radically innovative work and concepts that have made Stimulated-Inc. a trusted ally to such conglomerates as Disney, Viacom, Carnival and YouTube, among many others. For more information, visit www.stimulated-inc.com or connect via Instagram, Facebook, LinkedIn or Twitter.