Continuing its growth and its investments into excellence, one-stop cross-media production company Sarofsky has added Managing Director duties for longstanding Executive Producer Steven Anderson.
As announced by company Principal and Executive Creative Director Erin Sarofsky, the company is also adding Designer/Animators Tyler Scheitlin and Mollie Davis, Junior Designer/Animator Lirio Ramirez, and Production Coordinator Annie Lynch to its full-time staff.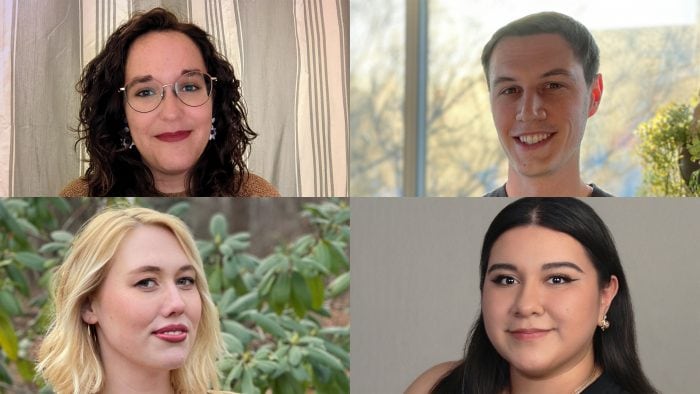 According to Steven, his new responsibilities reflect the fact that Sarofsky has more than doubled its size since he came onboard in 2014. "Our client relationships are expansive and diverse, and we have continued to add artists to our already talented team to better address the needs of our clients," he began. "I am looking forward to the world opening back up again, meeting with clients, and making more great work together."

"Our shifting scale means that we need talented people focused on various areas of expertise," Erin added. "Steven has an invaluable role in helping to develop the production department, while also being heavily involved in operations, development, and on the creative."
Known for his boundless creative thinking, Tyler joins Sarofsky from The Mill Chicago, where he spent several years as a leading Cinema 4D Designer. Working on projects for broadcast television, brand films, and title sequences, his recent work includes projects for Bud Light, Dairy Queen, the Pause Fest Awards, and Samsung. Also formerly the Creative Lead for Emmy Award-winning post production studio 11 Dollar Bill, Tyler originally joined that firm as a freelance motion designer, following nearly two years with creative content studio Protokulture, where he got his start.
Originally from Florence, Massachusetts, Mollie's early influences included animated films, drawing, and nature. Focusing on animation and art through a joint program with Northeastern University and the School of the Museum of Fine Arts, her educational highlights include studying in Italy and London, creating a capstone short film, and developing invaluable experiences and connections through AniMAtic Boston. Beginning her career as an Associate Motion Designer for Wayfair, she leapt into high-profile promo and ad campaigns with flair. Landing next as Lead Animator with Planet Nutshell, Mollie's ever-expanding skillset led to more impressive creative industry credits, including contributing animation, compositing and effects for a short film entitled "Azúcar."
Hailing from Miami, Lirio is a 2021 BFA graduate from SCAD's Motion Graphics program – as well as being a triplet. During her design internship with high-tech robotics and engineering company Hexbug, her talents earned an extended engagement, leading to work on commercials, the brand's YouTube channel, and logo animations for its sister companies. Building on those wins, she spent several months as a freelance motion designer at NBCU Telemundo developing graphics and animation for series including "En Casa Con Telemundo" and "Suelta La Sopa."
Attracted to the world of film production at an early age, Annie earned her Bachelor's degree in Film/Cinema/Video Studies from the University of Toronto. She spent several years in Hollywood writing screenplays and working her way up the ladder in the production industry, then chose to return to her hometown of Chicago. First engaged with Sarofsky as a temporary office manager, she jumped at the chance to join the warm, supportive, and industrious group on a full-time basis.
"Further addressing our growth, we have clearly been making a big investment in talent," Erin explained. "Each person adds not only an expertise in their craft but also a fresh perspective and a welcome excitement that is infused into the work – and into our culture."
Director, creative director, and designer Erin Sarofsky kick-started Sarofsky in 2009 and formed a group of extraordinarily talented makers who have been providing their services to leaders in the advertising and entertainment industries worldwide. Today, Sarofsky's makers use animation, visual effects, motion design and live-action to collaborate with customers from concept to delivery, producing work that is visceral, innovative and diverse. With artistry that encapsulates in-house long format, sublime commercials, brand films, title sequences and much more, Sarofsky's reputation for breakthrough design, its proven multi-media production expertise, and its fabulous Olson Kundig-designed studio in Chicago's West Loop all constitute key components of the attraction. Learn more at https://www.sarofsky.com.