Scholar welcomes Kate Aspell and congratulates former Head of Production Ryan McLaughlin on their new roles as Executive Producers in the New York studio. Along with recent strategic partnerships with Miss Smith as their East Coast representation and Friends Electric in the UK, Scholar is gearing up to take on 2022 with force.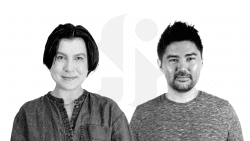 As a studio, Scholar works on a wide variety of projects, from live-action production to CG and branding, each of which requires heavily customized and considered workflows. With Managing Director and EP Anne Skopas at the helm, the New York studio is energized and ready to continue telling stories and creating designs that are wholly bespoke to brands. According to Skopas, "I wanted to build a production team of smart, diverse leaders to support that vision. I admire and respect each of their bold ideas, and they are genuinely very nice people. I'm excited for the opportunities they will create for our incredible group of artists."
McLaughlin, who has been with Scholar since 2018, says that Scholar's ability to work across such a wide variety of mediums is in part attributed to "the level of trust and cohesion between the creative and production teams that has built up over time." Coming from a Head of Production mentality he believes strongly in developing systems and workflow that also take into consideration the well-being of the team. Something Aspell heartily agrees with. She has experienced "first hand that adding people to a team results in more work and happier clients, and can only see great things for this year, as Scholar moves forward more efficiently and with awesome leadership."
Before going into production, Aspell worked as an industry sales representative. Her background gives a unique and non-traditional eye that balances business strategy with production technique. Both McLaughlin and Aspell are experts in creative and client matchmaking who are passionate about engendering a healthy and inspiring studio environment where emotionally resonant creativity can flourish. Scholar couldn't be more ecstatic about the coming year or the leadership team that will be representing them from the East Coast.
About Scholar
Scholar is a creative production company drawn together by a love for design, endless curiosity, and passion for engaging viewers on an emotional level. The company blends top-tier artistry with production expertise to forge braver, smarter content that is highly original. A full-service studio with offices in Los Angeles and New York, fueled by a diverse array of award-winning creators, Scholar produces work that is driven by substance and elevated by style.