Dimensions is a film inspired by 100 different garments by 100 different designers to kick off a runway show featuring fashion's newest ingenues — top talents from the 2023 graduating class of the Savannah College of Art and Design's prestigious School of Fashion.
The film, which premiered at SCAD FASHION 2023, opened a live runway showcase event with top fashion industry figures in attendance and encapsulates the creative spirit of every unique garment, shoe, and accessory about to hit the runway.
SCAD FASHION 2023 and Dimensions streamed live to a global audience on Friday, May 19th and is available for viewing at scad.edu/fashion2023.
According to Scholar Director, Chris Finn, "conceptualizing and designing this film around such a diverse collection of garments, immense creativity, and craftsmanship was a rare opportunity and fulfilling challenge as a director."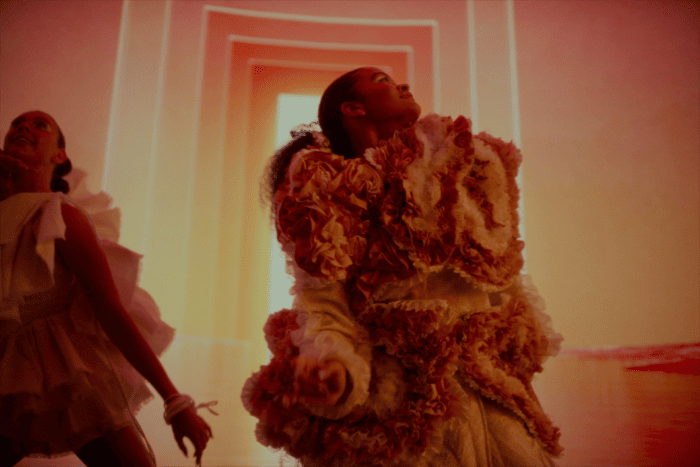 With so many talented perspectives from more than 100 SCAD student designers to showcase, Finn had to come up with a concept adaptable enough to evolve as the designs did in response to critiques and mentorship by industry-leading designers, stylists, and consultants. Thus the multi-dimensional journey into the mind of the creator was invented.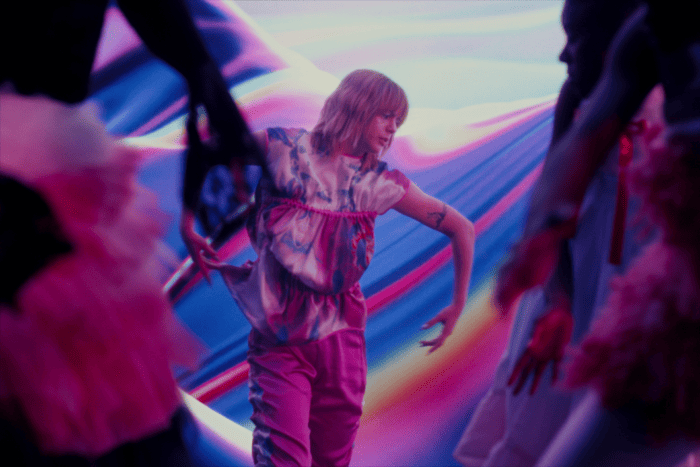 Shot with a music video-style technique, the film is an artwork of organic performance — from the choreography sequenced on set, a mind meld between Finn and the talented dancers, to the fluid movements of cinematographer Josh Saideman and camera operator Richard Volsky, who used a Steadicam approach to dance along with them.
SCAD's leading-edge LED volume stage at the university's SCAD Savannah Film Studios was utilized to project 20 custom animated worlds from floor to ceiling, creating an immersive set design and a canvas to interplay with a dynamic lighting setup — all of which came together in a five-minute film created to interact with the slick and specular buildings of SCAD Atlanta's urban campus where Dimensions and SCAD FASHION was presented.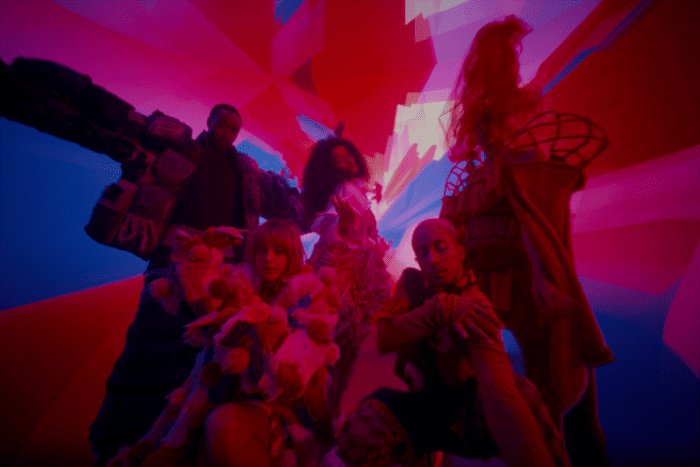 The film features five heroes, dancers adorned in the show's garments, transporting the designs into a new dimension of movement, a tease and prelude to the show about to start. Dimensions is a universal journey that all artists can relate to, from the "wormhole" of diving into the first flickerings of inspiration through the creative forge of exploring collections, and into the "void" of ripping everything up and rebuilding anew.
Garments and accessories were expertly curated into visual landscapes by Finn and leadership from the SCAD School of Fashion, SCAD Visual Media, and stylist Sarah Schussheim — a collaborative effort alongside hair, makeup, and accessories to present editorial-inspired worlds. The film ends with a triumphant creator and a final portal into the live, experiential show, whose orchestration and design take direct cues from the film's opening act.
---
---
About the Film
Premiering at SCAD FASHION 2023, Dimensions journeys through the multiverse of creative expression, as five heroes from distant worlds traverse interstellar realms. Directed by SCAD alum Chris Finn of the award-winning creative production studio Scholar, the film delves into the multi-dimensional landscapes of the design imaginary, revealing the boundless possibilities and empowerment of fashion.
Combining Finn's distinctively rhythmic aesthetic with atmospheric visuals filmed on SCAD's leading-edge LED volume stage, the deeply metaphorical saga explores the cosmos of inspiration, as otherworldly garments drape futuristic landscapes in surreal colors, opulent textures, dramatic silhouettes, and hybrid forms.
---
---
About the Director
Chris Finn (SCAD B.F.A., motion media design, 2015) is a skilled visual storyteller celebrated for his design-driven multidisciplinary approach. Finn deploys a vast repertoire of techniques in powerful narratives ranging across genres and mediums, embracing physicality and movement to imbue his works with an innate humanity. As an artist, Finn is constantly searching for new creative outlets and skills to learn. This curiosity has expanded his directing work into an array of mediums, styles, and emerging technologies. As part of Scholar's creative team, he challenges himself, clients, and brands to create work that has authenticity and emotion and to find new ways of telling stories.
---
---
About Scholar
With more than a decade of experience, Scholar develops content with a focus on concept, creation, and emerging technologies. We are a creative production company driven by curiosity and an eagerness to engage viewers on an emotional level. Blending artistry with emerging techniques, we forge braver, smarter content. Always moving forward. Always reimagining the norm. We are a full-service studio with offices in Los Angeles and New York, surrounded by a broad collection of award-winning creators whose work has been showcased across the globe, including LACMA, MOMA, the MTV Video Music Awards, and the Guggenheim as well as winning multiple Cannes Gold and Silver Lions, AICP awards alongside One Show and ADC Golds not to mention over 100 million views on YouTube.
---
---
About SCAD: The University for Creative Careers
SCAD is a private, nonprofit, accredited university offering more than 100 graduate and undergraduate degree programs across locations in Atlanta and Savannah, Georgia; Lacoste, France; and online via SCADnow. SCAD enrolls more than 16,000 undergraduate and graduate students from more than 120 countries.
The future-minded SCAD curriculum engages professional-level technology and myriad advanced learning resources, affording students opportunities for internships, professional certifications, and real-world assignments with corporate partners through SCADpro, the university's renowned research lab and prototype generator.
SCAD is No. 1 in the U.S., according to Art & Object's 2023 Best Art Schools ranking, with additional top rankings for degree programs in interior design, architecture, film, fashion, digital media, and more. Career success is woven into every fiber of the university, resulting in a superior alumni employment rate.
For the past five years, 99% of SCAD graduates were employed, pursuing further education, or both within 10 months of graduation. SCAD provides students and alumni with ongoing career support through personal coaching, alumni programs, a professional presentation studio, and more.
---
---