The Callisto Protocol, the highly anticipated sci-fi survival horror video game from Striking Distance Studios, a KRAFTON, Inc. studio, has launched its first live action trailer 'Rise, Dead Man'.
Created and produced by Digital Kitchen, part of the Sid Lee creative community, in collaboration with Prettybird director Vellas and Rodeo FX, the spot combines live-action and VFX to explore the layers of fear that are infused throughout the video game.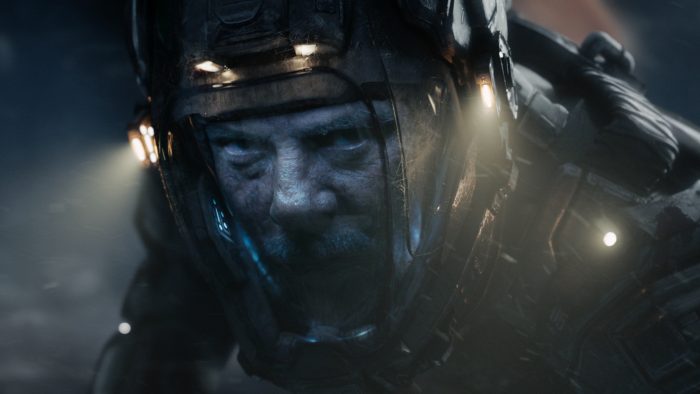 Using two interconnected timelines, the spot follows Jacob, brought to life by Josh Duhamel, from the beginning of his story, with his varying emotions and physical experiences juxtaposed against the horrors he must survive and escape through his journey – on both the exterior of Callisto and within the bowels of Black Iron Prison.
"Our goal with this spot is to capture the imagination of the public and showcase the visceral story and terrifying world we've crafted so meticulously in The Callisto Protocol," said Glen Schofield, CEO of Striking Distance Studios.

"The game has such a rich visual narrative, we really wanted to do it justice by cranking up the tension and dread every step of the way – alluding to the horrors and helplessness that awaits Jacob on Callisto," said Mason Nicoll, Executive Creative Director, Digital Kitchen. "He's been beaten down, through hell and back, but does he have just enough left inside him to keep fighting?"
The spot, filmed in Brazil and Los Angeles, will be broadcast in the US, UK, Germany, and France, and available digitally everywhere.
The Callisto Protocol launches December 2nd on Playstation 5, Playstation 4, XBOX Series X/S, XBOX One, and PC.
---
About Striking Distance Studios
Striking Distance Studios, Inc. is a AAA development studio committed to crafting thought-provoking immersive experiences, driven by a passion for quality and excellence. Based in San Ramon, CA, in the San Francisco Bay Area, Striking Distance Studios is helmed by "Dead Space" and "Call of Duty" veteran Glen Schofield. For more information on Striking Distance Studios, please visit www.sds.com or follow the company on Twitter @SD_Studios.
About KRAFTON, Inc.
KRAFTON, Inc. is a collective of independent game development studios brought together to create innovative and engaging entertainment experiences for gamers across the world. The company consists of PUBG Studios, Bluehole Studio, Striking Distance Studios, RisingWings, Dreamotion, Unknown Worlds and 5minlab, each with its own unique expertise.
KRAFTON is responsible for premier entertainment properties including "PUBG: BATTLEGROUNDS," "NEW STATE MOBILE," "The Callisto Protocol," "TERA," and "ELYON." As a technology-driven company that boasts world-class capabilities, KRAFTON seeks to expand its areas of business beyond games to multimedia entertainment and deep learning. For more information on KRAFTON, please visit www.krafton.com.
About Digital Kitchen
Digital Kitchen, part of the Sid Lee creative community, is a global creative studio that merges Emmy-winning storytelling and design to captivate audiences. We bring worlds to life through iconic main titles, multimedia content, imaginative experiences, and immersive spaces. DK creates worlds beyond belief for clients such as Warner Bros., Netflix, Facebook, Apple, HBO, Canada Goose, and Amazon. For more information, visit thisisdk.com
CREDITS
CLIENT:
Striking Distance Studios
CREATIVE STUDIO:
Digital Kitchen, part of the Sid Lee creative community
Chief Creative Officer: Cam Levin
Executive Creative Director: Mason Nicoll
Writer: Loren Schiller
Art Directors: Peter Pak, Rachel Brickel
Motion Artists: John Van Unen, Anissa Silva
Editor: Gio Blanco
Senior Producer: Megan St. John
Head of Digital/Experiences: Ally Malloy
LIVE ACTION PRODUCTION:
PRETTYBIRD
Director: Vellas
Vice President / EP: Suzanne Hargrove
Head of Production: Tracy Hauser
Line Producer: John Sepulveda
Director of Photography: Sal Totino
Head of Production (Brazil): Reinaldo Faria
Line Producer (Brazil) Carol Pessini
DP (Brazil): Agustin Claramunt
VFX: RODEO FX
VFX Supervisor: Patrick Beauchamp
VFX Producer: Emilie Debiasi
VFX Coordinators: Emilie Cuendet, Adrianela Arize Rodriguez
Lead Rigging: Mathias Royrvik
Lead Previs: Alexandre Menard
Lead Lighting: Yuandong Feng
Lead Layout: Romain Sontag
Head of Layout: Etienne Poulin St-Laurent
Head of Animation: Yvon Jardel
Lead FX: Yvan Ngnodjom
Lead Environment: Alexandre Durocher
Comp Tech Supervisor: Felix Vallieres
Comp Supervisor: Erik Gagnon
CG Supervisor: Louis Pare
Asset Supervisors: Daniel Lupien, Philip Harris-Genois
EDITORIAL:
Cabin Editing
Editor: Rami D'Aguiar
Cutting Assistant / Assistant Editor: Tom Pasten
Editorial Producer: Grace Hammerstein
Editorial Head of Production: Liz Lydecker
Executive Producer: Adam Becht
Managing Partner: Carr Schilling
MUSIC & SOUND DESIGN:
Echolab
Composers: Leo Pearson, Gavin Little
Sound Design & Mix : Gavin Little
Additional Sound Mix: Tom Paolantonio, LIME Studios