On August 14th and 15th 2021, Klubkids Uk hosted DRAG FEST UK sponsored by Taimi —  the world's largest LGBTQ+ social network and dating app. The event was held in London and in Manchester and included a rich program with top famous performers.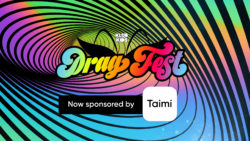 The live music festival included live performances, drag markets, face paints and glitter stations, food and drink stalls, performers merchandise stalls, meet and greet booths with the performers, and street performers. The Drag Fest has brought together the greatest drag artists from the UK has ever seen with Todrick Hall as a headliner.
Todrick Hall is a skillful singer, rapper, actor, director, choreographer, and social media personality who gained his fame after participating in American Idol. Todrick also has a YouTube channel with over 3.5 million subscribers and more than 740 million channel views. Being a content creator, Todrick records and shares his songs, musical collaborations, and choreographed flash mobs for Beyoncé. He is also a regular participant of RuPaul's Drag Race and season two of The Greatest Dancer on BBC.
Todrick is also a Broadway star with runs in Chicago, The Color Purple, Kinky Boots, Memphis, and Waitress that gained a lot of success and public recognition. The tours of "Straight Outta Oz", "Forbidden", and "Haus Party" with his participation were completely sold-out in more than sixty cities across the globe. Todrick became a 2019 "Video for Good" VMA winner as co-executive producer on Taylor Swift's LGBTQ+ anthem "You Need to Calm Down". Todrick's new show "Quarantine Queen is available on all media platforms. To find out more about Todrick and his visual albums, follow him on his website, YouTube, Twitter, Instagram and TikTok.
The Drag Fest also attracted such performers as Priyanka, United Kingdolls, Crystal Methyd, Symone, and The frock Destroyers as well as the participants from Rupaul's Drag Race and drag artists from Dragula.
The event was also supported by Flawless for Men whose mission is to bring confidence, vitality, and great health to men all across the planet through the finest dietary supplements.
Drag Fest UK has undoubtedly become one of the brightest summer events for the LGBTQ+ community in the UK.
'We are pleased to contribute to the organization of the Drag Fest UK. Despite the fact that one of the biggest events of the year for the LGBTQ+ community, London Pride, has been canceled, we believe it is significant to make this summer a memorable one. This became possible thanks to the top performers and the variety of activities that were offered at the Dragfest UK,' states founder and CEO of Taimi Alex Pasykov.
About Taimi
Taimi is the world's largest LGBTQ+ social network and dating app. Taimi offers the safest and most secure user experience on the market — with its several verification layers, 24/7 profile moderation, PIN/Fingerprint/Face ID, and live support. Taimi is the Home of Diversity, and the platform's main mission is to make the lives of LGBTQ+ people better by creating a safe environment with zero tolerance for judgment, discrimination, hate, or aggression.
Taimi is free to download. Taimi Premium subscriptions provide enhanced experience and access to features unavailable or limited in the free version of the app.
Follow the latest Taimi news on Facebook, Twitter, Instagram.