Inkbox, maker of plant-based, semi-permanent tattoos, is embracing impermanence as a selling point for a young generation moving fluidly through identities in complicated times.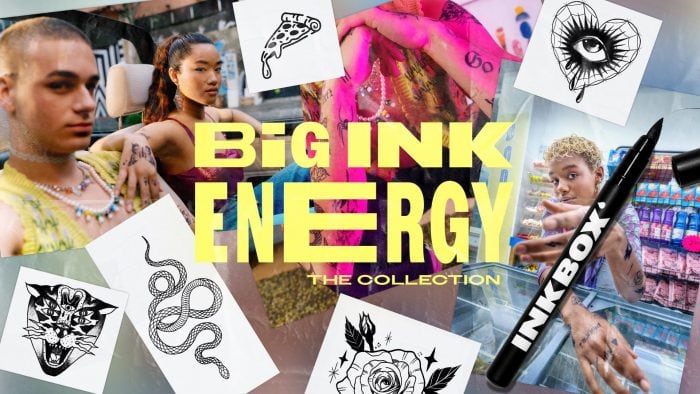 Endless, changeable, highly-personalized temporary tattoos—plus a catchy anthem from a no-holds-barred, Gen Z champion of authenticity (like rising pop star, Remi Wolf)—could ignite a cultural explosion, granting millions of people explicit permission to be unapologetically themselves. That's what the creative dynamos at Forsman & Bodenfors New York are betting on.
F&B's inaugural effort for Inkbox, the 360 "Big Ink Energy" campaign is built around a "tattoo transformation" musically-driven brand film featuring TikTok sensation Remi Wolf and her zany track, "Quiet on the Set." Additional activations include Spotify, where there will be special promotional audio, as well as custom digital placements; livestream takeovers on Twitch; and creator collaborations (featuring a custom hashtag challenge) on TikTok Outdoor activations, including spectacular painted murals, will appear in major metropolitan markets such as Chicago, Austin, Miami, and Philadelphia.
Helping people stand out—and own their story—with "Big Ink Energy"
To help Inkbox present its offerings as an empowering way to try on identities and fresh looks with confidence, F&B had to come up with a concept that would be highly inclusive and extremely versatile as well as a format that could reach people across multiple channels.
To get across an all-eyes-on-me, star-of-your-own-life vibe, the creative minds at F&B came up with the "Big Ink Energy" concept. More than mere confidence, it's an embrace of the way the right tattoo can change—or spark—a conversation, get the right person to look your way, or let everyone know what you're passionate about. F&B calls it "main character confidence."
To connect more directly with different communities, the "ink" part of "Big Ink Energy" can be continually modified throughout the campaign. The through line? Inkbox's tattoo designs can unlock confidence and empower self-expression for anyone, anytime, anywhere.
Bringing Big Ink Energy to life through song and story
Instead of creating an ad to bring this idea to life, F&B collaborated with Inkbox to create a music-driven branded film about a young woman who, with the help of Inkbox tattoos, steps out of her shy persona to be the person she wants to be.
"To find out who you are as a young person, you need to experiment and move between identities," F&B's Head of Creative, Emma Eriksson, says. "Fashion, hairstyles, and accessories can help you," she continues, "but Inkbox tattoos take it one step further. Inkbox taps into the desire to discover who you are and recognize that who you are is subject to change. Big Ink Energy is about having the courage to go on that journey."

Inkbox CMO, Woozae Kim, adds "You can make statements that reflect different aspects of your persona, and keep changing them as you evolve. The more empowered you are in that process, the more you become the main character in your own life."
Seeing a parallel between the transformative power of music and the transformative power of a tattoo, F&B's creative team felt that, if they could bring the right music together with the idea of a tattoo-catalyzed transformation, they could convey the confidence-activating power of Big Ink Energy.
The right music? Enter Remi Wolf.
The look and sound of supercharged confidence
After surveying the hottest Gen Z acts around, F&B and Inkbox recognized Remi as the G.O.A.T. of their artist selections. Former American Idol contestant, TikTok sensation and rising star, Remi has the right sound, but is also the right fit for Inkbox because of who she is as a person.
"We love her style and that she's not afraid to be herself, even if some find it provocative. Remi is an innovator who's redefining pop music. You can't argue with her star power," says Eriksson.

President of F&B New York, Lyndsey Corona, seconds Eriksson's enthusiasm: "Remi has become a powerful voice of the Gen Z generation. She speaks her mind and pushes limits. Her experimentation with pop music, combined with her unabashed lyrics, have struck an emotional chord with a generation navigating a highly complex world and a culture that has shifted from rigid rules and defined paths, to encouraging absolute freedom of self-expression. Remi is the embodiment of that—the trailblazer finding her way through the complexity and owning herself, her individuality and her destiny."
Big Ink Energy coming your way
To ensure that the branded film's aesthetic was as potent as the music, F&B teamed up with directing duo Ben Smith and Lesly Lynch from The Mayda Creative Co., a newly formed creative production studio. Bringing a unique perspective and creative synergy to Inkbox's story, Mayda collaborated with the F&B team to develop a narrative arc for the film and striking visual identity.
Like much of F&B's more famous work, the tattoo transformation story strikes a human chord, and craft is an essential part of the idea.
"More than an ad, it's a piece of culture," explains Eriksson. "The online world our audience lives in is very visual; it's filters, themes and enhancers. It's full of sound and movement. So, we wanted to bring something new to the table to get their attention. Working closely with the production company, Mayda, helped us create a unique and beautiful story that we hope can inspire and entertain."

"This work is a fine example of what F&B does best: A simple, powerful insight around the power of tattoos to define and unleash confidence," adds Corona. "We rarely answer a challenge with a traditional advertising construct. In this case, to truly land in culture, we had to create something worthy of being embedded and shared culturally—which we achieved thanks to Remi's larger-than-life song, Lesley and Ben's directorial gifts, an amazing collaboration with Inkbox and the creative vision of Emma and her team."

"Inkbox is about tattoos reimagined. We are making semi-permanent tattoos more accessible as an everyday form of self-expression and style," says Inkbox CMO, Woozae Kim. "With Big Ink Energy, F&B brilliantly captures the transformative power of the brand, and delivers undeniable swag."
F&B intends to build Inkbox's fame by embedding Big Ink Energy in places where trends are made. For starters, the custom tattoos F&B designed just for the film will actually be available for purchase at https://inkbox.com/g/biginkenergy.
Plenty of collaboration—with creators, fans, and relevant brands—is on the horizon for Inkbox, as the community evolves and Big Ink Energy grows to include more and more people.
Credits:
Brand: Inkbox
Co-Founder & CEO – Tyler Handley
CMO – Woozae Kim
Design Director – Stephen Smith
Senior Director of Marketing – Brian Smiley
Content Producer – Rasheem Carty-Gardner
Social Media Producer – Dax Donnelly
Associate Art Director – Sarah Harvey
Director of Business Development – Kristine Gallardo
Agency: Forsman & Bodenfors, NY
Creative – Sarah Ratinetz, Conor Patterson, Jose D'Alta, Brent Bobo, Emma Eriksson
Production – Laura Peguero, Kim Jose
Business Partnership – Lyndsey Corona, Peter Whalen, Kayleen Afsahi
Strategy – Steve Gorski, Macarena Marcos
Production Company: The Mayda Creative Co.
Executive Producer – Zu Al-Kadiri
Director – Ben Smith
Director – Lesly Lynch
Producer – Hope Kuehne
1st AD – Nico Umpierrez
Director of Photography – Carles F. Galí
Production Designer – Mario Serrano
Stylist – Isabel Domènech
Choreographer – Mariana Benenge
Photographer – Celina Martins
Lead Compositor – Mikey Smith
Compositor – Zee Stoitchkov
Motion Graphics Designer – Gabriel Thomas
Story Development – Alexie Basil
Editorial: The Mayda Creative Co.
Colorist: Ayumi Ashley, NTropic
Sound Design: Ben and Max Ringham
Barcelona Production Service Company: Vagabond Films, EP, Gabriel Carratu & Fernando Bofill
Social Media:
Twitter /forsbodenforsny
Instagram /@forsmanbodenforsnyc/
LinkedIn /forsman-&-bodenfors/
About Forsman & Bodenfors:
Forsman & Bodenfors is a global creative collective working to unlock the power of creativity through collaboration in order to build the most human and iconic brands and businesses in the world. Forsman & Bodenfors' client roster includes Volvo, P&G, Google, Goldman Sachs, Diageo, LG, General Mills, YouTube, Jaeger-LeCoultre, iRobot, and H&M, among others. In 2018, Fast Company named the agency one of the most innovative companies in the world while Ad Age named it one of its agencies to watch in 2019. Forsman & Bodenfors has over 500 team members across seven offices in Gothenburg, New York, Stockholm, Toronto, Montréal, Shanghai, and Singapore. To learn more about Forsman & Bodenfors, please visit forsman.co.
About Inkbox:
Inkbox creates beautifully produced, artist-designed, impermanent tattoos that last about two weeks, fading as the skin naturally regenerates. Since inception in 2015, millions of people from more than 150 countries around the world have worn Inkbox tattoos as style accessories to express their identity.
With a growing catalog of more than 10,000 designs, the Freehand Tattoo Marker, and a Custom tattoo platform used to bring any idea to life, Inkbox now ships tens of thousands of tattoos every week. It has also come to be an important avenue of creative expression for many of today's most respected tattoo artists, who now count on it as a way to build their brand and supplement their income.
Collaborations with contemporary artists like BTS, Gorillaz, Post Malone, Keith Haring, and Rupi Kaur have looked to the body as a canvas, creating a new promotional category of "skin merch." Headquartered in downtown Toronto, where it operates the permanent tattoo studio Inside Out, Inkbox now employs 150+ people across Canada, Japan, and the United States.