Since its proverbial blast-off, MTV has provided a visual language and soundtrack to the lives of generations. Once a radical entertainment concept, the channel has evolved from 'music television' to a global identity. No longer just a 24-hour music network, MTV is a brand in flux.
Ask a person on the street which MTV they grew up with and each will recount something different. When it comes down to it, everyone has their own MTV. Whether yours was Madonna writhing around in a wedding dress or Miley Cyrus's tongue-out tweaking (so long, modesty!), one thing is true…
We've all watched the VMAs.
Each year, the show is beamed to the masses, dressed up in the finest graphic duds. Indeed, visual messaging for the VMAs has taken many forms, with quirky broadcast graphics of days past, to the elegant, cross-platform expereince that it is today.
In keeping with MTVs tradition of cool, the VMAs must be in a constant state of reinvention. Every year, the look needs to be "on-brand" but also play against expectations. For that, MTV needs creative blood.
SOLUTION: Call Patrick Clair.
In a style as beautiful as it is haunting, this years VMAs were crafted around an artistic direction that was both simple and effective. Alongside Elastic and a bad-ass troupe of designers, Clair conceived the visual packaging for the event, working closely with MTV senior executives to develop a universal aesthetic.
The concept had far reach. In a 360 degree campaign, the visuals touched everything—even environmentally—where stage, lighting and architecture came together to synthesize a stunning visual harmony.
Of course, we wanted to know more, so we asked the people who ought to know.
Big thanks to Patrick Clair and Lead Designer/Animator, Raoul Marks of Elastic, who helped shed light on the genesis from simple idea to concept at work. The following is presented as a case-study, featuring supplemental media to help present the show as an across-the-board experience.
FROM CREATIVE DIRECTOR PATRICK CLAIR
The concentric ring device seen throughout the graphics was translated to the physical stage and set design of the show. Did Elastic work in tandem with a team to develop the environmental experience of the live event?
Lee Lodge is the executive producer of the VMAs – and he had the core insight that circles was a singular, compelling concept to focus the entire event. The inspiration was simple – the awards were being held in Inglewood at The Forum, an iconic circular arena. Lee has the rare gift of combining good taste, a deep visual vocabulary and a practical understand of how good design is made. He's also a pleasure to work with and razor sharp.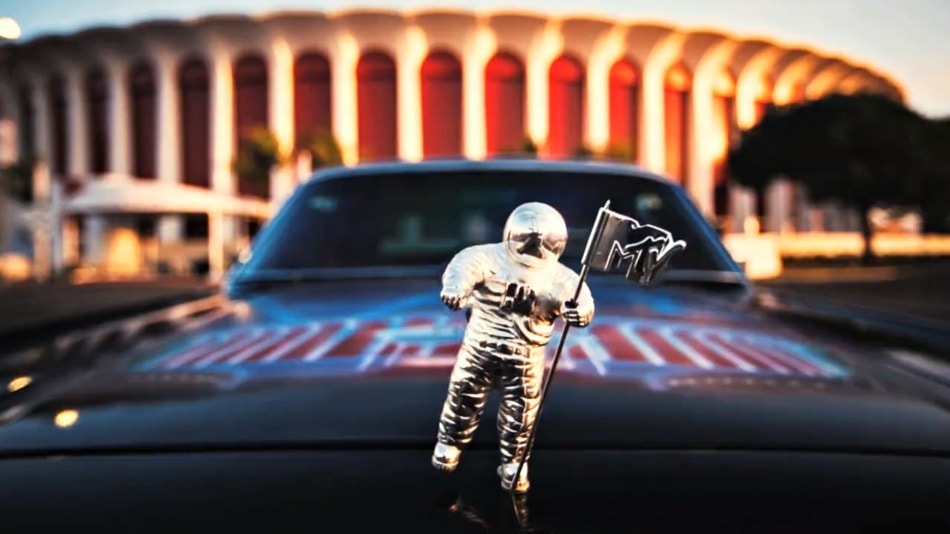 In the first briefing, we looked together at some circular motifs from early Antibody projects, and we quickly found a direction that we felt could work across stage and screen. From there, we dived into developing a logo of striking circular forms, while Lee's team searched across inspirational architectural installations to drive the design of their set and staging. As the logo direction firmed up, our team, lead by creative powerhouse Raoul Marks, began exploring in 3D.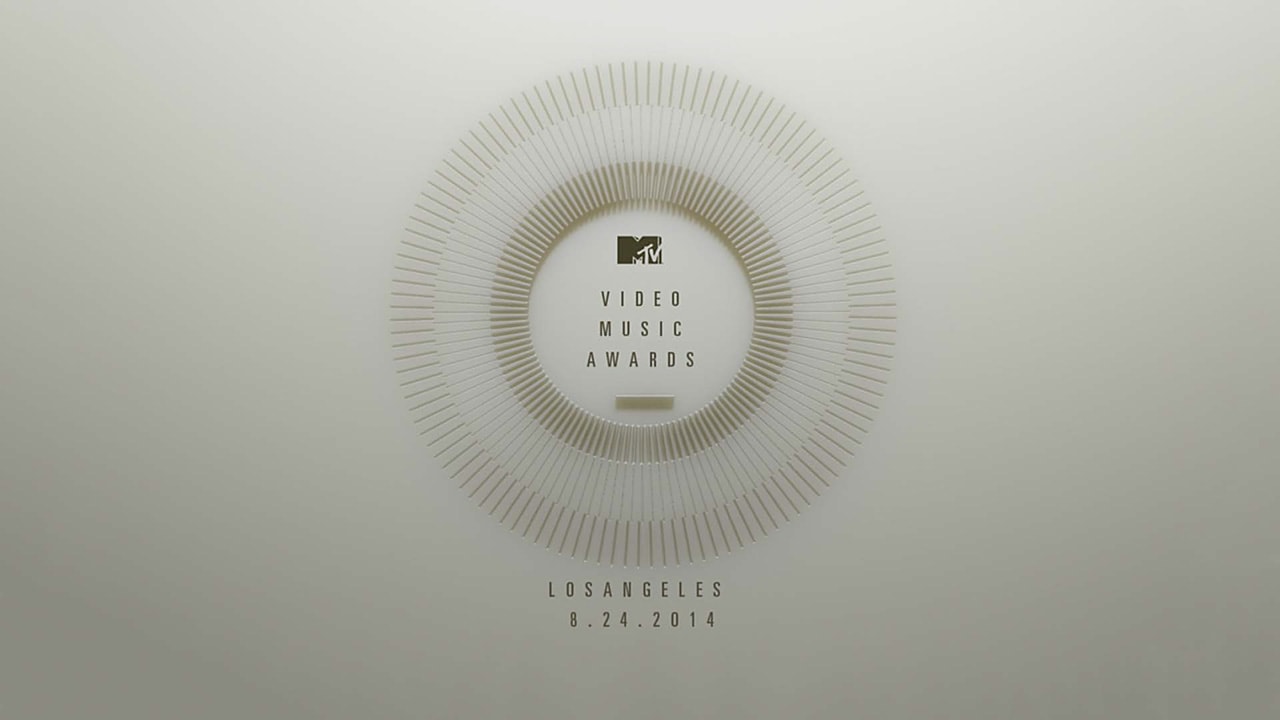 The key direction was this – we needed a two-phase design. I wanted something minimalist, striking, simple, monochromatic for the show logo and core packaging. We looked at high-contrast white worlds, and deep dark black environs marked by glossy reflections. Everything was about circular motion and radial energy – and we constantly fought to find the balance between controlled graphic symmetry and chaotic disruptive forces.
Through-out the show, we had saturation branding of the black and white logo across the stage and the graphics – but there was also long video content needed to present each category and showcase the music videos at the heart of this years show. This minimalist packaging needed a counterpoint. We looked at generative art, slitscans, processing – something that could capture the energy, pace and colours of the nominees.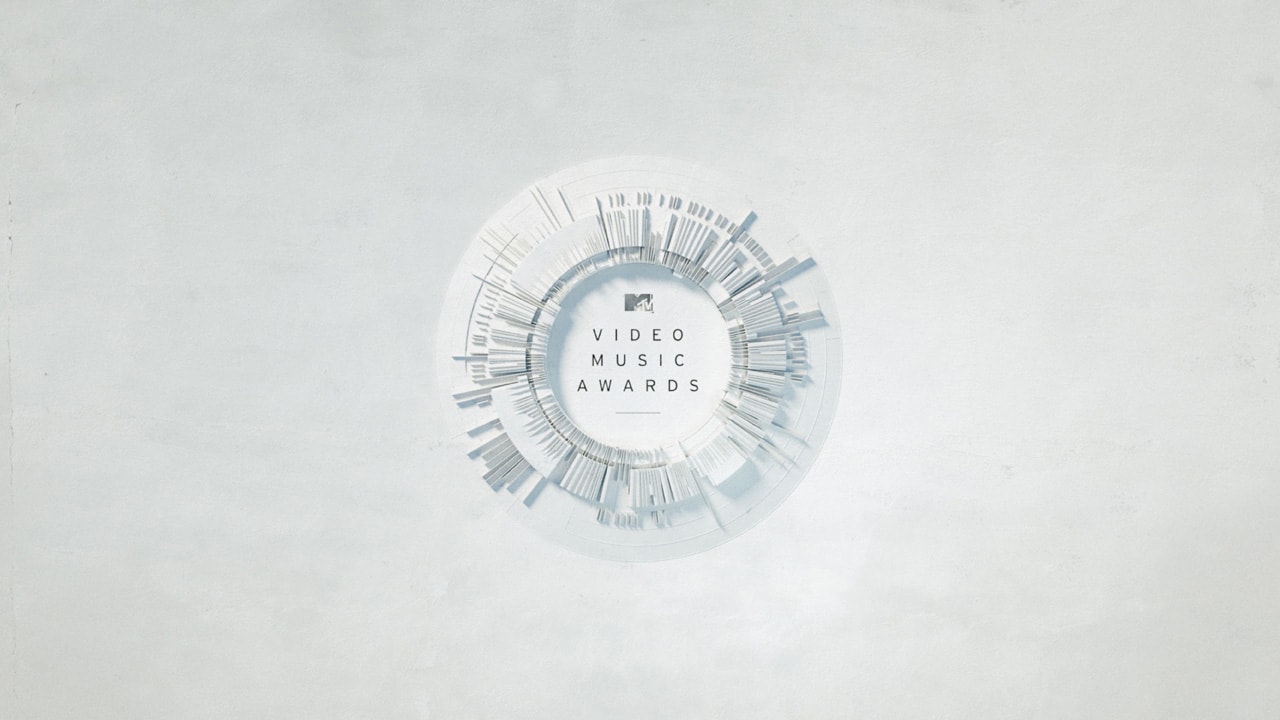 Raoul's team R&D'd a technique of spinning music visuals out into chaotic yet beautiful 3D structures that used displacement maps to distill the energy and pixel values of video sources into sculptural models. These "donuts" of design and colour spun with energy and became a circular expression of each video's creative DNA – a chaotic reinterpretation of Paul Kim's beautiful graphical logo form.
Of course, the VMAs ins pop music's night of nights, so we still needed to make it about the nominees themselves – the stars at the heart of the show. An editorial team from RPS in Santa Monica scoured this years music videos for stunning cinematographic portraits of stars like Miley Cyrus and Jason Derulo. Elastic's design team then painstakingly treated these with digital slow motion techniques to create intimate lyrical portraits that connected our abstract design sculptures with the people they represent.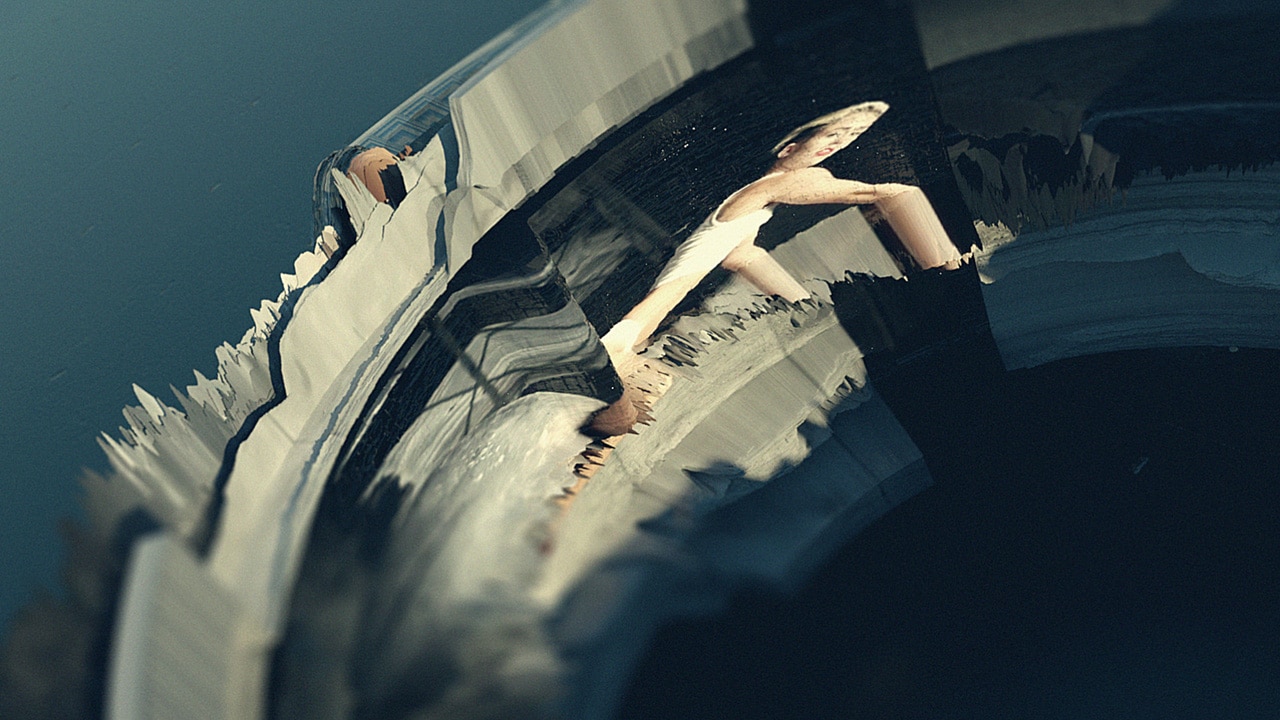 The use of sound design played a dramatic role throughout the package. Can you explain the intention?
We wanted this years nominee montages to really capture the essence of the videos. The very talented Tyler Chase (AKA Cryptex) came on board to help find a creative way to weave each cluster of tracks together. Tyler took the music from each package and built a bespoke mix that exploited the musical relationships between each track – these awesome mixes gave each package a unique energy and really showcased the nominees in a stunning and distinctive way.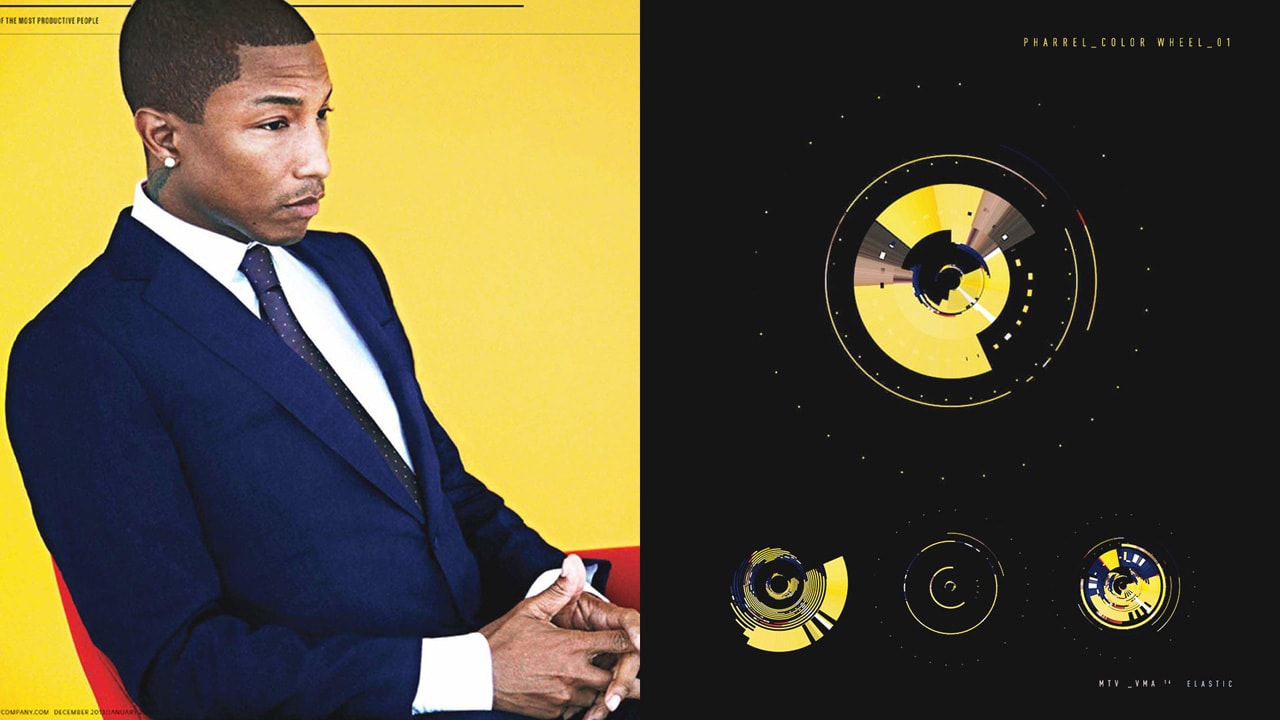 For the show's open, fellow Aussie Trumpdisco, helped to match Kanye West's Black Skinhead with the pulsating circular motion of our black logo. Trumpdisco shaped Kanye's track into something deep, dark, mysterious and electronic – perfect for the tone we were chasing.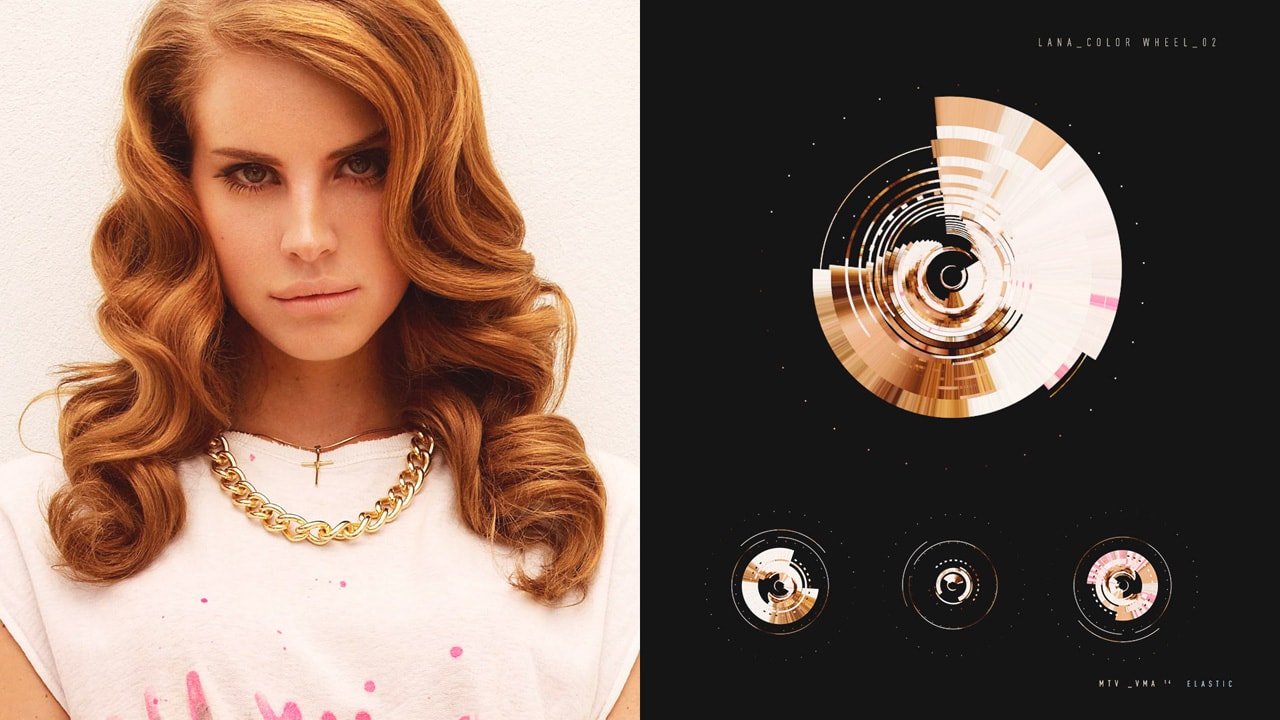 How do the creative challenges vary between telling a cohesive story in an award-show package, versus something more linear, like a main-title sequence?
Visual storytelling is what we love more than anything – and we treasure the chance to work on drama Main Titles because combining visuals and storytelling is what I find compelling. Something like the VMAs is a different beast – but an equally thrilling chance to explore design and the way it can work across a whole event.
What excites me most about this years VMAs was the chance to work on something that had a cohesive creative direction across physical objects, like sets and buildings, and also in our virtual design space.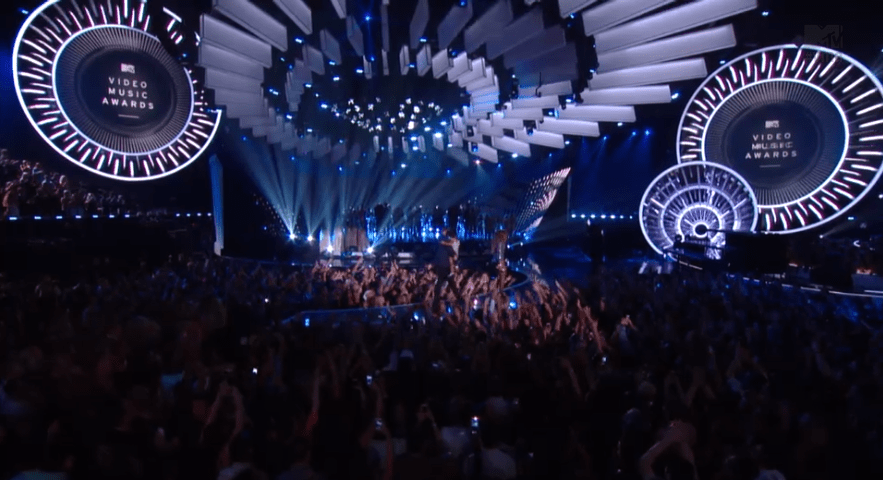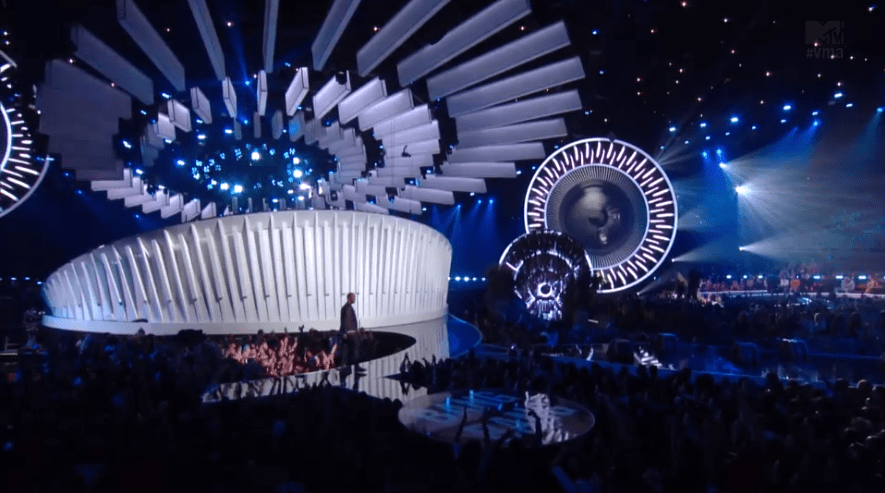 Pop music is a great part of the culture – it's fun, loud, sexy, provocative and shamelessly chases its audiences attention. After spending some months exploring the deep, dark depths of humanity in True Detective – or exploring the ego-shaking soul-searching of the characters from Halt and Catch Fire – it was a breath of fresh air to think about music, art, rhythms and visuals for the VMAS. The VMAs was really about pure design, and some good ole' fashioned twerking.
FROM LEAD ARTIST RAOUL MARKS
The package seems to marry two aesthetics: abstracted 3-D renderings with digital aberration. What was the concept behind the direction of the package?
Creating a cohesive design package for a long form show like the VMA's poses a considerable challenge. Patrick  shared some great reference material he had of camera tracked footage visualized in 3d space.  I took this and started exploring visually 'sampling'  the music clips. If you slow down footage extremely and then stretch out its width to something near infinity you're left  with a slowly evolving linear colour pattern that links beautifully with the source.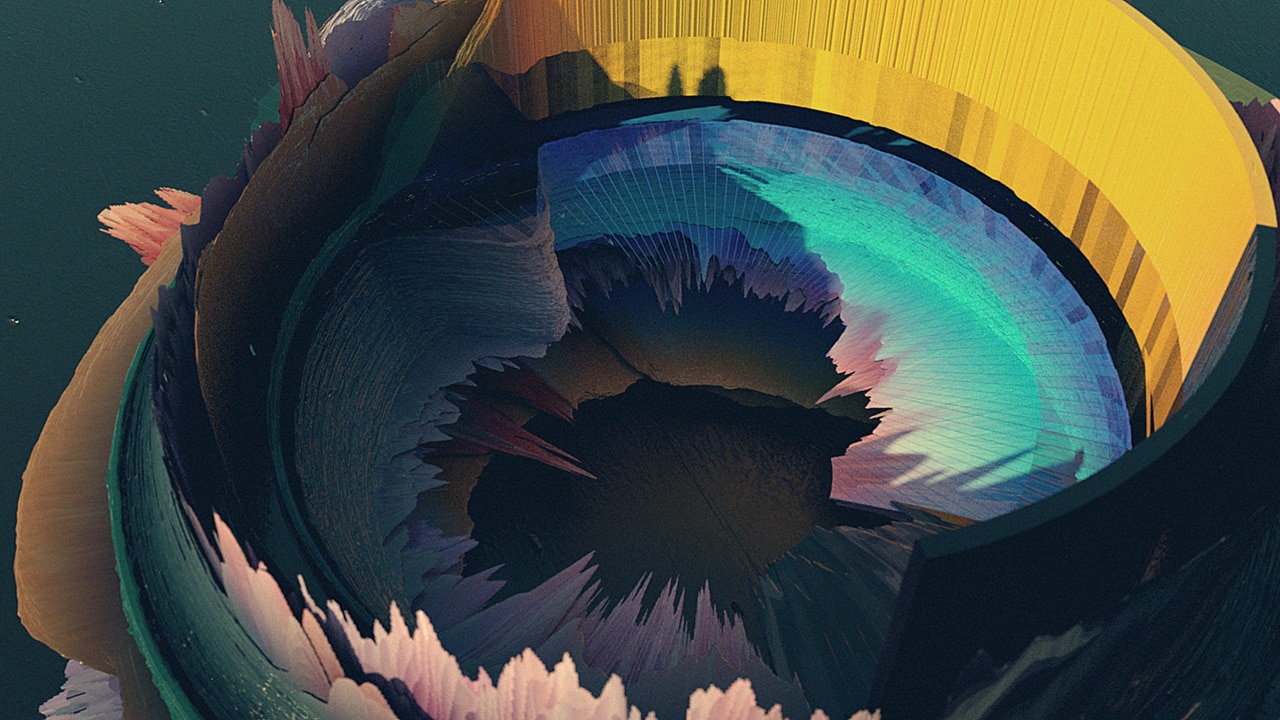 When bent around upon itself these linear patterns created disk like fingerprints of the original songs imagery.   I used a similar process to create data that drove the deformations seen on the fingerprints as they were translated to 3D.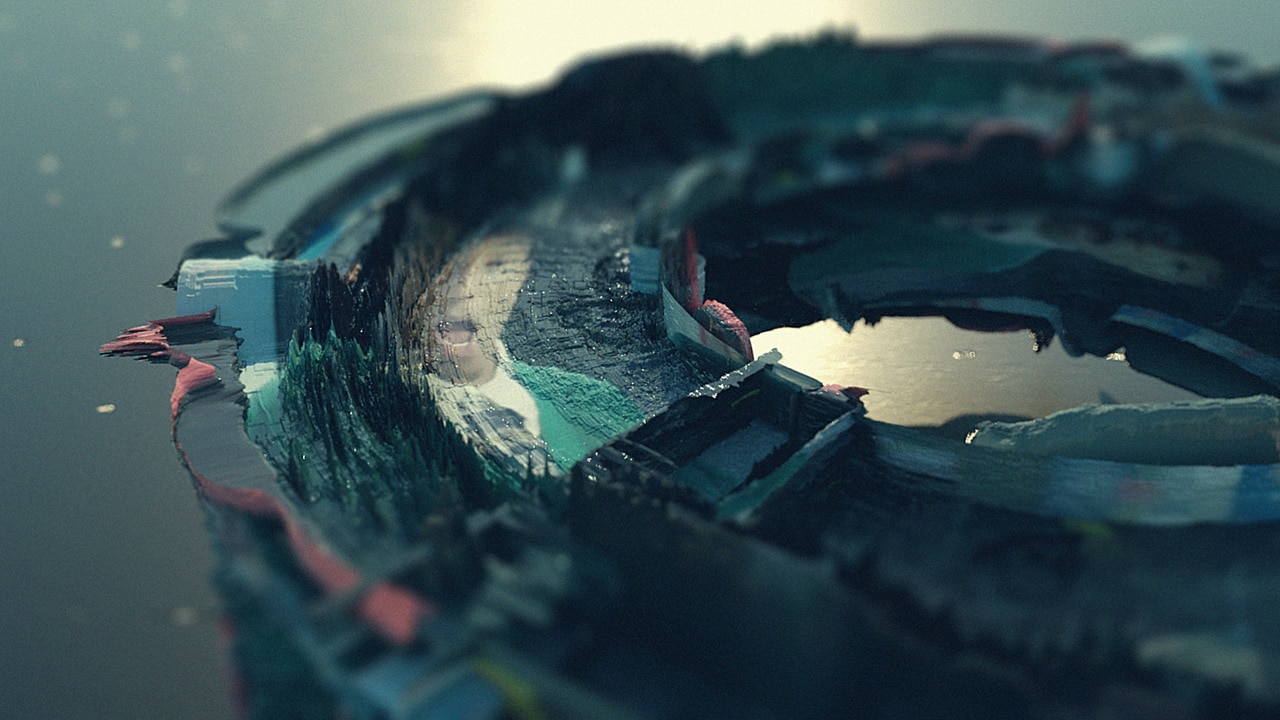 These sampled fingerprints allowed us to capture the individual characteristics of the clip and also to marry all the clips through one visual idea. As the night went on the fingerprints' forms evolved organically based on the music's imagery being fed into them. This kept the imagery fresh but still connected and conceptually unified.
The use of sound design played a dramatic role throughout the package. Can you explain the intention?
We pushed for a heavily disrupted soundscape to accompany our visuals. Instead of having abrupt clearly defined cuts between tracks during our nominations packages we aimed for a single music mix of each collection of songs. We wanted people to really enjoy a brief fluid and continuous moment of music.
 How do the creative challenges vary between telling a cohesive story in an award-show package, versus something more linear, like a main-title sequence?
Using the sampled fingerprints allowed  us to clearly represent the individuality of the music clip being referenced but also pull it in under one singular conceptual aesthetic.  I liked to describe them as beetles in a display case –  hundreds of unique, beautiful colourful imprints  but all bound together by their base form.
Can you talk us through the production pipeline for the project?
I have to highlight a cinema 4D plugin we used in production. We used a third party unbiased render engine called Octane.  Unbiased render engines are lovely to use because they don't take shortcuts to save on render time and thus give very realistic renders without millions of settings to dial in to achieve that result. Octane renders using GPUs not the more usual CPU. This simple fact allows the renderer to render at lightning sped compared to more conventional models. Octane allowed us to render full unbiased global illumination, with blurry reflections, depth of field and very dense polygon counts all at super fast speeds. The render is also progressive, meaning that it very quickly appears as a noisy image and the longer you leave it the more it resolves to a clean noiseless image. This meant from a designers perspective its very quick to get feedback on what the frame will look when rendered. Its usually possible to move the camera around in real time seeing an, albeit noisy, accurate depiction of the finished shot.
Being able to see in realtime how our objects were twisting and distorting was invaluable to the process. This approach of rendering on the gpu has revolutionized the way i will approach 3d design production. I don't have to worry anymore about the  endless settings. I can focus purely on design and the image.
CREDITS
Client: MTV/VMA
Executive Producer: Lee Lodge
Coordinating Producer: Chase Simonds
Production Coordinator: Sara Miller
Post Production Supervisor: Matt Carvette
Online/Finishing: Geiger Post
Design + Animation: Elastic
Creative Director: Patrick Clair
Lead Designer and Animator: Raoul Marks
Designer: Paul Kim
Animation: David Do, Peter Murphy, Alan Chen
Producer: Carol Collins
Executive Producer: Jennifer Sofio Hall
Editorial
Editorial Company: Rock Paper Scissors
Editor: Austyn Daines
Assistant Editor: Arielle Zakowiski
Producer: Lauren Wilson
Executive Producer: Angela Dorian  + Dave Sellars
Sound Design: Cryptext
Additional Sound Design: Trumpdisco
Mix: Levels Audio