airFIELD is a mesmerizingly beautiful example of "physical animation" — animation that takes place in physical space, free from the pixel-based surfaces that traditionally act as motion design media.
The airFIELD is a dynamic sculpture that reflects the heartbeat of the world's busiest hub, the Atlanta Hartsfield-Jackson International Airport. Each flight that lands or takes off from this airport activates the visual behavior of the sculpture. Planes traveling a short distance create small ripples in the sculpture while planes traveling a longer distance cause greater activity.
The "pixels" of airFIELD are arrays of 10-inch circular liquid crystal tiles that can be "switched" on and off.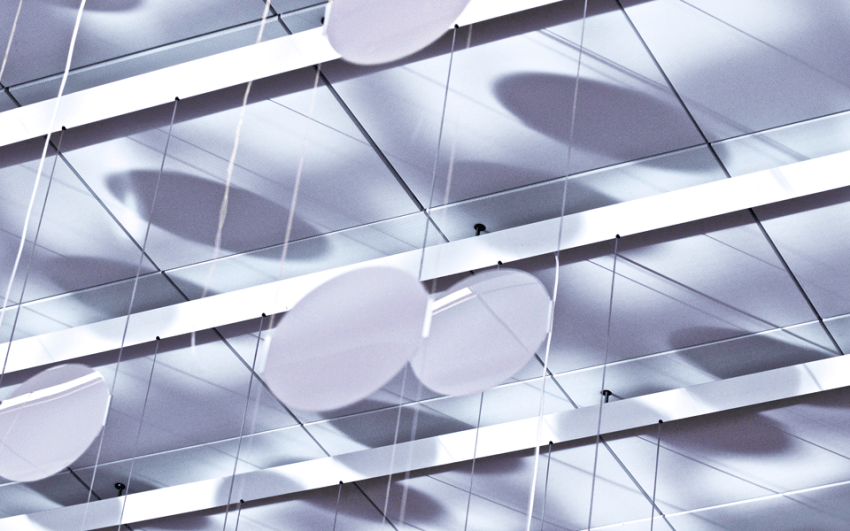 As the creators explain on the project website:
The sculpture requires electrical and data connectivity all the way down the piece so that each disc is able to fade from 0%-100% opacity. This changing translucency from totally clear to opaque white is the essence of the airFIELD's monochromatic physical animation.
That's only half of the story, though. Behind the scenes, a system is tracking inbound and outbound flights at the Atlanta airport and feeding that data in real-time to the display field, culminating in an elegant visualization of the world's busiest airport.
airFIELD launched nearly 3 years ago, but its timeless beauty and ingenuity make it an enduring case study of animation crafted at the human scale.
Credits
ARTISTS
Jamie Barlow
Dan Goods
Nik Hafermaas
PROJECT MANAGEMENT
Jamie Barlow
PRODUCED BY
UEBERSEE
CUSTOM SOFTWARE
Daniel Massey
FABRICATION AND INSTALLATION
Jim Hetherington
TECHNICAL DIRECTION
Gustavo Huber
ENGINEERING
S. Franklyn/Anderson and Associates
PARAMETRIC DESIGN
Andrew Kudless / Matsys
HARDWARE
Jeff Brown, David Randall
REAL TIME DATA FEED PROVIDED BY
FlightAware
iPAD CUSTOMIZATION
Alex Smith
SPECIAL THANKS
Kathrine Marbury and David Vogy
Department of Aviation-Art Program