For a Space Channel refresh, Toronto-based studio Tendril crafted immaculately detailed IDs that blend the mystery of science fiction with the delight of discovery.
While the two iron filing IDs were shot with a Sony Alpha7s and Shogun recorder, the other IDs were 100% CG, introducing some intense technical challenges. "Neon Spider" in particular had hefty rendering needs:
When it came to rendering the Spider ID, we experimented with Corona Render engine. It's a real challenge to experiment with new software in production and in this case a fine web with very shallow-focus and heavy depth of field in addition to lots of glossy refraction was a hardcore test of its capabilities. We used a custom-mapped bokeh kernel that gave us some really nice results!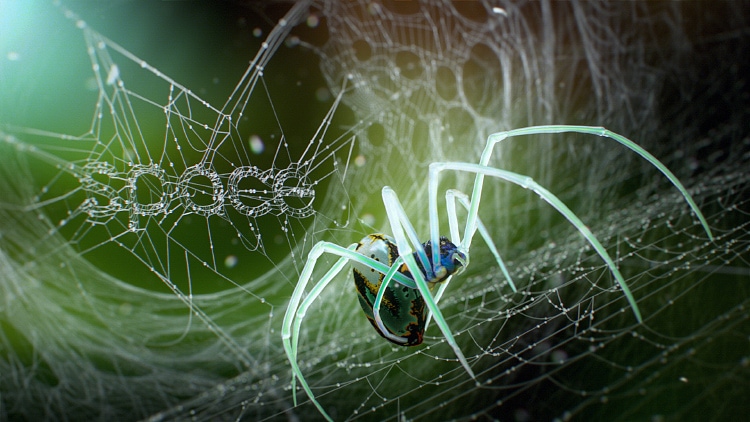 Each ID feels like a densely packed visual haiku. The process imagery on Tendril's project page hints at the amount of design work that went into each spot.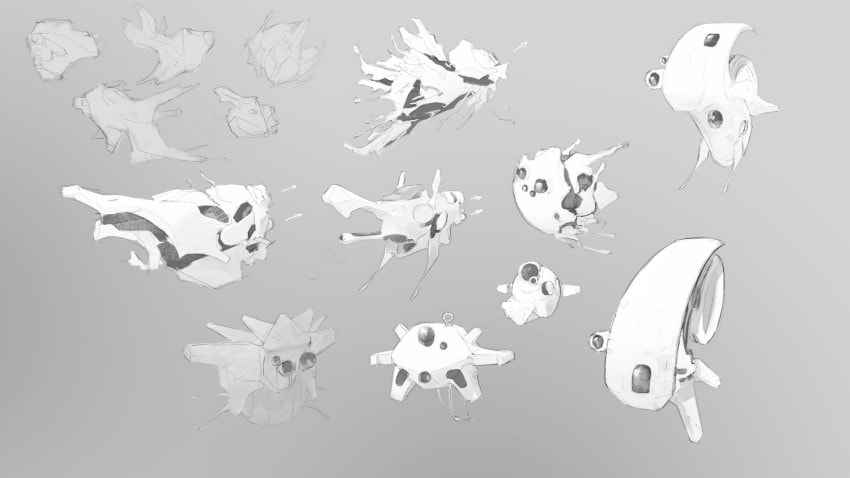 Audio by CypherAudio. 
Credits
Client:
Bell Media Space Channel
Client CD:
Mike Stanley
Production Company:
Tendril
Creative Directors:
Chris Bahry and Alexandre Torres
Executive Producer:
Kate Bate
Producers:
Anne Deslauriers, Leah Wesolowski
Music and Sound Design:
John Black of CypherAudio
"Neon Spider"
Editor:
Steve Manz
Concept Art:
Rodolfo Perisse Rocha
Art Direction:
Alexandre Torres, Leo Mateus
Modeling:
Victor Hugo Dias de Sousa, Marcelo Alves de Souza
Additional Modeling:
Vini Nascimento
Rigging:
Clovis Gay
Animation and Web Dynamics:
Marcin Porebski
Look Dev, Lighting, Textures, and Render:
Marcelo Alves de Souza
Technical Director:
Ben Pilgrim and Marcin Porebski
Compositing:
Chris Bahry
"Space Projector"
Art Direction:
Alexandre Torres, Chris Bahry
Modelling and Design:
Alexandre Torres, Vini Nascimento, Rowan Simpson, Marcin Porebski, Christian Hecht
Technical Director:
Ben Pilgrim
Animation:
Marcin Porebski
Lighting, Render, Textures:
Brad HusbandParticleFX / UI / Hologram:
Gabriel Rocha
Decal Textures:
Steven Hollman
Compositing:
Brad Husband, Chris Bahry
Editor:
Steve Manz
"Space Eggs":
Art Direction:
Chris Bahry, Leo Mateus
Look Dev, Animation, Rigging, FX:
Will Sharkey
Textures:
Will Sharkey, Alasgar Hasanov
Lighting, Render:
Alasgar Hasanov
Compositing:
Alasgar Hasanov, Chris Bahry
Editor:
Steve Manz
"Iron Pink and Blue"
Live Action and Art Direction:
Chris Bahry and Leo Mateus
Compositing:
Chris Bahry and Leo Mateus
Editor:
Jackie Roda