"The lonesome friends of science say, "The world will end most any day." Well, if it does, then that's okay, 'cause I don't live here anyway—I live down deep inside my head, where long ago I made my bed…" – John Prine, "The Lonesome Friends of Science". – John Prine, "The Lonesome Friends of Science"
The Earth is our home, and (for now) it's our only choice. There's no doubt about that, despite what John Prine said (RIP). This year marks the world's 50th anniversary of Earth Day and its mission to build the world's largest environmental movement that drives "transformative change for people and the planet." Since 1970, the Earth Day network has educated, activated, and mobilized over 1 Billion people to organize and call for greater protections for our planet.  The first Earth Day is credited with launching the modern environmental movement, and— thanks to the effort of all the helpers— it is now recognized as "the planet's largest civic event."
To celebrate this massive collective effort, the team at Motionographer is highlighting the folks in our creative community that are producing projects – pro bono and professionally – that spread the good word about sustainability, or just the state of the planet. Additionally, we'll be posting a round-up of Earth-related projects on all our social media channels—check our Instagram, Twitter and Facebook throughout the week to see more of these projects.
A few months ago, Albert— an organization focused on helping companies in film + TV become more environmentally sustainable— reached out to Buff Motion to collaborate on a series of animations for a new initiative called the "Creative Energy Project." We spoke to both of them to learn a little more about how these folks are trying to make the "screen industry" much greener.*
*Unfortunately, this solution is currently only available in the UK, but they noted that they're beginning to expand overseas.
We also asked for some tips on what studios and individuals can do to shrink their carbon footprint, and found that these changes were much more accessible than one might expect.  And incidentally, one positive takeaway from the global pandemic of Covid-19 is that we are learning to successfully work remotely and gain new insights as to what is deemed "necessary travel".  Reducing travel is one of the greatest impacts we can make to alter our carbon footprint so it's nice to know that as we "shelter in place", we are being  productive in more ways than one.  Let's be sure to implement these lessons for good.
First, we spoke to Genevieve Margrett, Albert's Communications Manager at the British Academy of Film and Television Arts (BAFTA), to learn more about the initiative they're calling the "Creative Energy Project."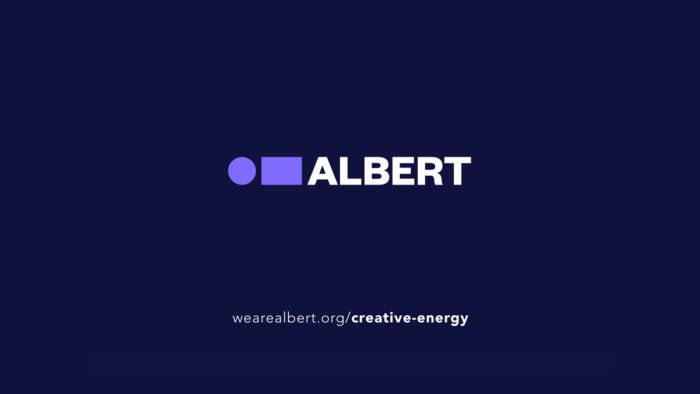 Q&A Genevieve Margrett, Albert's Communications Manager at BAFTA
---
Tell us about Albert and the Creative Energy Project. What was the inspiration?
Albert is an industry-backed project whose aim is to support everyone working in film and TV to create positive environmental change. We want to enable every part of the screen industry to eliminate waste and carbon emissions from production and empower industry creatives to make editorial content that supports a vision for a sustainable future.
The Creative Energy project began a few years ago as a way to help the industry tackle the largest parts of its carbon footprint. By collectively buying clean, renewable energy together, we're able to make the pricing more competitive as well as save the planet. Win-win!
Is it only based in the UK?
Yes for now, although Albert is beginning to expand overseas so it's possible we'll be able to set up further projects in the future.
What are the biggest barriers to folks in this industry when trying to go green? 
Knowledge. A lot of people find the climate crisis so overwhelming (understandably!) that they don't want to engage and certainly don't know how to make a difference. Our free Albert training course helps to combat this by providing a science-based, solution-centric introduction to the environmental challenges we face.
What does a dummy need to know about carbon / Albert's product?
Just know that whatever your role in the industry is, be it runner, office manager, producer, scriptwriter or accountant, you have a role to play in helping the creative industries transition to a carbon-neutral future. It's going to be tough to make the change, but it's not impossible and if everyone plays their part, we can get there.
What about the impact? Why should a company make the switch?
On average, an hour's worth of TV produces about 13 tonnes of carbon and energy usage makes up about 40% of that. What's hopefully comforting to hear is that you can immediately take action on one of the largest parts of your footprint simply by switching to a 100% renewable electricity supplier (and joining our Creative Energy basket might mean you save money too).
What else can creatives (freelancers and studios) do to reduce their carbon footprint on a macro- and micro- scale?
So much! In TV and Film, travel always accounts for a large part of a person or project's footprint. Some travel might be necessary but lots of work could be done remotely or local crews could be hired. Food and catering is another big area – consider having meat free meals the majority of the time and eliminating disposable waste… For studios, you might want to consider your remote servers and how these are powered, is there a greener option? If you've reduced as much as you can, it's also worth considering how you might offset the remainder of your footprint.
For further ideas and case studies head to wearealbert.org
---
Next, we spoke to Buff Motion to learn a little more about the neat piece they created to promote this new project.

Q&A  Buff Motion
---
How did Buff Motion get involved in this project? Tell us about it.
Albert is supported by BAFTA (British Academy of Film and Television Arts) and in the UK, you'll see their Sustainable Production footprint logo at the end of some TV programmes. We were aware of the organisation, having worked with BAFTA in the past producing some of their awards show graphics. So when the opportunity to work together on a series of animations for such a great campaign came up, we jumped at the chance! The project consisted of two climate change awareness animations – The Creative Energy Project and Carbon Neutral in a Generation. These were the first ventures into animation for the Albert brand, so it was exciting to start from a blank canvas, with only their lovely brand guidelines to lead us.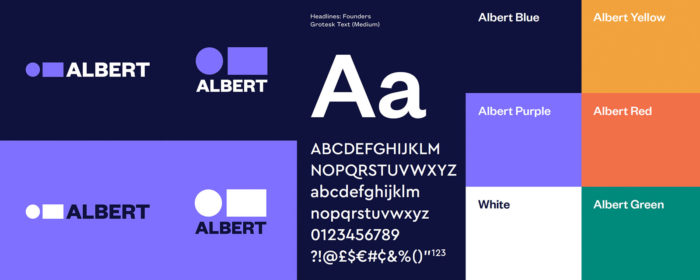 What was the process like? Take us through it.
The project followed a pretty standard process for the studio: style exploration, script development, storyboarding, AD & illustration, animation and sound design. We love working collaboratively with our clients and throughout the lifecycle of the project, we worked with a few different people at Albert who were all really passionate about the project. Collectively challenging each other's thinking and allowing everyone's expertise to flourish meant we were able to get the best outcome for the project – with a happy team and client. So much so that we've just completed another short animation together for Albert's Green Rider campaign.
Were there any specific inspirations for the work?
As Albert had not yet commissioned any motion work, we were able to get our thinking-caps on and work up a style that complimented their brand. The brand identity itself is really clean and geometric, underpinned by a bold colour palette. Working with the team's feedback, we developed a minimal look using a fairly conceptual illustration style that had just enough detail to communicate the scenes.
The simplified nature of the designs seemed the right choice for the brand and subject matter; it just meant we needed to work a bit harder with the animation. Having something so clean visually means there's nowhere to hide, and therefore the movement needs to bring that little bit extra to the viewing experience.
How many were on the team? How long did it take from start to finish?
The team consisted of Tom (Creative Director; Designer & Animator), Chloe (Studio Director), Lawrie (Project Manager), Ann (Illustrator), Alex (Animator), James (Sound Designer). Most of these are part of our wonderful in-house team here at Buff, with Alex & James joining us for extra support. Big love and thanks goes out to them both.
The two animations were 'in production' for around 5 months – but as the team at Albert are small and have plenty of other key projects going on promoting environmental sustainability for film & TV – we experienced some pauses in development during that time.
As is often the way, the storyboarding and design phase was the longest to complete. There was plenty of back and forth discussing concepts, finessing ideas and refining illustrations, so that by the time we got into animation it was smooth sailing.
What were the limitations, if any?
We were working to a lean budget for both videos, due to the funding available for the project. However, we're passionate about Albert's mission; it aligns with our values, so we were keen to be involved and deliver over & above wherever possible. Buff has since joined the Creative Energy Project, meaning the studio is now powered by 100% renewable energy.
What is a juicy tidbit that the Motionographer community would like to know?
One technical point that we mulled over in the studio from the start was how to finalise the videos, whether a high or low frame rate would be more effective. For something that's so visually clean and modern, we contemplated going for 60fps to really show some of the intricacies of movement and generally give it a really polished feel. However, given the subject matter we decided that going with 12fps would give it more of a natural and organic feel. It also softens the overall delivery and stops it feeling too clinical (in our opinion anyway!).
Also, a shout-out should go to the folks over at Motion Boutique. As most people will have guessed, the carbon footprint that collapses in the video was achieved using Newton 3. It's such a great plugin for AE and so easy to pick up and use. If anyone out there hasn't tried it, we'd definitely recommend it.
Credits:
Client: Albert (https://wearealbert.org/)
Production: Buff Motion (https://www.buffmotion.com/)
AD & Illustration: Buff Motion
Animation: Buff Motion & Alex Covella (http://alexcovella.com/)
Audio & Mix: James Locke-Hart (https://www.jameslockehart.com/)