Give us a brief introduction to yourself
GUTO TERNI: I am a 3D artist from Brazil living in Brooklyn. I'm a partner and director at ROOF Studio, and I'm also a music producer (on Sundays).
VINICIUS COSTA: I am a "surrealist" 3D artist from Rio de Janeiro, Brazil, living in Vinegar Hill, Brooklyn, and Co-Founder of ROOF Studio.
Fill us in on your Motion Design background and what led you to become a motion designer.
GUTO: I've been in the Motion Design industry since 2003. After graduating with a degree in design and working at a production company for two years, I opened my first company, Animatorio, in 2004. It was really raw territory back then. You had to buy a book to learn 3D, and there was very little knowledge exchange over the internet. It was tough. Love was necessary to learn! 
Animatorio had an avant-garde spirit; we decided to invest in design and set ourselves apart from the advertisement industry, with our main client being MTV. We chose complete freedom exploring new ideas over money. We were a young group of ten people in our 20s, trying to do something unique in the field of animation. It could be 3D, 2D, stop motion, or everything mixed together.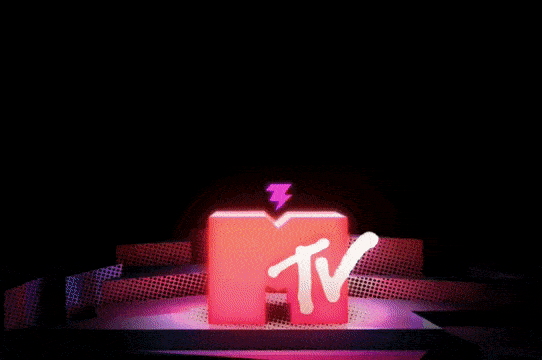 I met Vinicius (Vini), who was working at MTV at that time. Sometimes, he would help us on projects as a freelancer, which is how our friendship and working relationship started. In 2008, Vini moved to NYC to be a director at 1stAveMachine, and I became a partner at Lobo/Vetorzero in Brazil. I stayed there for four years before opening ROOF in 2012.
Tell us about the team behind your project.
GUTO: I've learned that to excel in a project, you need really strong leads covering each step. This way, the information doesn't get lost and is transmitted by people speaking the same language. Personally, I would rather have a small team of passionate and talented people than a huge group of people that are too distant from the project's core. Small teams are easier to manage, and it makes everything much more personal. The artist feels closer to the decisions and more comfortable giving ideas to improve the project, which is crucial for quality. That's how we work here at ROOF, and it wasn't any different on our "Unbreakable" short film for Insmed.
We`ve been working remotely since 2014, so our pipeline was built for that specifically. Those years of experience allowed us to improve organization, which is fundamental to saving time and adding quality. We chose a remote structure back then, giving us the ability to select the best artists and, consequently, form the best team possible for the project without the constraints of only working with people in the same city.
[sp_wpcarousel id="72743″]
How would you introduce your project to someone watching for the first time? 
GUTO: "Unbreakable" is a visual metaphor of the nontuberculous mycobacteria (NTM) experience. Based on actual NTM patient experiences, the film opens on Barbara the Bunny, a plush toy fabricated in a magical factory. When she comes alive, she realizes something is not quite right as she begins to cough, splitting a piece of her fabric in the process. Barbara is expelled from the factory by "Quality Control." From there, we follow her journey across the city as she desperately seeks a specialist for her situation. To Barbara's relief, a sweet toy repair shop owner knows just exactly what to do.
We took a folkloric approach to tell not only the story behind the physical symptoms of NTM but also the social ostracization from the chronic cough that patients endure with the condition. This approach allowed us to use rich, poetic visuals with a character-driven story around Barbara the Bunny to engage the viewer with the deep concerns of NTM sufferers and their experience. At the same time, it lent us room to be playful and humorous to bring a hopeful tone to the conversation around NTM.
Take us through your process. How long did it take? What techniques did you use? What programs are you using?
GUTO: At ROOF, we're typically super intense in pre-production to ensure that what we produce will be in sync with client expectations. We always develop a 3D previsualization to see timing, some of the intentions with the acting, and camera composition. Working this way is extremely useful for the client, as they can clearly visualize where the production is heading, and we can fine-tune the story together. The previz is our main tool for planning everything out, which is the foundation of all of our films. 
We had to find a sweet spot in setting up the tone of the film. It couldn`t be too sad nor happy, or fun. We liked the idea of classic folktales like "Pinocchio," which have rich, poetic visuals and use this fantastical superficial layer to smooth the way for approaching deeper concerns/values. Through this lens, it was possible to balance the melancholy of the story, helping to connect properly with the emotions of Barbara with subtle humor.
Visually, we knew this type of story was a perfect opportunity for us. We love producing our films with the same level of craft you can find on fabrication/stop motion films. We really like adding tons of details to our 3D materials so that you can see a scratch or rust on every single object of the scene.
For our character development, we did rounds of concept drawing, exploring various personalities and shapes. The agency wanted Barbara the Bunny to carry some of the melancholy associated with an NTM patient, but at the same time, some cuteness to help create empathy. As a toy that's just become conscious, it was essential to add intelligence as a characteristic since she has to figure out an answer to her problem. We did a fair number of drawings to land on Barbara's design. She turned out as a strong bunny full of charisma.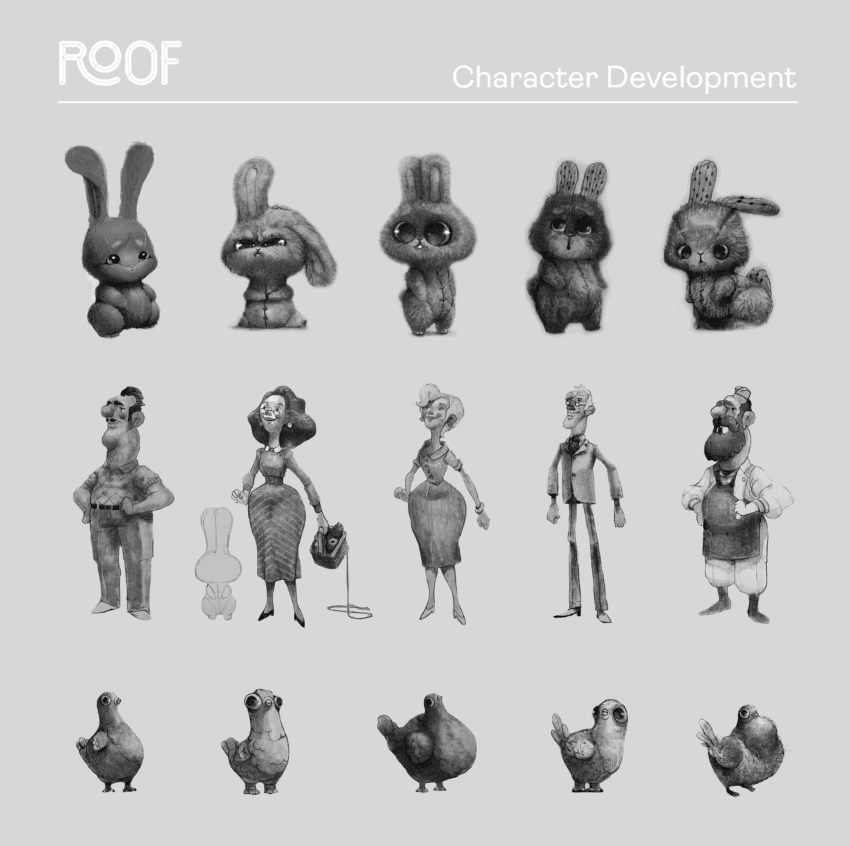 VINI: We wanted to design places that would feel rich and inviting — places that you may even wish to visit. We pursued an extremely high level of detail in every asset to create an experience that would encourage people to keep following this story through the behind-the-scenes materials in social media. It is common to focus on a video and extract parts for its 'making of,' but we put equal effort into engaging people with the film and every asset outside it. We wanted to bring a much broader approach, and this film was perfect for that.
What was your favorite moment or most fun part of the project? 
GUTO: When the renders started to come out beautifully, suddenly, the whole stress felt worth it. We knew the film would be exactly the way we envisioned, which is always such a thrill. But let's be honest, it is really fun when you finish the project, and you can come back to your normal life. 
Did you face any difficulties along the way? If so, how did you overcome them?
GUTO: There were a number of challenges, with scale being the most complicated one. Usually, when there's a main subject in a story, I like to stay with them throughout the film as much as possible. This proximity helps to connect the audience to our character, facilitating the comprehension of their emotions, something that's extremely fundamental for the impact of the film.
But with a 2:30 short, you don't have much time to build a character up. "Unbreakable" is 100% centered on Barbara, and the camera is on her the entire journey. The scale issue happens because Barbara is a toy that's 24 inches tall, so when she's framed in the shot, everything in the environment around her is also in close-up. This requires an enormous amount of details in modeling and texturing. Everything around her was produced to support that proximity from the conveyor belt to the streets and sidewalks to the furniture. For this reason, all our production decisions were made considering the sheer volume of texturing. It was A LOT of work, but we did it with a smile on our faces because we love details, and this film was perfect for that. 
How do you deal with creative doubt on a project?
GUTO: I try not to overthink. Since the majority of our projects have tight schedules, some decisions are made on the fly. Sometimes, you do it right, and sometimes, you don't. I figured out a better way to absorb the mistakes and to reduce the pressure in my creative process. I realized that it's better for me to think of production more like a game. Time is running out, and there's no way back, so I have to trust where I'm headed.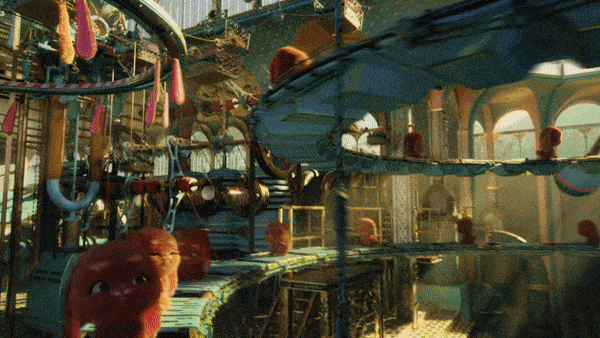 What were some ground-breaking moments in Motion Design that have shaped the way you think?
VINI: I feel the big studios once were able to push the limits in terms of what was possible, technically speaking, such as fluid camera movements and a mix of 3D and 2D in a graphic design way. When I first started, I wanted to be like them, but eventually, I decided to just be me. That was a pleasant shift because I focused more on looking for art in different places, like on the streets, in architecture, or museums. I'm an observer, and being able to visit a museum and get inspired by how the Egyptians made use of gold in their art, for example, allowed me to see design everywhere and somehow incorporate bits and pieces into my work.
What do you think we could do as a community to work together more and drive the industry forward?
GUTO: Our industry is going through a transitional moment. Programmatic advertising is competing with traditional advertising, and media is undergoing its own revolution. Naturally, the budgets for bigger projects are going to a lot of smaller ones. Companies are holding on tightly and trying to survive the storm. At the same time, there is a whole new horizon opening up with interesting opportunities from all the streamers looking to produce content. I believe VR and AR will be huge after 5G and better devices, and now NFTs are validating digital work.
In the near future, the possibilities will be much broader. In a way, the pandemic has put us all on a more equal footing, with everyone experiencing the same doubts, fears, and feelings. The anxiety is normal, and the future is a little foggy at this point. That being said, the community has become more important in trying to figure out how to heal and move forward. I believe communities will be growing and funneling knowledge and interests more and more to the point where, for example, we have a whole group of people who specialize in making tornadoes or liquid chocolate — instead of a general Houdini community. Having access to those peaks of specialized talent will undoubtedly help us curate and find the right team for a specific project, so it is important to get involved and participate. This could certainly be your main source of work in the near future; it is not paradoxical.
Thank you so much for being here. Before we let you go, is there anything else you'd like to share about your piece?
Vini: It's pretty uncommon to have an opportunity to make such a special film with this much artistic freedom. We are grateful for the trust given to us, which, in turn, allowed us to generate a unique piece that took a lot of care and emotion to craft. It's an enduring piece that we feel will engage and touch people. We hope those who see it will feel just how much love we invested into it.
---
TECH SPECS
Computer: Frankenstein
Processor: GPU AMD 32-Core Threadripper 3970X
Memory: 64GB
Graphics:  4x NVIDIA GeForce GTX 2080ti
ANIMATOR STATS
GUTO:
Powered by: Orange Tea
Calories consumed: More than I burnt, for sure!
Sleep Lost: Always exchanging some for a beautiful scene
Refueled with: White chocolate
>>>>>>>>>>>>>>>>>>>>>>>>>>>>>>>>>>>>>>>> 
VINI:
Player Stats – What powers your vision? A perfect friendship between CPU and GPU machines working in harmony and holding hands to produce beautiful renders :)