The year is 2047. I've been jacked in for hours, could be days, a week even. My fingers twitch as a rush of hypnagogic images jerk through my cranial jacks like some kind of film compiled of random frames, my eyeballs shudder violently behind closed eyelids. I'm somewhere in the deepest regions of the consensual hallucination that is cyberspace. My senses are electrified by pounding beats and frenetic visions of unthinkable complexity; humanoid robots in hoodies, psychedelic patterns, distorted, dreamlike scenes, and a kid in a bathrobe dancing…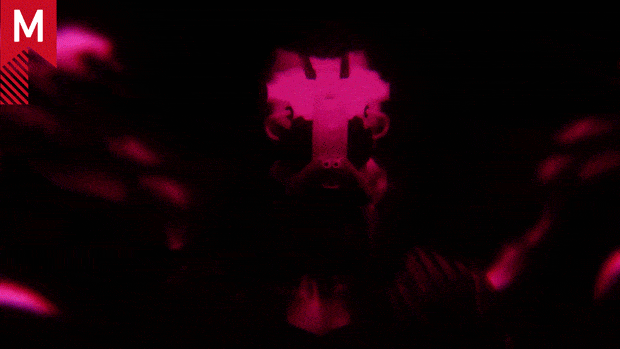 Actually, it's 2021, and I'm not living in a Cyberpunk universe. I'm sitting at my desk exploring the work of Fustic Studio, the "future-forward" Motion Design collective founded in Vietnam in 2016. A multidisciplinary collective of Motion Designers, graphic designers, musicians, technicians, and above all, artists, Fustic's bold, visionary style and ethos paves way for an exciting future for the Motion Design community. Their work is unmistakable and spans visual media, music, installation, and experiential design. It comprises surreal, brave, bold, smart, and boundary bending visuals for well-known clients from Adidas to Adobe and Adult Swim to Facebook.
Back in 2016, a group of high school kids with a shared love of technology and design started exploring motion graphics and teamed up with their musician friends to make cool stuff together.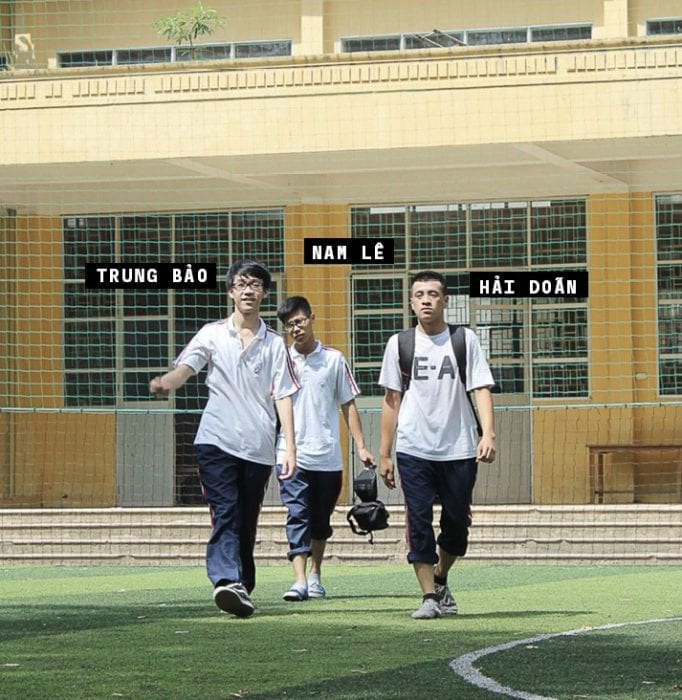 Via social media, they reached out to a (then cozy) motion graphics community in Vietnam and enlisted fellow enthusiasts to collaborate with them, an open invitation to explore and workshop ideas. Fustic was born; a collective of like-minded artists with one common goal; to push the boundaries of design and technology and make incredible motion graphics.
I'm writing this article because I believe they have succeeded.
What strikes me first about their work is their bold and brave signature style. When viewing the work of Fustic, you are subject to a level of intensity rarely seen in commercial Motion Design. Images warp and flex before your eyes, frames flicker to intense beats and sounds, it feels hallucinogenic, loud and uncompromising, and above all, beautifully composed and designed. On a personal level, this kind of work has always excited me, ever since witnessing Tom Kahn's title sequence to Gaspar Noe's nightmarish Enter the Void, a piece so visceral and brilliant it's seared onto the retinas of many a motion graphic design enthusiast.
Beautifully designed typographic executions strung together in a seizure-inducing sequence accompanied by "music" akin to the sound of a pile driver. There's not much motion design per se, but damn, does it move. The execution is pin-sharp, precise, and the result is electrifying.
Compare this to Fustic's piece for The Eric Andre Show. Look closely, and you'll see what drives Fustic, a passion for design, typography, music, composition, and technology, artists exploring their collective capabilities and pushing the boundaries of what Motion Design means to them.
A barrage of seemingly random and chaotic images (it's Eric Andre after all) flung together to a driving beat, scenes of chaos and destruction ensue, an acid trip of noise and colour; it's beautiful.
Everything is considered, nothing is misplaced, and the result evokes hazy memories of late-night, bleary-eyed screen binges, staccato channel hopping into the weirdest regions of late-night TV. It makes sense then that the client is Adult Swim, a network known for its genre-bending, boundary-breaking content, and the marriage is perfect.
Take their work for Adidas Ozweego, and you'll encounter the same levels of bold defiance.
A lo-fi collage of technical and analogue cuttings, thrown together in a seemingly random fashion, the result a hypnotic menagerie of urban vignettes, a stream of consciousness perhaps, with both feet planted firmly in the future.
I think it's fair to say that our world/community is saturated by this kind of content, and more often than not, it's done badly; it often feels derivative and diluted and reeks of ill-informed client requests or misinterpretations; it lacks authenticity. However, this work lies way ahead of the curve and feels unfiltered, straight from the source. As we witness their inner workings and process, they admit that they're experimenting and sharing the results, serendipity executed with scalpel-sharp precision with a finger always on the pulse, and it makes for a genuinely brilliant piece of Motion Design.
Now more than ever, we are lifting the veil on our processes; creators are sharing and showing us their work alongside their secrets and lifting the hood on their tools and techniques; our community is growing and learning at a rate of knots. Fustic, it seems, are here for it, here for us.
They describe themselves as a "future-forward collective," three simple words that carry so much weight. Modern Motion Design is akin to science, and like any scientific practice, it involves experimentation, research, and development. The tools required to carry out such work are developing faster than ever before. As practitioners, we talk with fondness about our setups or 'rigs,' comparing graphics cards, cores, render engines, plugins, and software, our 'labs' so to speak. To many, it can seem overwhelming, mind-bogglingly technical, and a minefield of potential errors, crashes, and stumbling blocks in the way of the creative process. It's here that we see Fustic shine. Follow Hải Doãn, and you'll see him posting his dabblings in Touchdesigner, lovingly exploring VJ capabilities, or most brilliantly, throwing shapes in a smart suit for their surrealist masterpiece Bathrobe Kids do Nothing But Dance.
Their excitement in new processes is palpable, and they want us to feel it too. Scroll through comments, and you'll see questions posed to them are thoughtfully answered with keen enthusiasm.
As Motion Designers, we are artists as much as we are scientists. A sweeping statement, maybe, but it's one I hold to be true. Something, somewhere, whether a music video, a title sequence, or a cartoon, gave us that goosebump moment and lit the fuse under a burning desire to know how to do the same, to make things that move, both literally and figuratively. We chose to go on a journey of self-expression and creative exploration, but it's only relatively recently that Motion Design has truly entered the art space.
We aren't just making work for clients anymore. The internet and technology have given birth to an entirely new way of accessing and receiving our work, and the possibilities are endless. Unless you've been living under a rock, you'll have heard about NFTs; a recent birth child of the internet which has propelled our community even further into the art space. If, like me, you've watched in real-time as @beeple_crap went from bedroom design boffin to multi-millionaire, then you'll know it's a very real thing. As practitioners, we'd be foolish to ignore their ascendancy. Hype or not, NFTs undeniably give makers more reason to create, share, and, most importantly, profit from their work.
And so, it comes as no surprise that Fustic are riding the crest of the NFT wave. It seems as though every member of the collective is enjoying a piece of the NFT pie. 
Trung Bao, a Fustic founder, has collaborated with the new media artist Reeps100 on an new media art project entitled Voice Gems, which is exhibited at the world's first major NFT art museum, OO Art.
The Voice Gems project has collaborated with contemporary artists such as Ai Weiwei, Felipe Pantone, Sougwen Chung or musicians like Reggie Watts. The project aims to become the worlds leading curated vocal archive, capturing vocal moments and expressions to generate precious digital objects. The colours and structure of the gemstones are generated in real-time from gifted voice data and recordings. Creating a "one-of-a-kind voice piece capturing the liminal space between human connection and the vast anonymity of the internet." The work is truly contemporary, both in concept and execution, a modern rationale delivered with cutting-edge technology to striking effect. 
Other Fustic members, Nam Le and Tra Giang have launched themselves into an NFT project entitled Rice, a hyper-cool, collaborative illustration project reminiscent of the vinyl toy movement in its aesthetic.
Motion Design can be approached from an array of different angles. There's a wealth of disciplines bundled into the craft; illustration, animation, photography, sound design, cinematography, direction, and notably graphic design. Whilst graphic design in my mind exists as a cornerstone of the craft, you'd be surprised how often it can feel ignored, underused, or worse, overused and badly. It's a core discipline that demands knowledge, understanding, care, and attention and it's something Fustic handles brilliantly.
Most of their projects feature graphic design on some level, sometimes it's subtle, and at other times it's more obvious but, in all cases, exceptionally executed. Take the titles of their NGHI KI project (which involved 22 visual artists worldwide) designed by close Fustic collaborator Duy Dao . The subtle characters form beautiful compositions which slide and click into place; it's reminiscent of code or data and elevates and enhances the mood of the film, an example of titles and visuals working together in perfect harmony.
Tra Giang – the type designer of the collective – creates entire typefaces from scratch. Her passion for the craft clearly runs deep. Her work is gaining global recognition; rightly so, because it's beautiful and shows a deep respect for traditional design principles while (in true Fustic form) looking forward.
In summary, Fustic embodies the spirit of a modern design collective. They represent an ethos vital in today's Motion Design community, one of collaboration and exploration through art and technology. From their humble beginnings as high school students, they've grown into a studio with global reach making world-class work. They are a product of a new era of creativity that boldly looks forward, paving the way for our community. And despite all they've achieved so far, it feels to me like this is just the beginning…
The Future is Fustic, and I'm here for it.