In March 2021, we were all getting a little stir crazy in my house. We were tired of the Bernie memes and feeling concerned about Britney's freedom. We were in month six of virtual kindergarten and shoveling our way through Colorado's snowiest season. We longed for a vacation but didn't feel comfortable getting on a plane. We needed a diversion. 
All Eyes on Beeple 
My husband Tom, a Motion Designer and Tend Studio co-founder, had recently heard that digital artist Beeple, who had been one of Tom's idols for more than a decade, seemed to be onto something big. Tom and I had watched Beeple create his Everyday projects for years, frequently discussing their topical and often crude humor.
Now, Beeple's "Everydays: The First 5,000 Days" project was being auctioned off by Christie's as an NFT (non-fungible token, more on that soon). At the time, Tom was crypto-curious but hadn't fully immersed, and I had no clue what the fung NFTs were. But we knew Beeple, we knew Christie's, and we were watching closely. It felt like the world was watching, too. 
While the Beeple auction gained hype, Tom decided he needed in on the NFT action. He had already learned that NFTs are one-of-a-kind digital assets, usually still images or videos that people buy and sell online. They can be anything from a simple sketch to a complex 3D animated short film. But they also have a lot more to offer. 
NFTs are non-fungible

, meaning they are easily verified for authenticity.

They're stable

, meaning they are safe, stored way up in a decentralized cloud.

They're protected

by mystical blockchain technology, a complex system that at its core is a public ledger that confirms transaction data and allows for secure NFT sales.

They also

allow artists to collect royalties on secondary sales in perpetuity, meaning NFT royalties could potentially be passed down to future generations. 
NFTs combine Tom's passions in art and tech. They allow Motion Designers and other digital artists to take control of their own storefront- almost like a digital Etsy, something that had never been feasible in the past. In a way, last March felt like the early days of Bitcoin, and oh how we wish we would've invested $5 in Bitcoin in 2011.
Before you can list your art on the blockchain, though, you need to pay gas fees. Gas fuels the blockchain, and its prices can fluctuate a lot. This means Tom would have to pay to play, and he'd have to pay using Ethereum, a cryptocurrency commonly used on platforms that sell NFTs. But as we watched Beeple bring in $69 million for his Everydays, Tom thought a small investment in ETH had the potential to pay out big.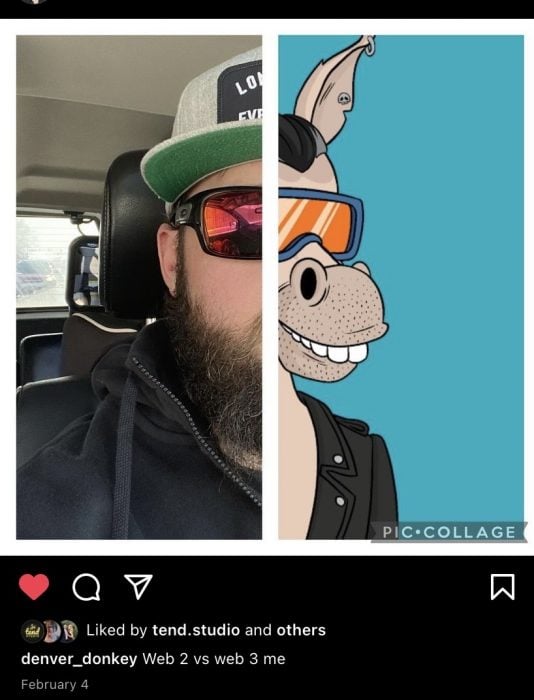 Diving In
Tom discovered that our local neighborhood liquor store had a special crypto-currency ATM. He could put cash in, convert it into Ethereum and then use it to list his own NFTs, as well as buy others. I admit I was a bit skeptical as I watched him rush out of the house to feed the ATM $400 of our hard-earned money, to transform it into crypto tokens, to 'play Pokemon' with .mp4s, and .jpegs that only exist in the metaverse. He assured me the $400 was all he'd invest- an experiment of sorts. He'd be a crypto art trailblazer. 
A few minutes later, Tom was home with a six-pack and an empty wallet, ready to dive into the OpenSea. That night, he listed several of his own old Everyday projects, bought a 3D Prince guitar pick, by @cancersucks, and went to bed. The next morning, he woke to one sale, totaling about $180 minus $40 in gas fees. He was hooked. 
Watching Tom's modest early successes, I started to warm to the prospect of crypto art. Tom and I co-founded a Motion Design studio, Tend Studio, in 2019. Being a new studio owner, especially during a global pandemic, is a nerve-wracking business, though, and the thought of having a new lucrative income stream was interesting (even if it would be paying in 'monopoly money').  
To Tom – who now sells 3D animated NFTs on many platforms & in multiple cryptocurrencies as Denver Donkey – NFTs are more than interesting; they are the future.
Tom feels that NFTs put control into the hands of the artists. Until crypto art, most of his income came from commissioned ads and other client work, which, though fulfilling, don't scratch the creative itch that art from the heart does. 
Since then, Tom's 'bullish' NFT game has been a bit of a rollercoaster. He has bought more than he's sold, enjoying collecting work he hopes will "moon" (blast sky high in popularity and price). His favorite and most valuable NFT is a BILLELIS x GREG MIKE collab, which, if things go Tom's way, will help pay for our kids' college someday.  
BILLELIS x GREG MIKE collab
The Lows 
Some low points include the Gas Wars that brought crazy surges in fees, causing slow NFT sales and dips in ETH's value, and the flood of the market with artists hoping to strike it rich, making Tom a tiny fish in a big pond. There have also been naysayers questioning every aspect of crypto art. 
Much of Tom's work hasn't sold yet, including his looping 3D animated Staycation. Staycation, listed on Foundation for .5 ETH (about $1,350 currently), is the first in a series of 10 NFTs that will also be made into VR // Planetarium Experiences.
Our studio has been at work on a feature-length planetarium film, and dome workflow (which is the same circular 180-degree workflow as is used in VR) has been at the forefront of Tom's mind. He hasn't seen many VR NFTs and hopes to popularize the format.
The Highs 
Tom has had his share of victories in the NFT space, too, though. He's created successful collaborations, like one with longtime friend Galen McKamy of Superplastic.
NFT Collab with Galen McKamy
He's developed his own unique NFT style featuring lots of gorgeous 3D animated crystals and sold work on OpenSea, Rarible, Objkt, and HicEtNuc.  
His most successful collection was Fire on the Front Range, an AI-generated series sold using a cryptocurrency called Tezos. Tom donated all proceeds from that project to those affected by devastating fires, which destroyed more than 1,000 homes in our county, Boulder County, Colorado, at the end of last year. This project showed me that NFTs can be utilized to fundraise and that people may be more inclined to participate in crypto art sales if they're for a good cause. 
One of the more interesting things in the world of NFTs, for Tom anyway, is happening on Twitter. For reasons unbeknown to me, Twitter has become a huge hub for NFT artists supporting one another, discussing art, and shilling their wares. On Twitter Spaces, NFT artists and enthusiasts voice chat in large groups. At any hour of the day, deep discussions are transpiring between people of every gender from all around the world. I've overheard multi-accented philosophical debates about the nature of art, the legitimacy of PFP projects such as Bored Ape Yacht Club and its many derivatives, and artists sharing personal struggles and triumphs.
NFT Twitter Spaces are giving Parisian Cafe during the Age of Enlightenment vibes: a rush of artists and thinkers converging to exchange ideas and work on their next masterpiece.
Enjoying the Ride 
As an observer of NFTs taking a stronghold on my husband throughout the last year, I definitely see more positives than problems. Giving power and a voice to digital artists around the world, providing new fundraising opportunities for artists and organizations, and bringing together a creative, driven, intelligent community are just a few of the pluses I've seen come out of the NFT space this year. I'm less certain than Tom what the financial benefits of owning digital assets may be in the future. However, I did use my Venmo balance of $40 to buy Ethereum, and I've found folly in following its ups and downs. While I'll probably leave the late-night Twitter Space philosophising to Tom and million-dollar profile pic purchases to the celebs, I'm excited to be along for the ride through the metaverse.