Give us a brief introduction to yourself and the studio. 
Chris Finn

Hey! I'm Chris Finn, Creative Director / Director at Scholar.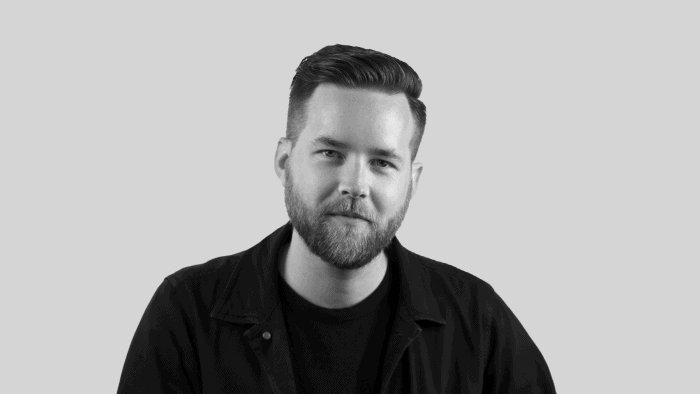 Scholar is a studio dedicated to showcasing that "how we get there" is just as important as the finished product. We specialize in telling stories that rely on concept, live-action, & animation to defy the limits of reality. Driven by curiosity and an eagerness to engage viewers on an emotional level, Scholar's Los Angeles and New York studios blend artistry with techniques. Our goal is to forge braver, smarter content in a world in need of a voice and continue to push limits alongside our collaborative friends and brands, such as Bleacher Report to Nike, Acura, Apple, Google, Target, and beyond.
Danni
Hi! I'm Danni, Art Director at Scholar.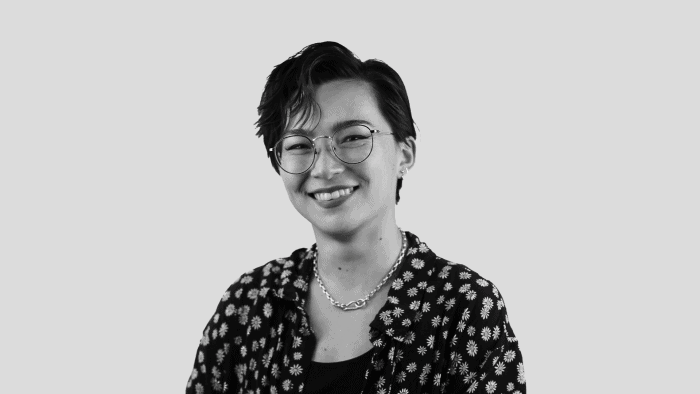 Tim Hayward
Hi, Tim Hayward, CG Supervisor at Scholar.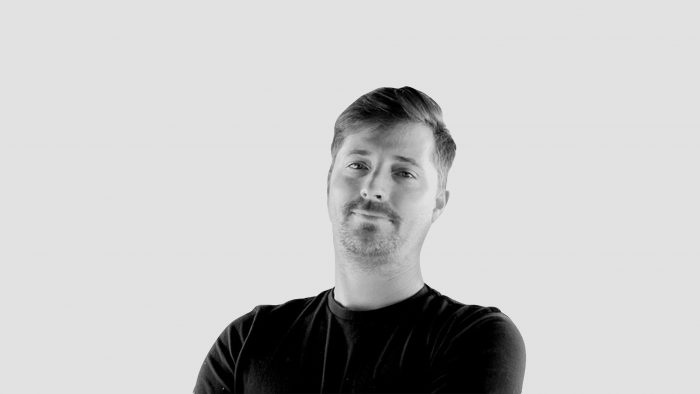 Fill us in on your Motion Design background and what led you to become a Motion Designer.
Chris
When I was in high school, I loved combining technology and art to make short films, Photoshop designs, etc. I started to create shorts that combined those two passions and naturally fell into motion graphics without knowing that term. The desire to turn that into a career led me to the Motion Media Department at the Savannah College of Art and Design (SCAD). 
Danni
I began Motion Design after discovering it midway through art school and falling in love. I loved animation and the physics of motion itself, and this field gave me the opportunity to create short-form pieces that were more completely my own creative vision, which I loved vs the larger-scale corporate work in film and TV animation. 
Tell us about the team behind your project.
Chris
Scholar is a collective of like-minded artists and creators who pride themselves on diving head-first into any creative challenge. Our team can shift and adapt to suit the needs of each project. For this piece, we combined the strengths of our CG and technical animation team with conceptual design artists, who often bring video game art to life. Storyboarders, designers, modelers, animators, FX artists, lighters, compositors, and more. World-building truly requires the full gamut of incredibly talented people.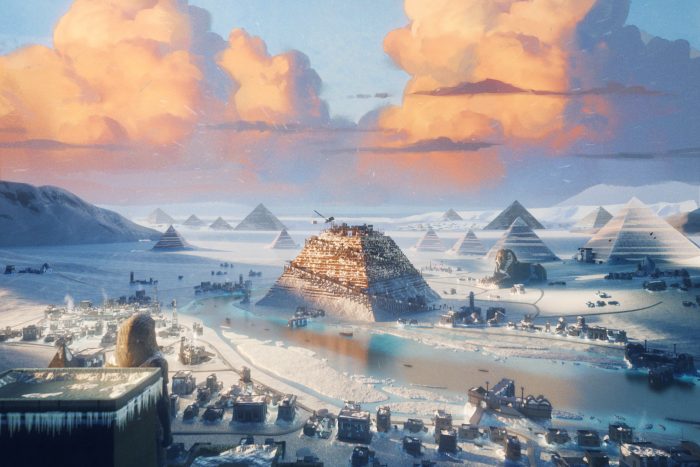 How would you introduce your project to someone watching for the first time? 
Chris
To introduce this exciting new game to the world, we took a unique approach to the traditional game trailer. Instead of relying on gameplay footage, we took a more cinematic and stylistic approach. Plucking each historical figure out of their typical period and casting them into an expansive world of wonder.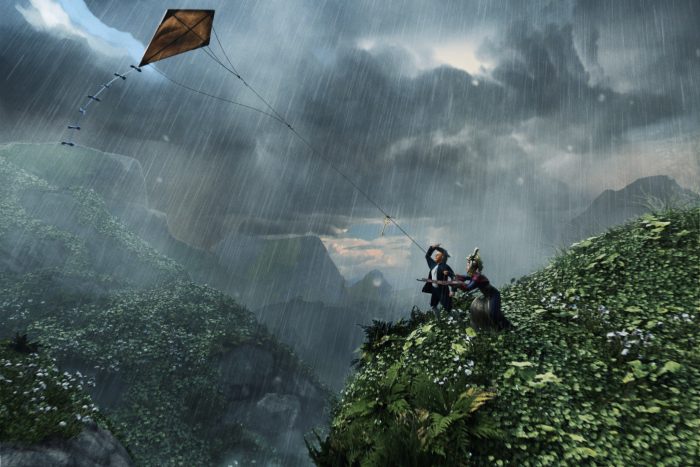 In essence, the trailer highlighted the core idea of the game, which is using your imagination and choice to reshape the course of history.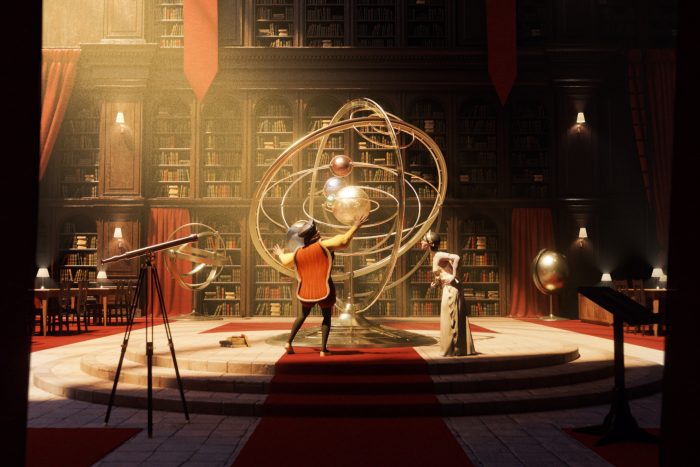 Take us through your process. How long did it take? What techniques did you use? What programs are you using?
Chris
For us, the process began in the early scriptwriting stages. We worked closely with the team at gnet to weed through all of the amazing in-game opportunities. From there, we worked to craft these moments into an exciting journey that would capture the essence of play.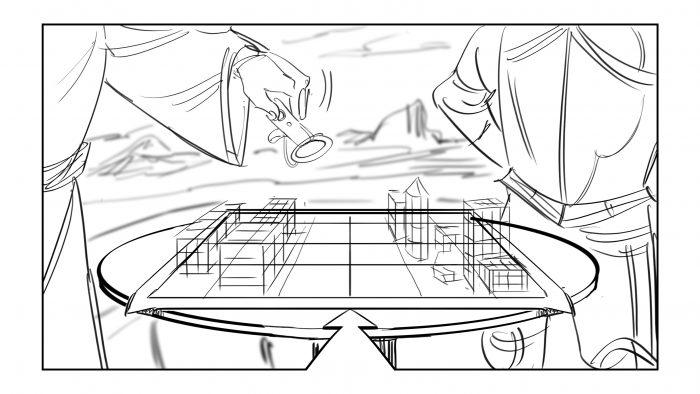 Early stages included sketching storyboards, creating boardomatics for a sense of motion and timing, and pulling references. Danni and I first defined the worlds with visual references and mood boards, then dove into concept art paintings. These paintings focused on layout, environment, and lighting. They served as key foundational pieces that guided the look throughout the entire CG process and into finishing. 
Tim
For this project, we spent just under three months in production, from the beginning of design to compositing. Most of the project was assembled and animated in Maya and ultimately rendered with Redshift. We utilized MASH when it came to the lush scattering of plant layouts and Phoenix FD for all of the volume simulations. The most challenging part for me involved the crowd setups. Putting together the motion capture library and setting up scripts to add variation, all while keeping it usable for the artist, was a big hurdle that I was glad to have solved early in the project. 
The way it keeps zooming into a world within a world is really cool. Did you ever think of the Men in Black end credits when you were making it? (Which kind of does it in reverse). Why did you choose to go this way, and what were some of your inspirations for the piece?
Danni
We didn't, but that is such a classic sequence that would've been fun to reference! The client came to us with the idea of an infinite zoom, which we were very excited about. We wanted to plus it up with dynamic close-to-camera action and creative, depth-filled transitions that felt surreal. We wanted it to feel like the world was sucking the viewer in and make people curious to see what would come next.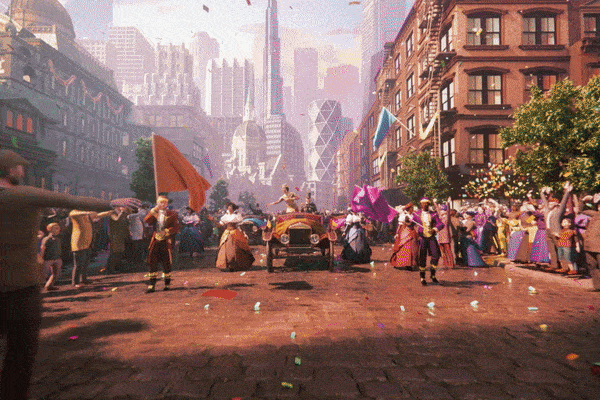 We had some fun references for this, my favorite of which was a very surrealist Asahi spot with a similar camera but very different feel and execution.
Did you have any other ideas you liked that you didn't go with? What were they, and why did you turn away from them?
Danni

We brainstormed the transitions like crazy while ideating this spot, so not all of those ideas made it into the final, but they were all really fun exercises in creativity to stay locked in this continuous camera while making it more interesting. We had countless concepts for building depth and trippy visuals for these transitions, like zooming into a landscape from a warlord's engraved armor and feeling it pull back in depth to become real
Can you give us some of the historical figures and eras that are featured?
Chris

The historical figures were chosen from the actual game, and assets were provided by the team at Oxide Games. The spot includes Nefertiti, Irene Sarantapechaina, Harun Al-Rashid, Benjamin Franklin, Copernicus, Joan of Arc, and more! It was a blast to work with such a diverse range of historical figures, expand on their wardrobe designs, and place them into unlikely settings. 
What was your favorite moment or most fun part of the project? 
Chris
I enjoyed working through the concept art phase, where we truly saw the mixtures of visual references Danni and I put together quickly coming to life. It was a creatively enjoyable experience. I found it to be like throwing paint onto a canvas, loose and expressive. The cool thing about concept art is that you're solidifying that end goal and using the images as a guide throughout the rest of the project. Those designs were opened on our monitors until the last day of production.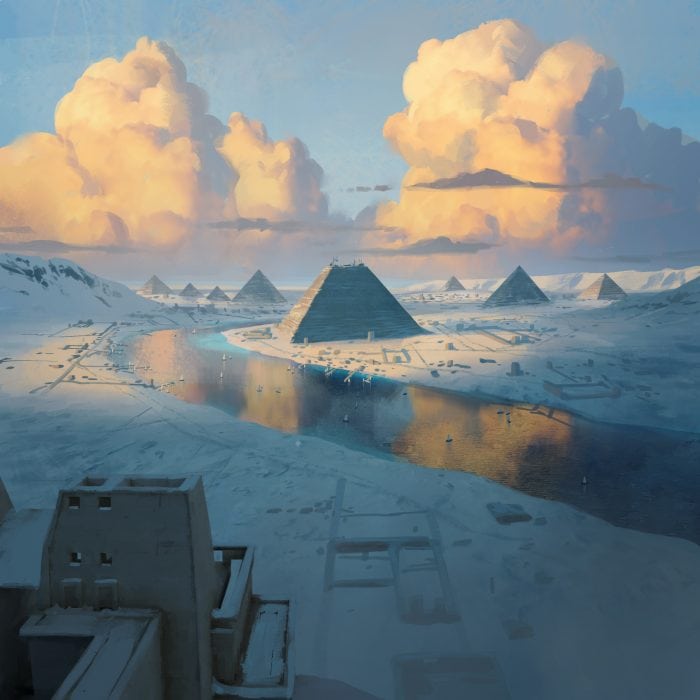 Danni
I always love the concept art part as well – it feels the most freeing and exciting in terms of exploration when everything is still open and full of possibility. I also really loved seeing the lighting pass come together – we initially had a different idea of what level of finish we'd get to in the 3D raw renders, and planned to do a secondary stylizing process to plus them up. But they turned out so beautifully right out of the pipeline that we ended up nixing the extra pass and going straight to color and comp, which was so cool to see. 
Did you face any difficulties along the way? If so, how did you overcome them?
Chris
As with any "world-building" job, the sheer number of assets needed to bring the environments to life requires a giant feat of technical management. From water fountains and monuments to hammers and wood planks and everything in between. We relied heavily on the strengths of our CG team, pipeline, and of course, spreadsheets to get us through those builds. 
How do you deal with creative doubt on a project?
Danni
I think a lot of creative doubt comes from feeling stuck inside a box or losing the inspiration that got you excited in the first place. A lot of times, going into the more technical development, the initial spark of a project can get lost. I always try to go back to the inspiration I had at the beginning, whether that means looking at the references I pulled that got me most excited during lookdev, talking to someone outside of the project and seeing their fresh take on it, or watching through other inspiring pieces that I initially used as inspiration. Any way to get out of my own head and re-spark that excitement.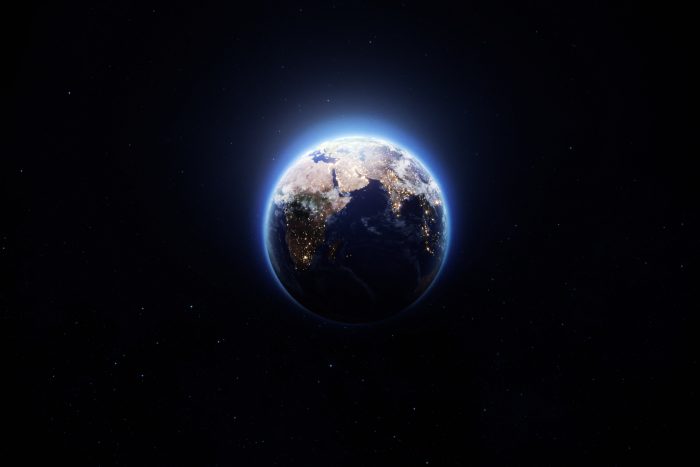 When you feel stuck or need inspiration, where do you find it?
Chris
There are so many amazing resources to find inspiration today. From Pinterest, to Netflix, ShotDeck and of course, Motionographer. It can be incredibly helpful, but it can also be a lot and overwhelming. So, it's all about balance. Often I run towards those creative outlets, other times I run in the opposite direction and just hope to clear my head and find the answer. Getting outside, taking a walk, and just thinking is a great way to reset and clear some of the noise. 
Do you have any advice for creatives on how to pursue their dream projects? 
Danni
I'd definitely recommend doing personal explorations of the exact things you'd like to do – whatever work you put out into the world will end up being what you get hired for! Making it known what gets you excited is always helpful for people looking to hire for those types of jobs. Whether that means trying out that kind of aesthetic or project on your own time, or simply expressing on your socials or website that you are interested in working on certain things, it's always nice to hear that someone's excited to work on a project if you're hiring for it, and having work in your portfolio that reflects that is 100% helpful for those looking. 
Money no object; what would you love to work on most?
Chris
The advancements in virtual production and Unreal are exciting, and I think there's an opportunity to apply those tools to more stylized or abstract creative work that we haven't seen yet. It looks dang good on the Mandolorian, but what else…? I'd love to work on something like that in the future. 
Danni
I'd love to work on a really cool modern anime, doing wild character animation and FX. Something that has cool female characters and fun stylization, with crazy transitions. That's the stuff. 
Tim
I would really like the opportunity to work on a kid's show.  Along the lines of "Trollhunters: Tales of Arcadia" or "PJ Masks."  Stylized and colorful 3D is my favorite.  
What were some ground-breaking moments in Motion Design that have shaped the way you think?
Chris
The introduction of 3D into a very 2D motion graphics realm has been pretty ground-breaking. 3D now takes on so many different styles, shapes, and forms, sometimes even hidden on the surface. As a technical-minded person who loves to get my hands dirty on the computer, it's hard not to look back at some milestones for tech like the speeds of Redshift and GPU rendering, asset libraries like Quixel Megascans, KitBash, etc., and even the now popular Ai generated artwork from MidJourney. So many ground-breaking advancements happening every day, and are easily accessible to artists. It's certainly changed the way I approach design and experimentation. 
What do you think we could do as a community to work together more and drive the industry forward?
Danni
I think basic respect/empathy and shared excitement/inspiration is paramount. A lot of times, we get lost in the production and forget that the people we work with are also driven, excited artists with a vision. Losing that perspective makes the project itself less successful, not to mention our human connection and artistic synergy. Respect and priorities in terms of mental health and artistic sustainability should be built into our systems as much as possible, so we can all be happier and more fulfilled while creating something we're genuinely passionate about, and have the capacity to apply our best creativity to what we're making.
What's next for you and your team?

Chris
So many exciting projects rolling through the doors over here at Scholar. It's hard not to try and jump on them all. From live-action to animation and everything in between, we're hoping to continue leveling up the work we do. Working even closer with amazing brands and folks who share a similar passion for using art to influence change.  
I'm personally most enthused by live-action work with a stylistic twist or a mixed-media bash with animation sprinkled in. Finding new ways to approach live-action or flip it on its head is exciting and something I'm looking forward to doing more of. 
Danni
I've loved branching out and trying all the new styles on different projects at Scholar – there's never a dull moment and always something new to try! We have such a range of skillsets and mediums here. Recently I've been getting deeper into live-action and direction, which has been a fun new experience since my background is in pure frame-by-frame animation. Between that and the exciting new cel projects, character work, and technical challenges with new clients, it's definitely going to be a fun ride whatever direction it goes.