Editor's note:
For the past five years, Versus have partnered with CBS Sports to produce animated segments for NFL today, dubbed "Quick Facts."
These one-minute narrative animations are both fun and timely (you can click here to view previous results).
However, being topical comes at a cost. The team has just FIVE DAYS to concept, create and release their work to the world.
"There is no such thing as a locked script in a league where 30-point leads disappear after halftime and last-second laterals fall into the wrong hands." Rob Meyers, Versus.
In an industry where everyone is desperate for more time, "if only I had another week, I could have created a masterpiece," Versus are charging headfirst into the abyss. And we love it!
As a nod to the infamous South Park documentary "six days to air," we asked Versus to keep a daily diary of their project in the lead-up to Christmas Eve, so we can experience the rising tension of a looming deadline and how the best in the business handle the pressure.
---
ob Meyers
This week's theme is…The Day Before Christmas.
Saturday's broadcast takes place on Christmas Eve (daytime), so the segment borrows its narrative and cadence from the classic story 'Twas the night before Christmas.'
Scripted with a similar rhyming scheme, the piece captures the wide-eyed wonder of both the NFL playoff shuffle and holiday season all at once.
We have the brief, we have the team, and now we have just five days until we're live on air!
Justin BARNES 
The CBS team, led by JP LoMonaco, Komal Bhukhanwala, and Daniel Ennis, is about as collaborative as any client can be, and communication has been the foundation of our relationship.
The schedule is aggressive, but thanks to the years we've spent together, our trust in each other has allowed us to flex our creative muscles and make decisions quickly and independently.
Using all the tools in the Versus Toolbox.
We collectively decided to make this piece using a variety of styles: 2D, 3D, mograph, illustration, collage, etc. We could then lean heavily into the style that makes the most sense for the story and creative while not being tied down to working within a single world or medium.
 Stefani Pimenta:
What could possibly go wrong?
We need to make sure that this mix of disciplines doesn't feel disjointed and random; it must still have a sense of flow, with all the parts working seamlessly together.
Given how close we are to the holidays, we have a team of ten people, all working remotely. In the last couple of years, we've become more adept at collaborating online, but with a project like this, it's just another hurdle to overcome.
---
Day 1 – Monday 19th December 

9:30 am:
After an insane weekend of football, we aren't surprised to receive an updated script from the CBS Sports Team.
We ARE surprised that the changes are so slight,  and we're excited to see that they are giving us the opportunity to call out the disaster of the Patriots game on screen now.
10 am:
With the latest script in hand, it's time for our aptly named 'Kick-off' with the team on Zoom. This is the fun part: pitching and collaborating on ideas, design approaches, and the overarching flow of the piece.
We also lay some ground rules amongst the team:
No saying, "If we had more time, we could do this…"
No shortcuts around creative or execution. We can and will be smart about production realities, but not at the sake of ideas or craft.
From this meeting, we created the master 'shot list' document that will serve as our bible for the next five days.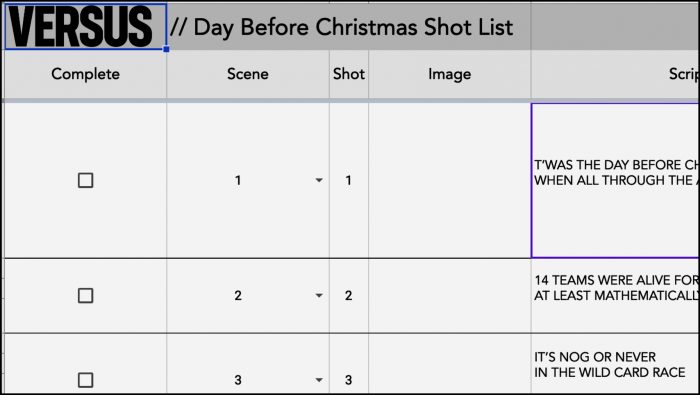 Because of the timeline, we are going all-in on full up design frames for each section to serve as our storyboard. Not ideal when it comes to revisions, but it's worked for us in the past.
Today's goal is fully designed and boarded out:
To complete 9 of the 18 frames needed for the piece.
11 am:
With the plan in hand, it's time for the team to get to work.
3 pm:
Only a few hours in, we regroup for a catch-up meeting. The team would love for us to leave them alone and stop pestering them, but it's a necessity for us to make sure we're all on the right track. Collectively we're reviewing some initial key frames, and thankfully, all is looking promising.
It's too early to call, but it's clear from our experience that the groundwork has been laid well. There are a few things we can push farther on, but we can already start to see the vision coming to life.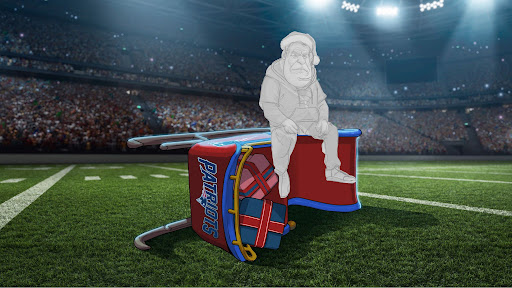 8 pm:
Most of the frames are in for the day, but a few of the artists are working late to add polish to the first set of images.
We're tracking just as planned, but we're holding off on sharing the boards with CBS until we have the full spot designed out tomorrow.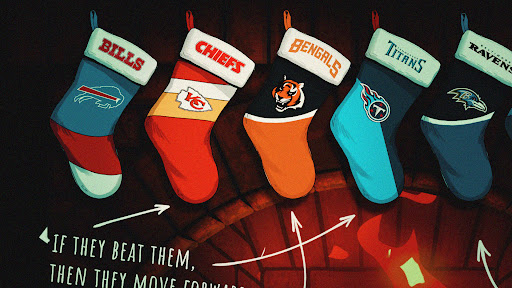 We'll be back tomorrow with only four days to air…
---
Day 2 – Tuesday 20th December 
9:30 am:
Our daily production call to align us on the day ahead leads right into a creative discussion. Seeing the frames come together as one full piece shows us that there are some holes and hiccups in the overall flow, and we realize that while we love some of the design, we have to bail on a few ideas that just aren't working.
We are all pulling references, pitching ideas, and putting together a plan to course correct!
2 pm:
Due to the holidays, the team is working in very different time zones. A few designers and illustrators are just starting now. Yikes, looks like a late night ahead.
4 pm:
Checking in with the artists and getting some initial rough sketches back on the illustrations.
We are getting a bit worried about animating so much character work in such a short amount of time. But we love the look, so we are going to make it work.
9 pm until…
Posted 14 of the 16 frames that make up Storyboards for the CBS Sports team. Looking forward to their feedback and ideas on the work so far.
A few frames are still WIP, and the last 2 are meant to be a culmination of the entire spot, so we are waiting to design them until a round of feedback.
The team is working late tonight to get everything in place for tomorrow.
Based on the CBS Sports comments and our own internal feedback, we will tweak design where needed and move into animation where we can.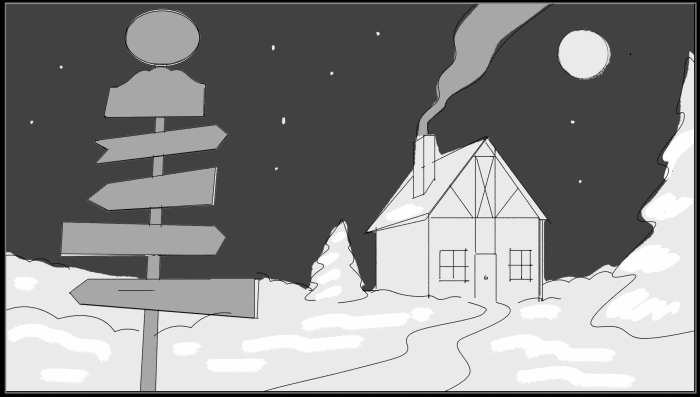 Tomorrow will be a big day to get everything on track and set ourselves up for success (and delivery on Friday).
---
Day 3 – Wednesday 21st December 
9:30 am:
The client's thoughts and feedback are in!
Overall, most everything is liked, and the team at CBS Sports provided some great notes and ideas on how we can up the humor and push this farther.
They actually asked NOT to have their logo in one section.  Might be a client first there.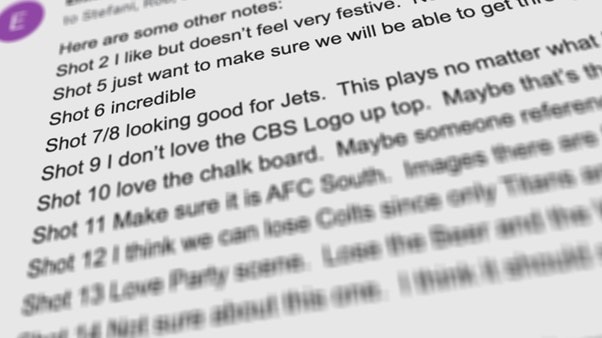 10:00 am:
We've started on the revisions, as well as beginning the animation in the sections that are mostly approved.
We called audible this morning and added another section that will help tie the whole piece together. More to illustrate and animate!
11:00 am:
There's a fun scene coming together with Joe Burrow in Santa's Workshop. We can tell this one has potential.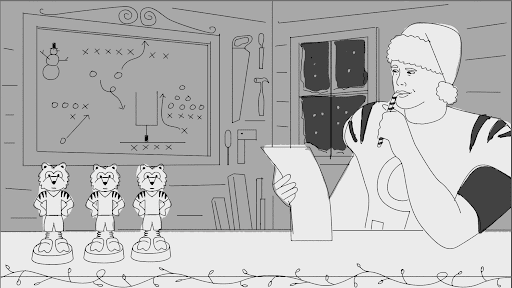 2 pm:
Back to our regular group check-in with the artists and team to look at revised frames and see some WIP animation.
Everything's working together nicely, and we can see the vision coming to life!  The Jets section is looking great, which is surprising given that the majority of the team are Giants fans.
3 pm:
Joe's coming along great, but what's with our Boomer bobblehead easter egg? Everyone knows Boomer is a blond. Well, everyone but our illustrator in New Zealand (I guess there's no Kiwi Bengels fans?)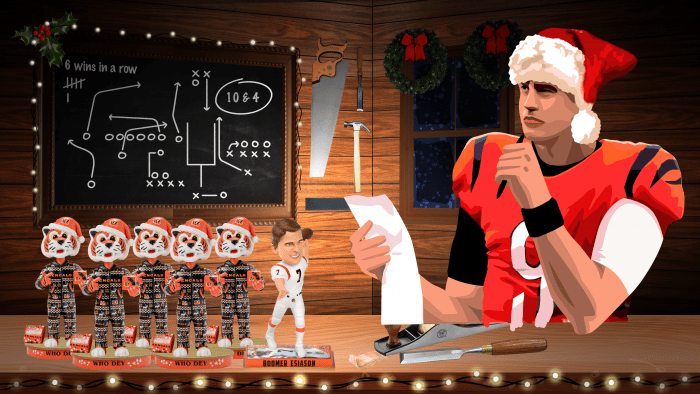 7 pm:
WIP Animation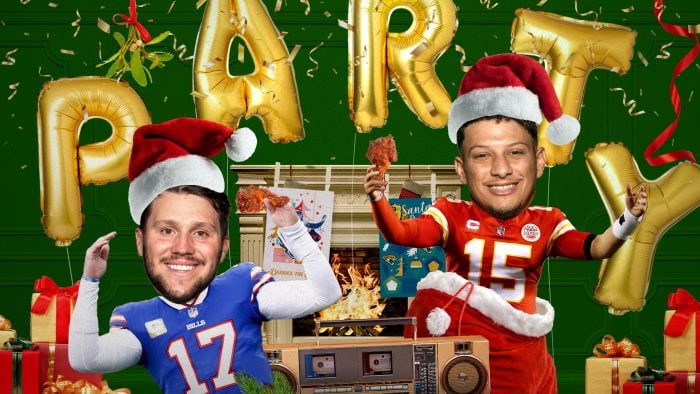 8 pm:
Now Boomer is ready for prime time!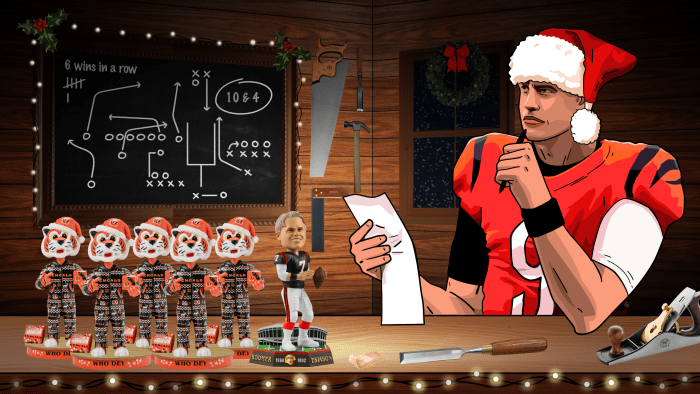 9 pm until… 
We started the day with an audible, and now we are going into Overtime. It's all very fitting.
Tonight's posting for the client will be fully revised storyboards and an animatic with rough animation in places.
We wish we were further along but are feeling good about the time we have left and have a solid plan moving into tomorrow. We aim to have a piece fully animated, using Friday (and Friday night) as our day of polish and adding all the bells and whistles.
---
Day 4 – Thursday 22nd December 
9:30 am:
We start the day with another round of client comments: minimal feedback this time, but some good notes about where to go next.
Today is a big day, with all hands on deck for animation.  We have a series of teams all working on different shots, with Versus CD Luis Aguirre putting them all together.
Our goal today is to have a complete pass of the animation with music, VO, and timings all in place.
3 pm:
Individually, each section looks good, but when put together, it's a bit disjointed in the overall flow. This will be the focus moving forward, making sure everything works together and the piece feels tight.
10 pm:
Our first full view of the piece with all animation in place. It's looking good and has a lot of potential to get it to where we want it by the end of the day. We are working late putting notes together for the team to jump in first thing in the AM.
Huge day tomorrow getting it perfect for delivery EOD, to air on Saturday!
---
Day 5 – Friday 23rd December 
12:30 am:
Wait? The Jaguars didn't just win? The Colts got eliminated. We need to remove their logo from at least three scenes! I guess they didn't Sleigh this year?
We also have to adjust the audio now since we had called out 14 teams, but it's only 13.
Hope CBS has their talent on standby tomorrow AM!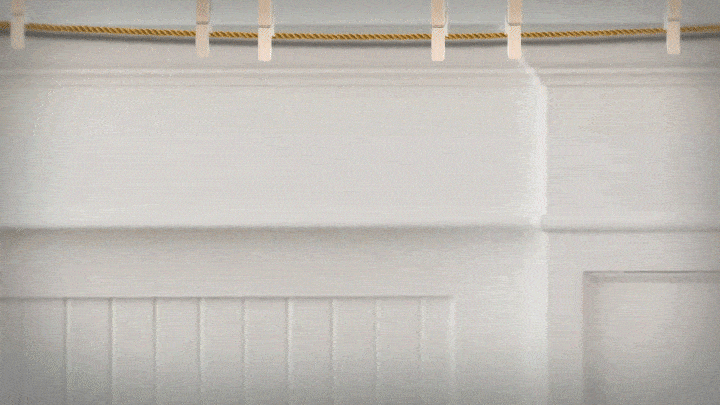 09:30 am:
Time for one last push. Everything is in place, but we need to spend some serious time polishing today.
Fortunately, the notes are minimal. One scene that continues to be a sticking point is our AFC North Pole sequence. It's meant as a small bridge between larger scenes, but it still feels like it's a bit flat.
We are going to add some motion to the Steelers sign and a few easter eggs in the workshop window; that should do the trick.
By the end of our regroup, we've assigned everyone their shots, shared notes, and are targeted around 2pm for our first internal review.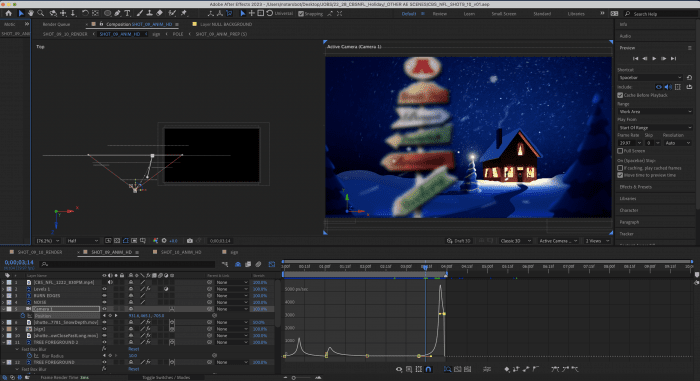 2:15 pm:
It's getting there. The workshop renders are very heavy, so we're doing some work on the file to lighten that. It would NOT be good to be getting notes on that scene tonight if that shot is going to take hours to render.
Other than that, it's feeling good. We've had to deliver these in the early hours once or twice before, but if our timing holds, we should be off for the holiday in time for a late dinner.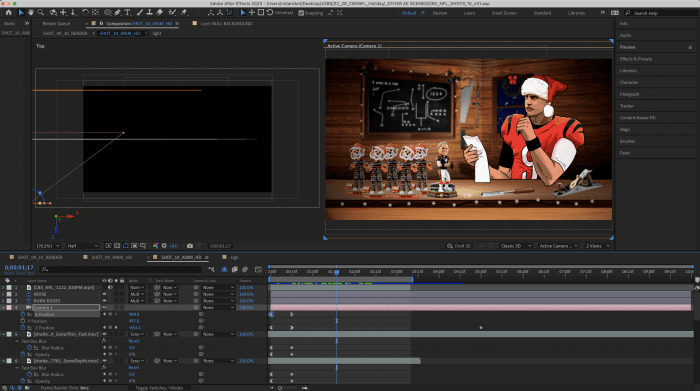 5:00 pm:
Final renders are in, and still some things to address.
Joe's workshop has gotten some polish, but I think he needs a bit more movement.
It looks like there is a Colts logo that resurfaced on the map after being addressed earlier.
And the Jets sign has a spelling mistake!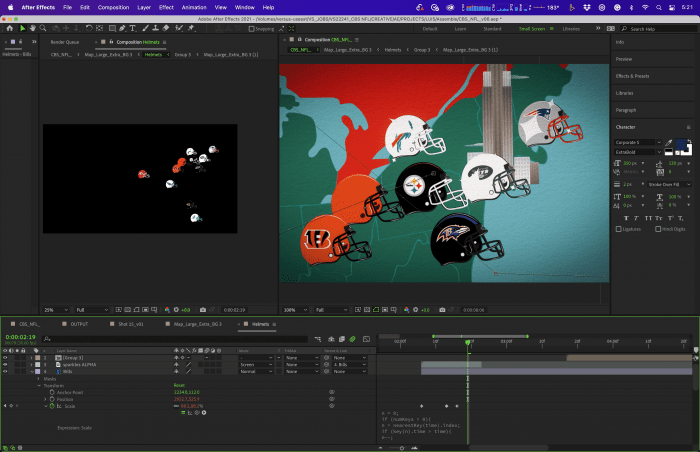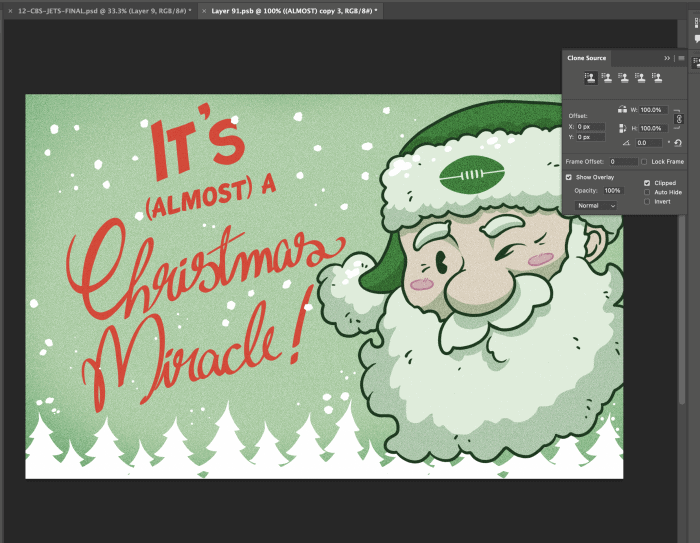 7:40 pm:
The latest render nails it!
Feeling good over here, so now it's time to post for approval.
Here goes nothing!
7:47 pm:
Well, that was quick. Immediate approval. You gotta love that!
9:00 pm:
Final renders took a beat longer than expected, but all looks good and has been put in CBS' hands.
Excited that they are going to layer on some additional sound design in the mix, and can't wait to see the final broadcast on tomorrow's NFL Today.