To round off Black History Month, we take an unflinching look at the painful history that helped shape present-day America.
The Transatlantic Slave Trade is a powerful animated short produced by creative company Reunion in partnership with The Equal Justice Initiative. The film offers a stark reminder that false narratives and contradictions allowed a young America's commercial success to be built on the backs of enslaved and unpaid labor.
This piece won Open Format Short Film at The Motion Awards 2022 and is part of a series of six films available exclusively at The Legacy Museum in Alabama.
We welcome creative director and founder of Reunion, Chris Carboni, as he delves into the year-long journey of making these important films a reality.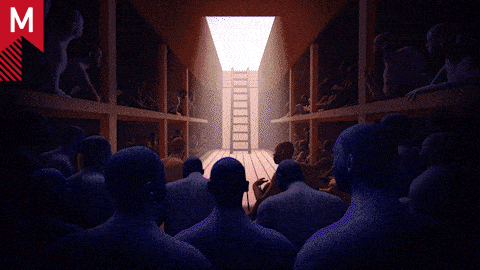 Give us a brief introduction to yourself and the studio.
I'm the Creative Director and Founder of Reunion, an NYC-based creative company telling impactful stories through art, design, and motion. We elevate brands, entertain audiences, empower start-ups, and amplify causes. We also create original, internally-produced content to make you think and feel.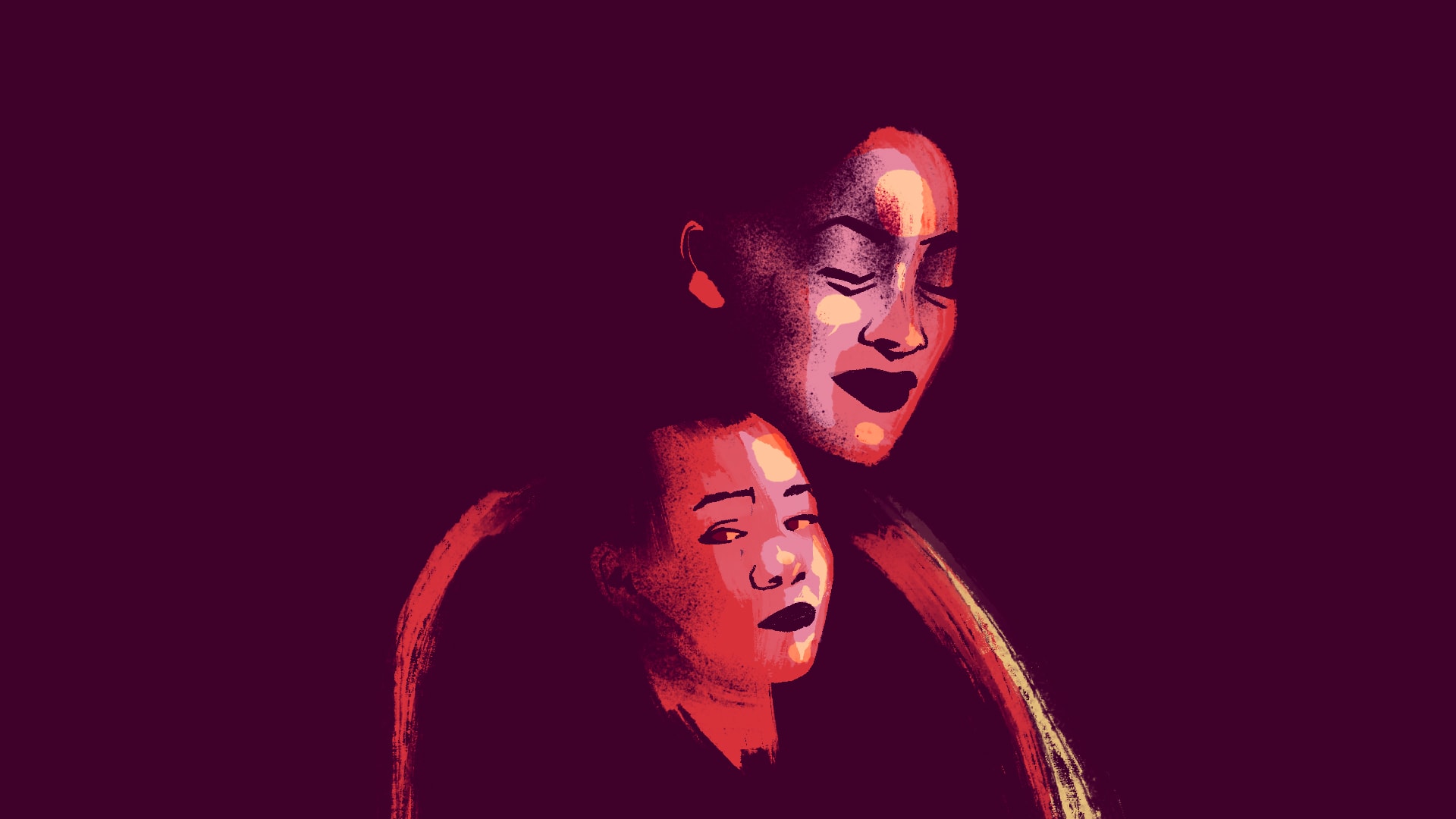 Fill us in on your background and what led you to Motion Design.
I come from a family of artists and have loved visual storytelling for as long as I can remember. These passions led me to the Rhode Island School of Design, where I studied Graphic Design and Illustration before focusing on Animation as a major. 
After graduating in 2007, I discovered the Motion Design community and realized this industry exists at the intersection of everything I loved. Over the years, I've worked as a designer, animator, director, art director, creative director, and studio owner.
How would you introduce your project to someone watching for the first time? 
The Transatlantic Slave Trade is about the many disparate participants whose combined actions allowed slavery to function in America and the elaborate false narrative put in place to gain public support for the enslavement of Black people – the results of which continue to shape American life today.
Can you tell us about the series this piece is a part of?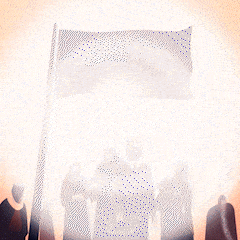 The Transatlantic Slave Trade is part of a series of six films, each focusing on a different era in our nation's history. The films are currently on display for public viewing at The Legacy Museum alongside sculptures, installations, and other historical artifacts from the time.
The project was produced in close collaboration with The Equal Justice Initiative with the goal of educating the public and aiding in their mission to end mass incarceration, excessive punishment, and racial inequality.
Below you'll see clips from some of the other films in the series, starting with "The Northern Cities", which focuses on dismantling the falsehood that the southern states were the only ones to profit off of the enslavement of Black people.
In reality, the individuals, industries, and communities that benefited from slavery were vast.
Tell us about the team behind your project.
Given that these films were intended to be viewed in a museum setting, we decided that each should have its own unique approach to design and animation – ensuring that the viewing experience would remain captivating as guests made their way through the sprawling exhibit. 
To achieve this, we assembled different teams of artists for each of the six films, resulting in a massive production spanning multiple continents. 
At the core of this large-scale ever-shifting collaboration remained our partners at The Equal Justice Initiative. EJI's team of scholars, directors, and creatives were our closest collaborators to the point where the line between client and agency vanished. 
Rounding out this incredible group were our audio partners at Sanctus and our unbelievable cast of narrators – including Don Cheadle, Wendell Pierce, and Bryan Stevenson. Full credits can be found on our website.
We were extremely fortunate to have worked with such an extraordinary set of talented people. EJI did an incredible job casting the films. 
Each narrator felt like a perfect fit. For example, Punishment in America (our sixth film in the series) delves into some of the darkest subject matter of the entire exhibit.
I couldn't imagine that film being narrated by someone other than Bryan Stevenson (founder of The Equal Justice Initiative), who has dedicated his life to criminal justice reform and whose measured vocal performance carries us through what I consider to be the most unflinching film of the series.
Take us through your process. How long did it take? What techniques did you use? What programs are you using?
The series was created over approximately one year, with each film taking anywhere from 2-5 months to produce, depending on the length and scope of the content. 
And since we wanted them each to feel unique, our approach to production was ever-changing. One thing that remained constant, however, was the need for an extended storyboard phase in order to be certain we were telling these stories appropriately.
Generally, the scripts influenced our process.
The Colfax Massacre (our first film in the series) is an intimate recounting of a single, heartbreaking act of violence.
It called for an art direction that felt appropriately dark and physical – one that reminds the viewer of the human loss at the center of its story. 
So, the design for this film relied heavily on hand-painted images created through a combination of Photoshop and ink on paper. And our approach to motion relied mainly on cel animation (also in Photoshop) with blocking laid out in Cinema 4D.
Our process for The Transatlantic Slave Trade was quite different. Given the sweeping, sprawling nature of this film's historical account – a narrative that spans many locations through many years – we knew we needed the viewer to be able to follow the thread of events easily. So it was important that our approach to design be cinematic, clean, and direct. We worked in Illustrator and Photoshop for design, while the animation was done in Cinema 4D and After Effects.
Punishment in America was our most challenging film to make. It focuses on the brutal punishments and the violent constraints on freedom that have been inflicted upon Black Americans from 1619 to the present day. The film chronicles this devastating legacy over four centuries, from the barbaric practices faced by enslaved Black people to the atrocities of the convict-leasing program, all the way through present day, where the US has the highest incarceration rate in the world.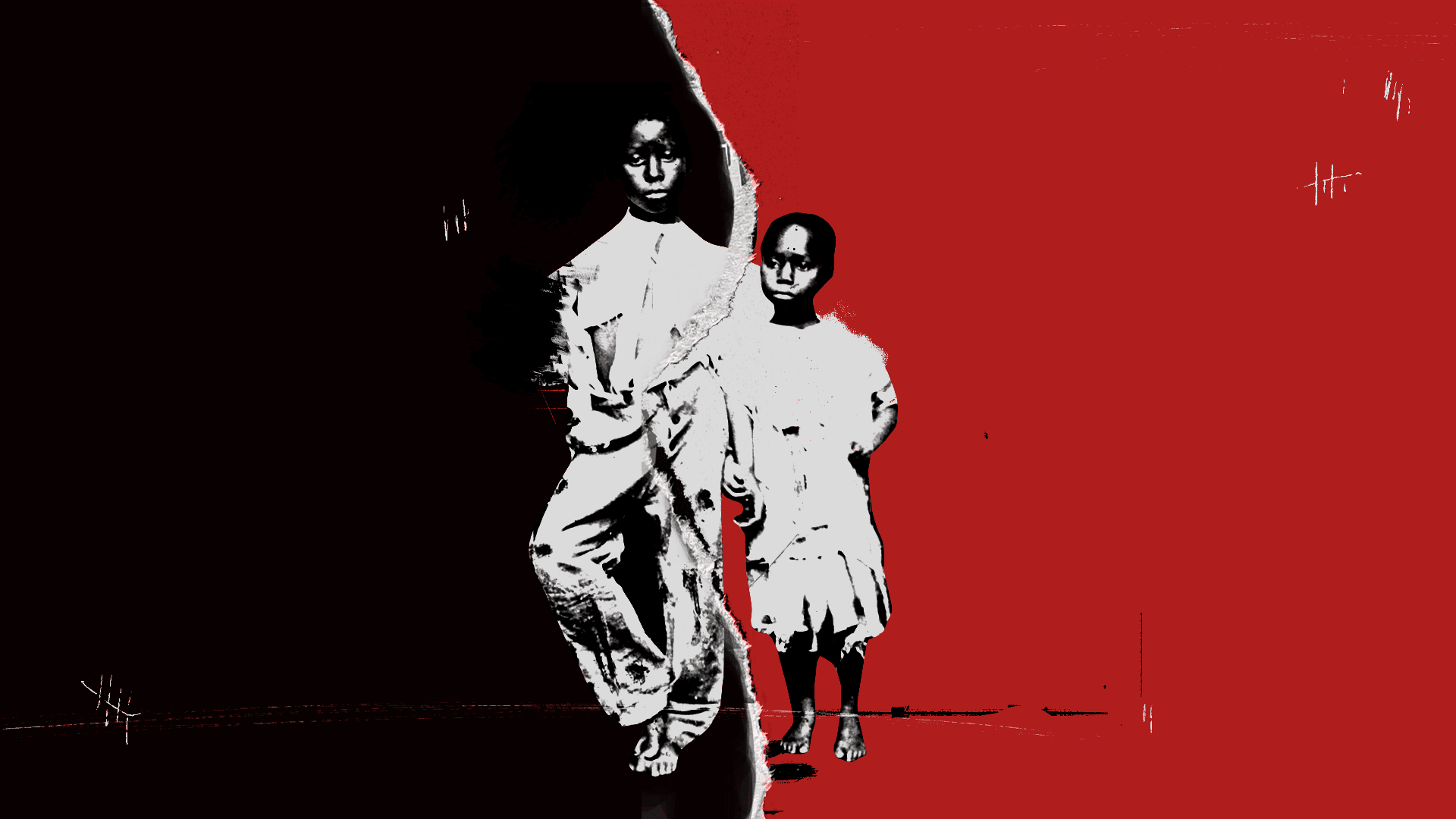 This is our longest film, and the script features graphic descriptions of violence, so we allotted a full seven weeks for storyboarding, and we developed an art direction that could be effective at communicating both literally and metaphorically. This was important, considering the film would need to serve a multigenerational audience. We had to come up with visuals that were truthful but not gratuitous. 
Our approach to design for this film draws inspiration from many different sources – the work of Emory Douglas, Black Panther literature, protest signage, and the risograph printing method, to name a few, as well as the countless photographs and illustrations we encountered during our research. Combining all of these elements, we then incorporated gestural brush strokes, handwriting, scribbled lines and rolled ink – all in service of an aesthetic that feels appropriately bold yet unembellished. Trustworthy without feeling cold and archival.
A special shout out to one of our Art Directors, Elena Chudoba, for her contributions to the tremendous amount of research that went into establishing this design language.
Our approach to animation encompassed 3D techniques, stop-motion, cel animation in Photoshop, and 2D animation in After Effects. A lot of credit goes to lead animators Djeison Canuto and Giovanni Grant for finding creative solutions during a production that required covering a lot of ground while maintaining a high bar for quality and ensuring that regardless of the technique, the viewing experience felt consistent throughout.
How much pressure did you feel to do justice to such a sensitive topic?
This was by far our biggest concern when EJI first approached us. I have experience directing films about sensitive topics, but this was a different kind of pressure. Our goal was to honor the truth of these tragic events without sensationalizing them, and we knew it could only be possible with our client's expertise and insight guiding the way. 
Typically, our team will conceptualize a narrative internally before presenting a fully realized first draft to our client. But for this project, we knew we needed to work intimately with EJI's team from the very beginning. So we arranged for each film's production schedule to begin with a 2-3 hour free-form conversation about the story we were about to tell. It was an opportunity for us to listen and learn and make sure the foundation of our film would be built upon an informed perspective. These meetings were then followed by a research phase and an extended storyboard development cycle.
Where did you begin the research? How did you know what to keep and what to cut?
Thankfully, EJI provided us with rough drafts of each script early on, so we knew where to start. Our research phase would then begin by us pouring through extensive reporting on whichever era or event we were focusing on. EJI's website features many articles exploring America's history of racial injustice, from enslavement to segregation and mass incarceration. These served as the foundation for further educating ourselves on the subject matter. 
Beyond storytelling, a lot of research was also needed to make sure we were being accurate in our depictions of locations, clothing, tools and anything else that required period-appropriate representation. 
In terms of what to leave out and what to leave in, this was decided collectively through many rounds of storyboarding and open dialogue between our teams.
Did you have any other ideas you liked that you didn't go with? What were they, and why did you turn away from them?
Too many to count, given how many storyboards and art directions were put together for each film. One early idea was to include an AR component to the project where museum attendees could scan a QR code on a plaque next to a work of art or artifact and access a personal experience they could take home.
There was some initial interest in exploring this further, but I think it was too disruptive to an exhibit that was already thoroughly thought out.
What's next for you and your team?
We're currently working on several projects, one of which is another heart-rending film centered around sensitive subject matter. But we're mixing things up with some much lighter themes as well. Our other work currently in development is focused more on creativity, design, and humor. Expect more from us in the months to come!