Between Lines is a passion project made possible by its 40+ female creatives contributing from all over the world. The story of high-school bullying told in poetry-fueled animation struck a chord with the Motionographer audience on its release in January 2023.
We asked creator Sarah Beth Morgan, along with Animation Director Taylor Yontz and Producer Rebekah Hamilton, to break down the project.
We hear about some of the challenges they faced, the ideas that didn't make it and the processes behind the scenes, all while gaining an insight into what it's like facing your childhood trauma with honest conversations and the power of creativity.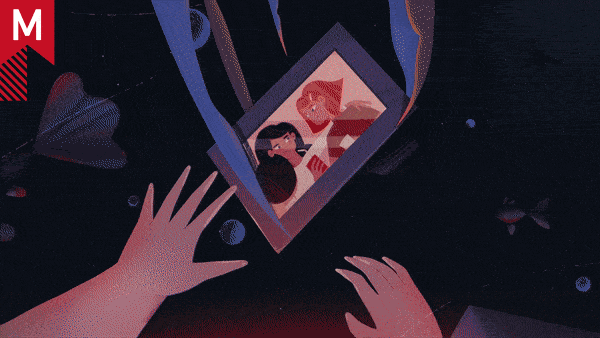 Give us a brief introduction to yourselves and what led you into Motion Design.
Hi! We're three buddies who decided to work on a short film together.
SARAH BETH MORGAN: Director on Between Lines | Cleveland, OH 
I'm a freelance animation director and illustrator based in Cleveland, OH. Although I'm originally from the US, I grew up in Saudi Arabia, where I was able to broaden my perspective in a new environment (which allowed a ton of free time for making art). As a kid, I was always especially drawn to storytelling and drawing. After studying motion media at the Savannah College of Art and Design, I began working in the commercial animation industry at Scholar in 2014. From there, I moved to Portland, OR, to become staff at Oddfellows. Finally, in 2018, I embarked on my freelance career and am now a director represented worldwide by Hornet.
TAYLOR YONTZ: Animation Director on Between Lines | Nashville, TN 
I'm a freelance animation director + animator based in Nashville, TN. I saw the film "Finding Nemo" when I was 13, and it made me fall in love with storytelling woven with 3D character animation. I was always drawing, writing short stories and comics, and I started animating in high school. I went on to study character animation at the Savannah College of Art and Design, graduating in 2013 and jumping into the world of professional animation. Since school, I've been privileged to work with many studios as a freelancer and a staffer. In 2021, after working for four years at IV in Nashville as an animator and then Creative Director, I made the jump to full-time freelance.
REBEKAH HAMILTON: Producer on Between Lines | Nashville, TN 
I'm a senior producer based in Nashville, TN. I studied audio engineering in college, but after graduation, I started teaching myself how to edit and animate. After leading a team of designers and animators in the broadcasting world, I found myself drawn to the production side of our industry and jumped into a full-time job as a producer and eventually head of production at IV in Nashville. After freelancing for a short while, I've put down roots with the good folks at Golden Wolf as a senior producer.
How would you introduce your film to someone watching for the first time?
SARAH BETH:
Gosh, there are so many ways I could go with this! But let's just say: Between Lines is a 3-minute animated short film centered around an experience I had with bullying in 2005.
However, anyone can be bullied – regardless of race, gender, ethnicity, class or worldly location. Through this film, I want others to know they are not alone and to see their story validated through concrete visuals. I want to pierce the viewers of this film with deep-rooted, gut-wrenching empathy. And I want people who have experienced this to know they are not alone.
Tell us about the crew behind your project.
TAYLOR:
Our team is made up of almost 40 incredibly talented women in animation, design, writing, and audio/music production. Working with such a large international team allowed us to cast a wide net in terms of what everyone brought to the table. We had cel animators, After Effects compositors, 3D look development artists and animators, designers, a poet, a music composer, an audio engineer, and even a strings team that recorded a custom score for the film. The collected talent absolutely bewilders us every time we talk about it.
REBEKAH:
I still can't believe how stacked the Between Lines crew is. We're so lucky to have them on the project and now as friends. Taylor, Sarah, and I all reached out to our immediate networks, and those women reached out to other women in their network, creating the Avengers of women in the commercial animation field.
Not only are they talented, but they are also generous and genuinely kind people, so PLEASE take time to check out the work of each wonderful person on the team. Now there's no excuse not to hire a diverse group of women on any of your projects ;)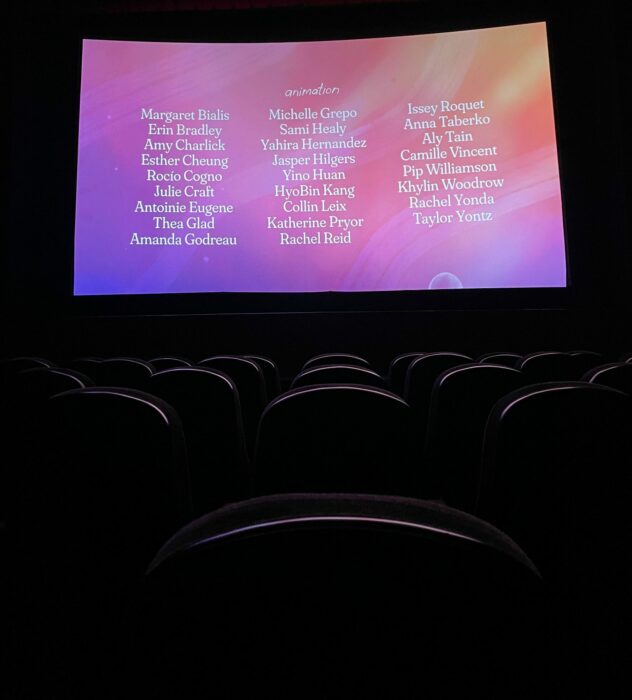 Did any of the team struggle with (or relate to) the subject matter? If so, how did you handle those moments?
SARAH BETH:
I started working on the idea for this film after going to therapy for my own experience. On occasion, I shared my bullying story with my adult friends and was often surprised to hear that many of them had been through something similar.
This was when I began to realize that bullying in school – especially through gossip, isolation and exclusion – is extremely common. But why doesn't anyone talk about it? It always seemed to be buried in the past. I felt drawn to create something that could connect our collective stories, and when I began reaching out to folks in the industry for creative support, I found that the script & idea truly resonated with them due to their own traumas.
While it saddened me that many had experienced bullying, it was extremely refreshing to be able to connect on a deeper level and begin to heal old wounds.
Why were you interested in having so many people (particularly women) contributing to the piece?
SARAH BETH:
It's always been a dream of mine to collaborate with a large group of women; to create a safe, healing space where everyone feels open and comfortable. Not to mention, the film's subject matter was a huge contributing factor.
As a director in the commercial animation industry, I've found that I personally tend to fall back on the same designers and animators for support when I'm in a pinch. Many of those people tend to be men (who I truly enjoy working with!). However, this doesn't grant me many opportunities to meet new talented women and folks outside of my bubble that I wouldn't typically connect with.
Since Between Lines is a passion project and it had no particular deadline, I was really set on intentionally finding women (as well as trans/nonbinary folks) to collaborate with. To give new friends a window of opportunity – and to grow our connections to other women in the industry.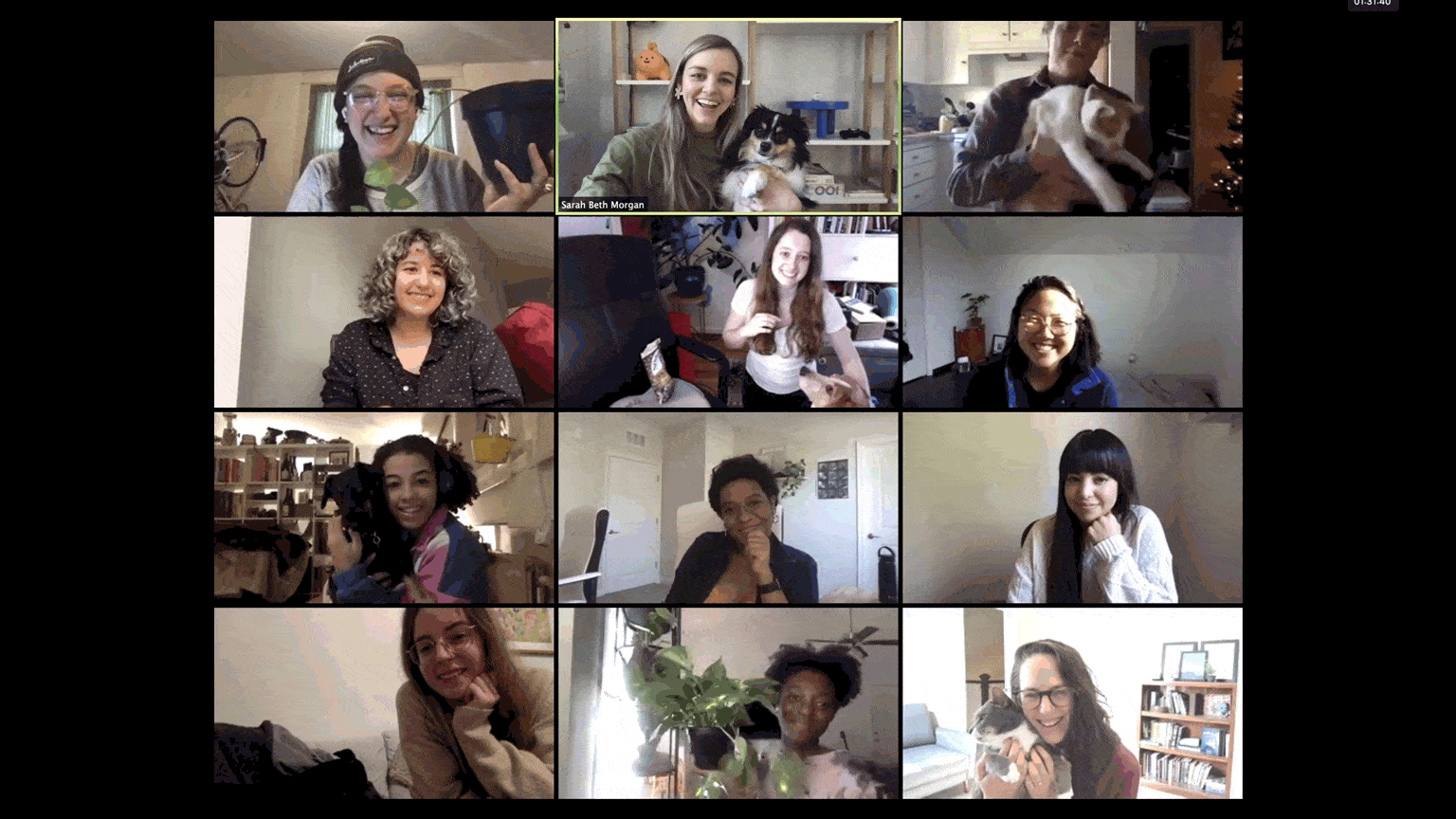 How tricky was it working with so many people in different locations? Can you give us an insight into the hurdles you faced?
REBEKAH:
The trickier part was making sure we honored people's time. Since this was a very low-budget passion project, we were sensitive about making sure everyone felt respected and considered in the work we were asking them to do, understanding they had full-time jobs and personal lives to juggle. We managed that by giving folks shots and tasks that really excited them over a long timeline. We would only check in with them monthly, so we weren't pestering them too much. If anyone needed to step back, we would reassign that task to another person. If time and resources seemed tight, we would start looking to expand the team a bit more.
The goal was to create a low-pressure environment while still moving the project forward, so we pulled out all the production tricks we could think of to accomplish that. 
TAYLOR:
We stayed connected via semi-regular virtual hangouts and a team slack channel where we talked about the project and life in general. It was great for camaraderie and allowed us to work across time zones and become long-distance friends as well! Production happened during peak Covid which, of course, gave us a huge hurdle. 
Sarah Beth and I tried to give everyone feedback within a few days of artists sending updates, and Rebekah did a great job of keeping us all on track with loose and very stretched-out deadlines. 
Take us through your process. How long did it take? What techniques did you use? What programs are you using? 
SARAH BETH: 
Between Lines kicked off in 2019 with a small team of 1 (guess who!) that quickly grew into over 30. Before bringing anyone on, I wanted to create an inviting written & visual presentation to connect with potential team members, so I began by creating a Google Slides presentation that included the poetic script (written by Nirrimi Firebrace), a rough storyboard, and a styleframe or two. I even had the incredible Jennifer Pague create an initial musical composition based on a Spotify playlist I collected to present the film's overall mood. I could go on for days about the process, but I'll let Taylor take over from here. 

If you're interested, check out what that presentation looked like here. 
TAYLOR:
Because this was a huge passion project for everyone, we wanted to make sure that each artist got to work on shots in a way that motivated them and played to their creative strengths. The only real rule for every shot was that it had to end up looking like the final styleframe. This meant that we had animators working in so many softwares to finalize animations. We used After Effects, Cinema 4D, Harmony, TVPaint, Adobe Animate, Photoshop, and even Procreate.
Whatever worked for the artists worked for us. 
This collaborative, wide-net approach allowed us to expedite every shot's progression because we could stack multiple people on single shots. For example, the below was roughed by Camille Vincent, Cleaned up by Sarah Beth, with a 3D picture frame by Antoinie Eugene, 3D fish by Collin Leix, and a compositing lift in After Effects by Antoinie Eugene, Yahira Hernandez, Rocio Cogno, and myself. Whew!
 Can you explain how the script came about? What was the process? Was it always the idea for it to be poetic? 
SARAH BETH: 
I had a really specific idea about what I wanted based on my own story, but I couldn't fully articulate its final poetic form. I knew from the start that I wanted it to be a voiceover so that viewers could connect with the emotion in the narrator's voice. So perfecting the script became extremely important.
I reached out to my writer friend, Nirrimi, and we did a creative exchange – she helped me write my script, and I helped her with some logo/illustration work. We went back and forth a few rounds to get everything just right. Then Jennifer Pague captured the emotion beautifully in her voiceover, and it was magic! Everything just clicked. 
Did you face any difficulties along the way? If so, how did you overcome them?
TAYLOR: 
Once Sarah reached out to me to jump into the film process, we only had a team of 4 animators. This was made up of Rachel Reid, Collin Leix, Yino Haun, and myself. 
It was… incredibly optimistic. 
The film's style itself presented a huge creative challenge to execute the motion to the high bar that Sarah's still frames deserved. Enter Covid in 2020 to shake up everyone's personal and professional lives. 
We realized we were going to have to beef up our team and get a lot more flexible in our approach to animation instead of relying heavily on a tiny team's extensive commitment. We ended up adding over 20 animators and a few more designers to make the idea of a "final film" even a remote possibility. This allowed us to have entire groups working on one shot together using whatever tools they wanted to manage the lift rather than piecing off sections of the film to individuals. Having multiple minds on the execution of a shot gave us so much room to play and bounce ideas off each other. Expanding our team was one of the best things we did for the film journey.
Did you have any other ideas you liked that you didn't go with? What were they, and why did you turn away from them?
SARAH BETH: 
I really struggled with the design style at first. I wanted to get it JUST right. Once I had the moodboard and storyboard down, I started to play around by just making an Instagram-style illustration. That way if I didn't want to use it for my film, I could still put it somewhere. I really enjoyed playing around with the shadows and texture here.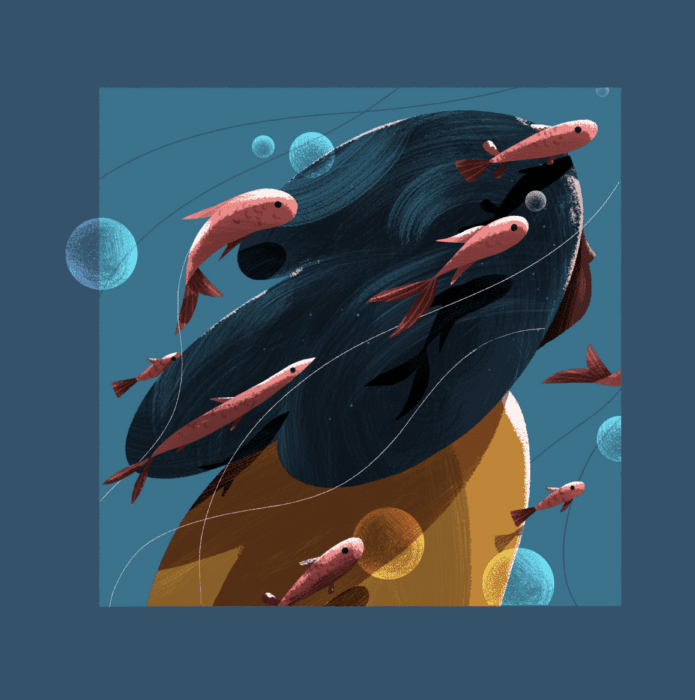 I decided to explore using this underwater storyboard moment to capture that "sinking" and gut-punch feeling you get when someone emotionally hurts you. This is the underwater "anxiety world" of the film.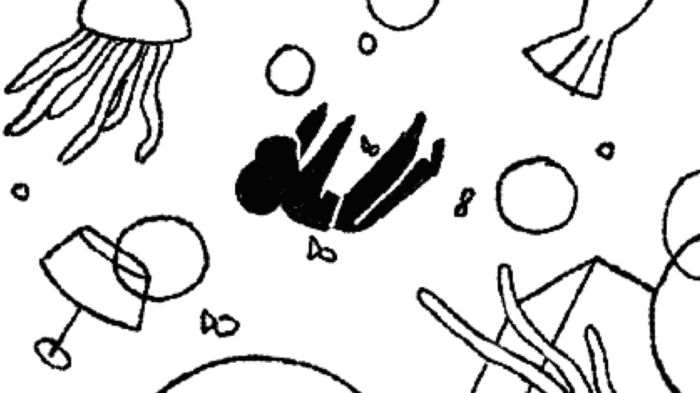 And here's where that second exploration netted out, using the style of the first. There were a lot of things I liked about this exploration. (One of them NOT being the ridiculously creepy jellyfish that's wrapping around our hero's body!) 
What I did like were the fine lines, the bubbles, and the character design. I liked the lighting and texture, too. But her pose didn't work for that crushing anxiety feeling. She feels too peaceful here like she's floating. And since the fish around her have big, curious eyes, it feels more cartoony. They're detracting from the overall mood of the scene, pulling the attention away from our hero.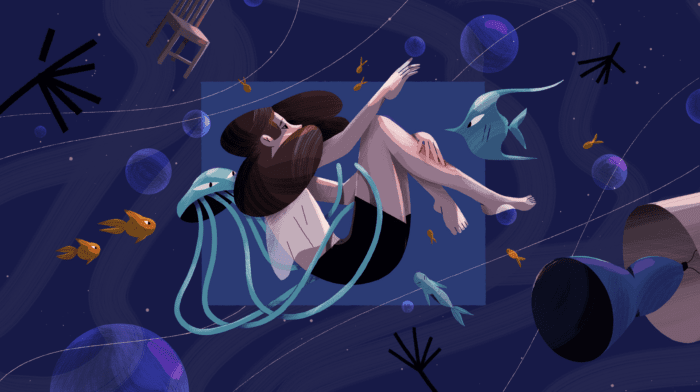 So I kept my process loose and gave it another go. I liked that this felt more surreal and epic like she was plunging into the scary depths of this dark world. I was super happy with it, and it felt really different from the type of work I normally do. This was the first frame I finished completely, and it continued to serve as a roadmap for the rest of the film's style.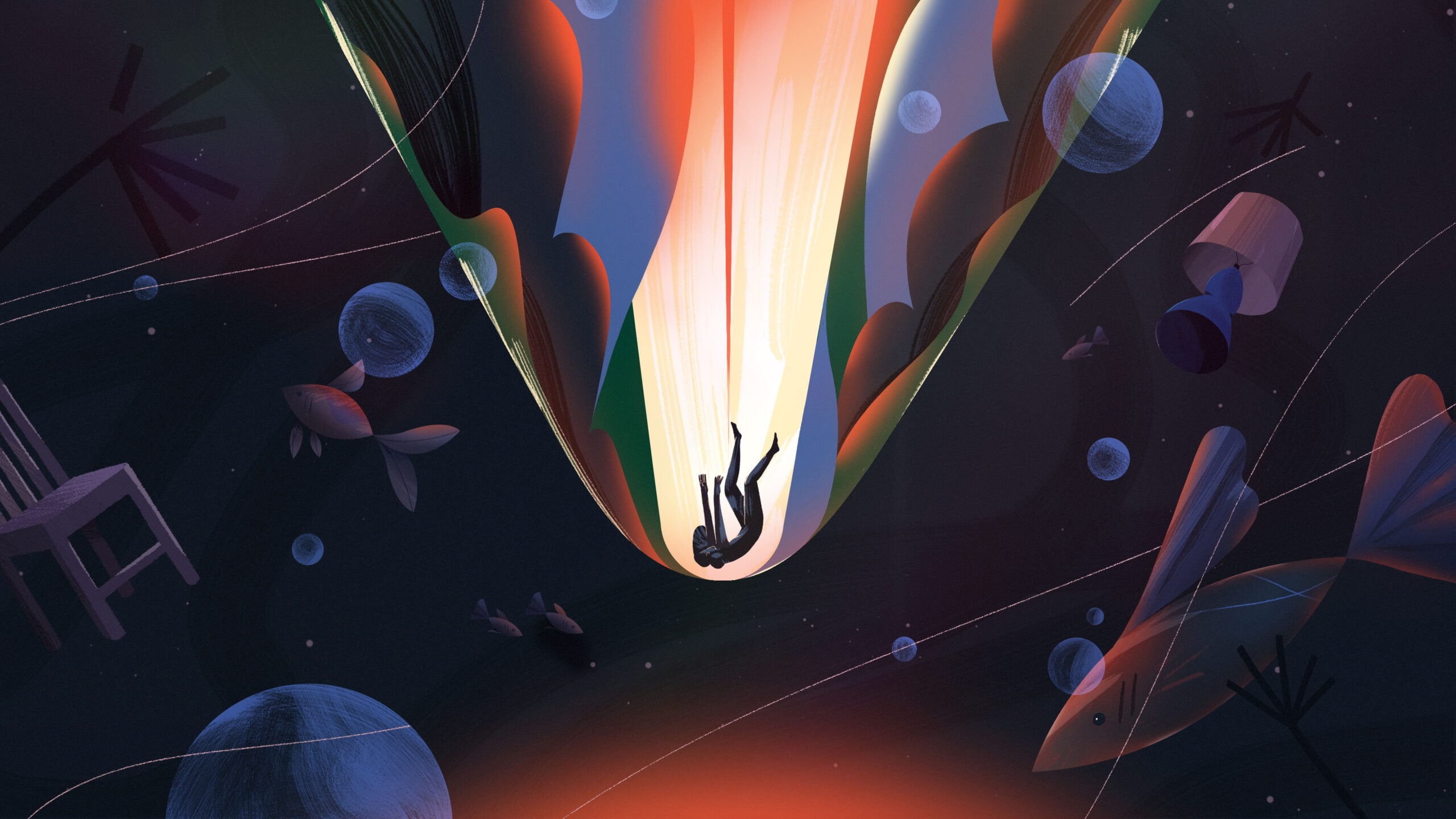 Tell us about your audio process and the people involved.
REBEKAH:
Jen Pague rules. She's our incredible composer and sound designer. Her ability to evoke emotion with music inspires us, and her project Vita and the Woolf made fans quick fans of Sarah, Taylor, and me. So Jen coming in to be the brains and heart of the music and sound design was a no-brainer. Audio can tend to be treated as an afterthought in the commercial animation world, but knowing the poem and music would drive so much of the storytelling, we involved Jen very early on in the storyboarding process. 
She came up with demos we used in the animatic phase to figure out pacing and tone. Then, once we were farther along with a locked edit, we let her loose on the whole score. That is her lovely voice as the narrator as well, a woman of many talents! To add the ever-important details, Jen did sound design on the film and brought in producer Sophie Coran who organized all the string arrangements and live sessions, along with Hope Brush, an audio engineer who did the final mix. 
What was your favorite moment or most fun part of the project? 
SARAH BETH:
Honestly, creating this film has been much more about connecting with the team and creating genuine, healing friendships than making an "award-winning" film. The collaborative process and the team itself was my absolute favorite part. I tried to organize group Zooms as often as possible, in which we just goofed around. I particularly enjoyed one moment when Collin Leix accidentally showed up to our hangout with a cloud filter on and couldn't figure out how to turn it off!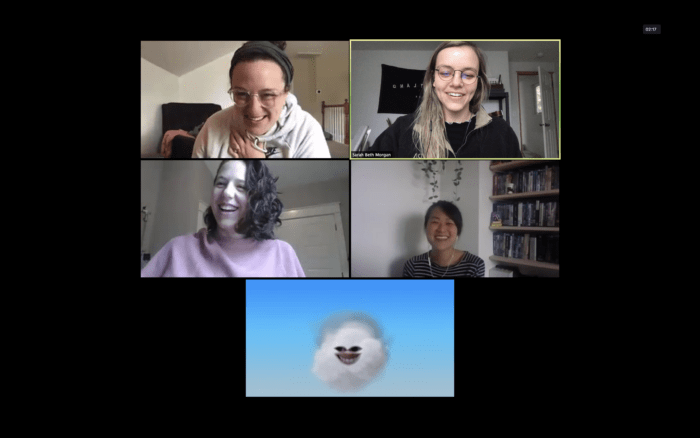 TAYLOR:
I remember being blown away every single time we got updates from animators. For several years we were living in our own secret corner of the animation world, building something together and constantly being impressed by everyone around us on the team. It was incredibly refreshing to feel inspired and in awe during such a heavy time. After production, two of my favorite moments were our first few screenings. I visited Sarah Beth in Portland in 2022, and we had the opportunity to test our film on a huge screen for the first time at a local theater. It was an absolutely surreal moment together that I'll never forget. Not long after, we premiered at the Brooklyn Film Festival in NYC and got to meet up with several crew members in person for the very first time and see our film live together. 
REBEKAH:
I'll gladly be a broken record here and say the team! The friendships we've forged are priceless, and it felt so special to celebrate our collaboration with some of the team in person at the Brooklyn Film Festival and at Pictoplasma in Berlin. I'm constantly floored by the positivity and eagerness to connect in our industry. The bonds with these women go beyond our jobs, and it makes me feel so proud of what we do and who this industry attracts. I'm gushing now. I ain't one bit sorry.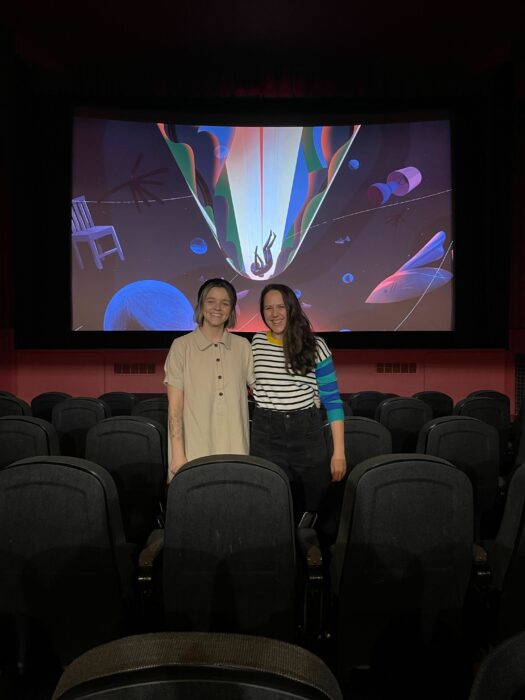 What advice would you give to someone going through bullying at school?
SARAH BETH:
I'd love to have our fantastic non-profit partner, Bloom Foundation, answer this question! 
"The first thing I would say to someone going through bullying at school is: I am so sorry this is happening to you. No one deserves to be treated badly and unfairly. But I also believe you can grow from this and come out stronger. And you can even create something beautiful from the experience like Sarah Beth and her team did with Between Lines when you are ready.
I would also share more about our Bloom core values: belief, perspective, purpose, habits, self-worth, empathy, growth to help shift their perspective and encourage them to grow through this challenging time."
Andi Long, Bloom's founder.
What's next for you and your team?

As usual, we're all striving for new and exciting things. We're keeping tabs on our friends from the Between Lines crew and staying in touch as much as possible! For us three, though, we may have some "ear snacks" in the works for you..
Stay tuned!
SARAH BETH MORGAN: 
Instagram: @wonderfall
Twitter: @SarahBeefMorgan 
TikTok: @wonderfallll
Website: sarahbethmorgan.com
TAYLOR YONTZ:
Instagram: @tay_blay
Twitter: @tay_blay 
Website: tayloryontz.com
Linkedin: Taylor Yontz
REBEKAH HAMILTON:
Instagram: @rebekahahamilton
Twitter: @rebekah_hami
LinkedIn: Rebekah Hamilton