CHICAGO – High-end editorial boutique Cutters is very proud to announce the return of Editor John Dingfield to its roster. The announcement was made by Cutters Studios President/Managing Director Craig Duncan and Managing Editor Grant Gustafson.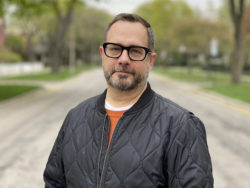 Since launching his career with Cutters back in 2000, Dingfield has established himself as a go-to editor for comedic and storytelling campaigns of the highest order. Crafted alongside creative industry leaders including Directors Brian Billow, Bryan Buckley, Lloyd Lee Choi, Craig Gillespie, Paul Goldman, Martin Granger, Erich Joiner, Wayne McClammy and many others, Dingfield's reel presents an epic journey into break-through advertising at its finest. After nine years with Cutters, he joined Beast in 2009 to anchor the firm's new Chicago operation. In 2018, he moved on to Whitehouse Post Chicago, before returning home to Cutters in May 2021. Atop scores of spots for illustrious agencies and brands that include seven Super Bowl spots, his most recent projects teamed him again with Billow (Ford Mustang Mach-E via Broadway Video), Goldman (Kansas Whiskey and ShipGo.com), and Choi (Walmart).
"John is an incredible comedic storyteller with impeccable timing," Duncan began. "His work on high-profile campaigns with top directors spans Ford, Capital One, State Farm, Raymond James, Fiat, CareerBuilder and Skittles, just to name a few. Having left our fold for a bit, built an incredible body of work and a wonderful group of loyal clients, our prodigal son has returned, bringing his quirky, offbeat sense of humor. Cutters has been on a great roll for the last several years, and we expect John's return to propel our momentum to new heights."
Reflecting on Dingfield's many strengths, his frequent collaborator Director Paul Goldman shared his perspective. "John creates stories that resonate with human insight, stories that move us in ways that last long after the first viewing," he said. "As a working partner John fully understands how to subtly advocate for the best cut while still leaving everyone feeling engaged with the creative process. Whether it's a fully storyboarded idea, or crafting vignettes to construct a narrative, John creates stories that leave us wanting more. And wanting more John."
"I've partnered with John for years on many commercial projects and personal films, and he is an editor like no other," added Director Brian Billow. "When it comes to comedic timing, choosing the best performances, film knowledge, and just being an all-around pleasure to work with, I can sincerely say there is nobody better."
"Starting out my career assisting Cutters Partners Kathryn Hempel, Tim McGuire, and Chris Claeys, I found my editing 'voice,' and discovered that I loved cutting comedy," Dingfield explained. "Thanks to Chris in particular, one of the first spots on my reel was directed by Christopher Guest, cut from a massive pile of improv footage he allowed me to play with. That has always been the atmosphere at Cutters: open, fun, creative, and collaborative."
Dingfield continued, "Cutters is a really special place that I didn't properly appreciate when I was coming up. When Craig Duncan and I started talking and I had the opportunity to return, I didn't think twice. Rejoining Cutters Studios is a homecoming in a lot of ways, and it feels great to be back."
To view the reels for Dingfield and all the Cutters editors, please visit http://www.cutters.com.
About Cutters
High-end editorial boutique Cutters (http://www.cutters.com) is the flagship brand of Cutters Studios. Staffed with dozens of award-winning editors, Cutters has the proven ability to create the most powerful visual content imaginable. Located in Chicago, New York, Detroit, Los Angeles, Kansas City and Tokyo, Cutters' talents are readily available to edit anywhere in the world.