Design agency Dallas Sthlm is awarded two international Red Dot Awards for the motion design project "Step into the Q" for venture capitalist company EQT Ventures. That's Red Dot number two and three for Dallas Sthlm, who has previously been awarded a Red Dot for the rebrand of public service broadcaster Kunskapskanalen in 2019.
EQT Ventures contacted Dallas in early 2021 to add new designs to its brand platform. To manifest its five year anniversary the company wanted to create six new "Power Qs" and an arty and spectacular anniversary reel. The "Power Q" concept stems from the Q in the EQT logo, which can morph and take on new materials and expressions. Dallas was commissioned to run freely with design and motion ideas for these new Qs.
Sometimes the design stars align. The new "Power Q" designs were created using a mix of imagination, motion design, and different 3D programs. Inspired by nature, tech, the universe, and big emotions the "Step into the Q" reel reflects EQT Ventures' fearless and versatile persona. The final motion and still renders are used in all EQT Ventures channels. Sound design and mixing by Darwood. Original brand design and logo by Bold Scandinavia.
"In our game, winning brands need to have constant change and creativity carved into their DNA, which also makes for great ideas", says Ted Persson, partner at EQT Ventures.
"We have worked our way up to a darn good place creatively and craft-wise, I'm not surprised by the fact that some people think we are a bigger agency judging by our output", says Charlotta Ribbefjord, CEO Dallas Sthlm.
"This kind of project really blurs the line between art and communication, creating a tiny space in between where anything is possible", says Anders Johansson, creative director at Dallas Sthlm.
Dallas Sthlm has been awarded two Red Dot Awards in the categories Motion Design: Computer Animations, as well as Brand Promotion: Motion Design.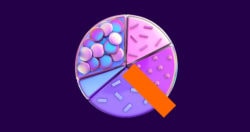 Team Dallas Sthlm:
Anders Johansson, creative director
Charlotta Ribbefjord, CEO
Anders Sundqvist, motion designer
Carl Norlander, storyboard art director
Christopher Lennerbrant, motion intern
Jonathan Skogh, Darwood Music
Linus Darland, Darwood Music
Team, EQT Ventures
Joao Beraldo, platform lead
Ted Persson, partner
About Dallas Sthlm
Dallas Sthlm is a design agency based in Stockholm, Sweden. Clients include TV4, DreamHack/ESL, Melodifestivalen, Bokus, Klarna, and Mips. Since founded in 1993 Dallas has designed and developed brands in sectors ranging from entertainment and telecom to gaming and steel.