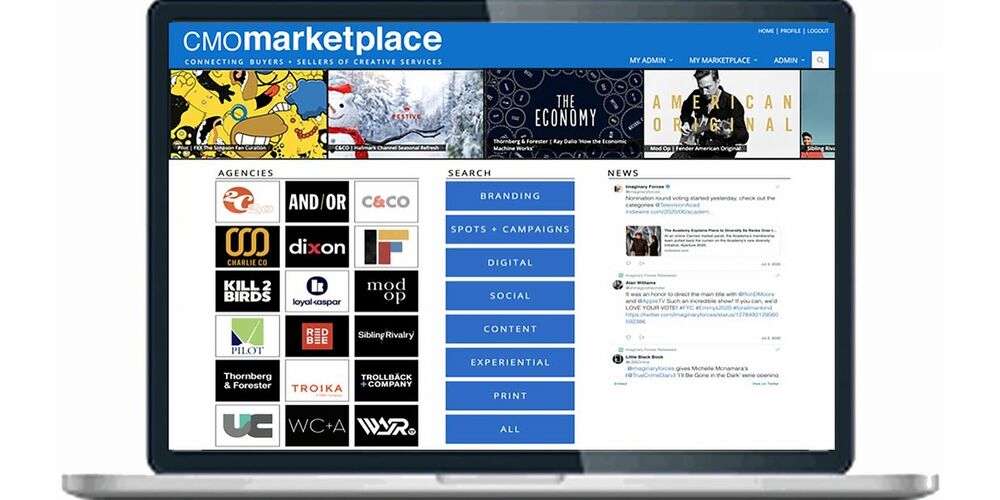 Entertainment Marketing Vets Disrupt the Agency-Client Relationship with Launch of CMOmarketplace
DENVER – October 5, 2020 – Entertainment marketing strategist Lee Hunt and business development expert Lori Pate have joined forces to officially launch CMOmarketplace, an intuitive, time-saving way to connect buyers and sellers of creative services. The new global portal, which offers a streamlined and painless alternative to the classic agency-client business development model, is accessible 24/7, and anyone can register for free.
Optimized for use from any computer, tablet or mobile device, CMOmarketplace uses advanced search capabilities that allow marketing executives at "client" companies (media companies, entertainment and corporate brands) to compare and contrast creative projects from dozens of vetted agencies. They can also browse agency showrooms, save work in "favorites" folders to share with others and follow agencies for updates on new work. A unified format makes it easy to learn about each agency, and buyers can direct-message agencies to request further work samples that can be viewed privately.
Conceptualized by Hunt and Pate even before the pandemic brought in-person meetings to a halt, CMOmarketplace draws on their respective expertise in entertainment marketing while incorporating the feedback they gleaned from numerous clients and agencies during a listening tour late last year.
"When you have an explosion of entertainment platforms, less time to market them and more and more creative agencies competing for that work, it can be overwhelming," Hunt explained. "This listening tour gave us the opportunity to build in shortcuts for buyers that both flatten the world and reduce the friction of connecting with creative agencies. CMOmarketplace is simply the right tool at the right time."
Since soft launching over the summer, more than 100 media companies have registered for the portal, which features the work of 22 talented creative agencies of varying sizes and specialties, from branding, spots and experiential to digital, social, print and more.
John Miller, Chair, NBCUniversal Marketing Council, said, "It's been a long time in coming – a terrific resource for buyers and sellers of creative marketing. As the media world gets more complicated, finding the right creative partner just got a little easier."
"I think CMOmarketplace is a really useful tool for my teams. Often, it's hard to remember a new agency's name, find their website and, once there, know what I'm looking at. This way, everything's in one place and searchable for the expertise we're looking for," said Robert Gottlieb, EVP Marketing at FOX Sports Media Group. "I'd trust anything brought to our industry by Lee and Lori, and they knew exactly what was needed."
"We're really hoping to change people's habits during this odd time, to get them used to this efficient, new marketing tool in the same way Zoom has become useful. When we conceptualized CMOmarketplace a year ago, of course we didn't anticipate the pandemic. Connecting buyers and sellers via an online marketplace was something we felt was already needed. The current COVID working model merely amplifies the need to connect more efficiently, with new practices we should carry into the future," said Pate, who has been focused on enlisting top agency talent to the portal.
While anyone can register and access CMOmarketplace for free, creative agencies – once vetted by Pate and Hunt – may subscribe to feature their work using one of three fee-based subscription tiers that offer a range of exposure and analytics benefits, including personalized data, trends and traffic analysis by Lee Hunt at the Platinum level.
About CMOmarketplace
CMOmarketplace is an online creative services exchange for the entertainment marketing community from industry veterans Lee Hunt and Lori Pate. The CMOmarketplace portal allows buyers of creative services to search project examples from dozens of vetted creative agencies across scores of category filters. Agencies are able to archive their project libraries and case studies, making them accessible to hundreds of potential buyers. Once connected, buyers and sellers can directly engage through the portal's proprietary messaging, social and news service. CMOmarketplace provides ease of use for buyers, scale of reach for sellers, and a community forum for entertainment marketers. For more information, visit www.cmomarketplace.com and connect via Twitter, LinkedIn or Instagram.