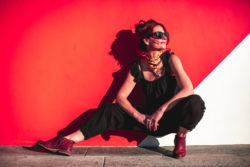 Richmond-based animation and design studio Hue&Cry announces it has tapped Sara Barnthouse's DeVine Reps as its talent rep to handle West Coast sales and representation duties. Led by Executive Producer Scott Friske alongside Creative Director Matt Darnall, the appointment further strengthens Hue&Cry's industry footprint in the animation and design arena in the Western territory for its lineup of creative talent. DeVine Reps' partnership with the Hue&Cry team will build upon the company's first-rate reputation within the advertising and entertainment industry realm across the region.
"Sara and I have known each other for over 15 years as I had the pleasure of working with her very early on in her career at Rock Paper Scissors," says Hue&Cry Executive Producer Scott Friske on Barnthouse's signing. "Since then, I've followed her path to becoming one of the top reps in the country. Her passion for the clients she represents, as well as the agencies and brands with whom she's maintained relationships, was the deciding factor in having her introduce our studio to the West Coast market."
Commenting on her appointment Sara Barnthouse shares, "Ultrachic, voguish, modern, and happening were all words that came to mind when I saw the style of work Hue&Cry was delivering. In seeing Scott Friske's name attached as Executive Producer, I immediately felt this familiar sense of arrival. Scott groomed my industry skills over a decade ago at Rock Paper Scissors and we've continued to keep informed of each other's successes throughout the industry."
Possessing a wealth of industry prowess and depth of relationships across the entertainment and advertising sectors, Barnthouse founded DeVine Reps after cutting her teeth and racking up production experience at companies like Paramount Pictures and Rock Paper Scissors prior to transitioning to the rep side. Briefly working alongside Steven Monkarsh before setting up her own shop, she launched DeVine Reps signing her first client, editor Andrea McArthur's NYC edit house Peep Show Post. From there, other notable clients along the way that followed included Independent Media, Brickyard, General Editorial's Noah Herzog, Jingle Punks, and Great Guns.
DeVine's current roster hosts a bevy of the industry's hottest talents including Colin Tilley's new production company Boy In The Castle, most recently on the radar for Cardi B's "WAP" video and J Balvin's McDonald's spot. Female and minority-owned production house Cortez Brothers including Mexican directing duo The Flaminguettes, Thinking Machine's identical twin brother comedy twosome Dr. Twins, bi-coastal music house MAS, and feature film and advert editor Alexandro Rodriguez, known for his work on Alfonso Cuarón's Y Tu Mamá También/Children of Men, make up more of her team's clientele list.
"DeVine Reps has recognized a growing demand to satisfy the animation genre on our roster and was patiently waiting for the right fit and with Hue & Cry, we have landed it," states Barnthouse. "The style of work, the pedigree of the players, and the efficiency of Scott's efforts gives our sales style a firm backbone. I look forward to elevating the brand and making it more VIP amongst agencies and brands."
"Sara's energy and commitment are a direct reflection of the company we've built and we are confident she and her team will position Hue&Cry as a viable option for design/animation projects with the West Coast's most talented creatives. We are very proud to be joining her accomplished roster," adds Friske.
The addition of DeVine Reps rounds out Hue&Cry's dynamic nationwide sales force, which includes Mo Butler Reps for the Midwest and Anna Rotholz Management for the East Coast.