Destiny, the newest shooter from Bungie (Halo, Marathon) and Activision, launched recently, uncorking months of anticipation and speculation.
The game's cinematic opener, produced by Prologue, sets up the backstory: Humans have landed on present day Mars and discovered a mysterious object — The Traveler — that will play a central role in the missions you and your friends will undertake over the course of the game.
The opener itself is an ambitious mix of photoreal vfx and motion design undertaken by two directors who honed their craft while working together at Prologue, Ilya V. Abulkhanov & Simon Clowes. If you're a Motionographer regular, you know their work.
Both of them were kind enough to answer some questions about the Destiny project, shedding light on their collaborative process.
Q&A with Ilya V. Abulkhanov & Simon Clowes
When I last talked to you guys, I think you were both still at Prologue. That was a while ago. When did you leave and what have you been up to since then?
Ilya I left Prologue in May a few months ago after 8 years. I needed to simply take time off and have a bit of a pause!
Simon I am currently still at Prologue. I am now using Ilya's speakers he left behind.
Is this the first project you've collaborated on?
Simon We have worked together at Prologue in some capacity in the past, but I feel this is the first project that we have collaborated on this closely — and also the one with the biggest scope and complexity.
What was the division of labor for this project between the two of you? Who was responsible for what?
Ilya It was not at all part of our initial discussion to set boundaries and assign specific roles.
Although I may be speaking subjectively, to "know your place" in the pipeline can sometimes be an unsatisfying experience. It may work well from the perspective of division of labor and speed of production, when each person has a specific role within a pipeline.
In general, there was less of a division and more of a common vision.
Simon For the duration of the project and even leading up to the initial pitch presentation, our solutions for visualizing the script or ways of thinking about the execution complemented each other in many ways.
We have both produced stylistically different work on past projects, and fusing both sensibilities proved to streamline the process as opposed to hindering it (which could easily happen when there are two creative voices in the room). We had a very open dialogue with the artists that often was not just left to reviews. We tried our best to make decisions together before discussing direction or providing feedback to artists in order to avoid confusion.
Being set up in the same secure room allowed us to be fully immersed in each others ideas and enabled communication to be a lot easier.
The pitch
I imagine this job was highly competitive. It seems like a dream job for a director to get. What was the pitch process like?
Simon Bungie approached Prologue to pitch in late 2012, and we were aware that we were most likely pitching against some very well established studios in the business of making cinematics as their bread and butter.
Ilya The advantage we had was that the client contacted us because the team at Bungie liked both Prologue's work in general, and referenced the OFFF live action titles done in 2009.
Simon This was new territory for us on a technical level, but at Prologue we have always tried to place a strong emphasis on concept and storytelling. Myself, Ilya and Lisa Bolan made the original pitch presentation, and we explored what the texture and language of the film could be and focussed on the details of the script we were provided as a priority.
Once the job was awarded, we broke down the story into sequences and collaborated with storyboard artist Doug Stambaugh to sketch out every shot and experiment with camera angles and compositions until we were happy with how the story was told on paper.
Ilya I animated each scene for timing purposes and edited the animatic to a rough sound-design which I mixed myself so as to help "sell" the vibe and tone of the piece.
The hype
Were you aware of the hype around Destiny when you started working on this job? Did that bother you or distract you in any way? 
Ilya I wasn't aware of it at the time, but got really excited when I learned about the game and — more importantly — when we were introduced to the amazing team behind the game at Bungie.
Simon I would have to agree with Ilya in that it was more of an excitement to work on something different. Every project has its challenges, but attempting something new for the first time, especially understanding the scope of what we were about to take on pushes you positively in every way, creatively and mentally.
Did you get to play the actual game at any point? If so, how did that inform your creative direction?
Simon Yes, we were given access to the Alpha and Beta versions so we could get an overall feel for the game during the testing phases.
The most valuable experience that informed the creative direction was talking to the talented artists at Bungie when we would visit the studio. Every new piece of concept art or demonstration we given inspired the Prologue team. Bungie naturally knew their game inside out and we would often be taken through aspects of the game and shown concept art that served as inspiration.
Playing with time
You use an interesting technique around the 1 minute mark, wherein pops of different color correction and matte paintings are swiped in and out. What was the story behind that creative decision?
Simon I wanted the film to feel like it was constantly alive and approached the terrain and sky as if they were characters themselves. We discussed the introduction of subtle shifts of color and light which would in turn affect the shadows as a way to achieve this effect.
The environment had to feel abnormal in some respect and when researching photography of Mars via available imagery provided by NASA, it appeared that the sky was not always the marzipan color one would imagine. I decided to take license and create multiple grades of the same shot in DaVinci Resolve, varying the color and texture overall but paying close attention to the sky and terrain.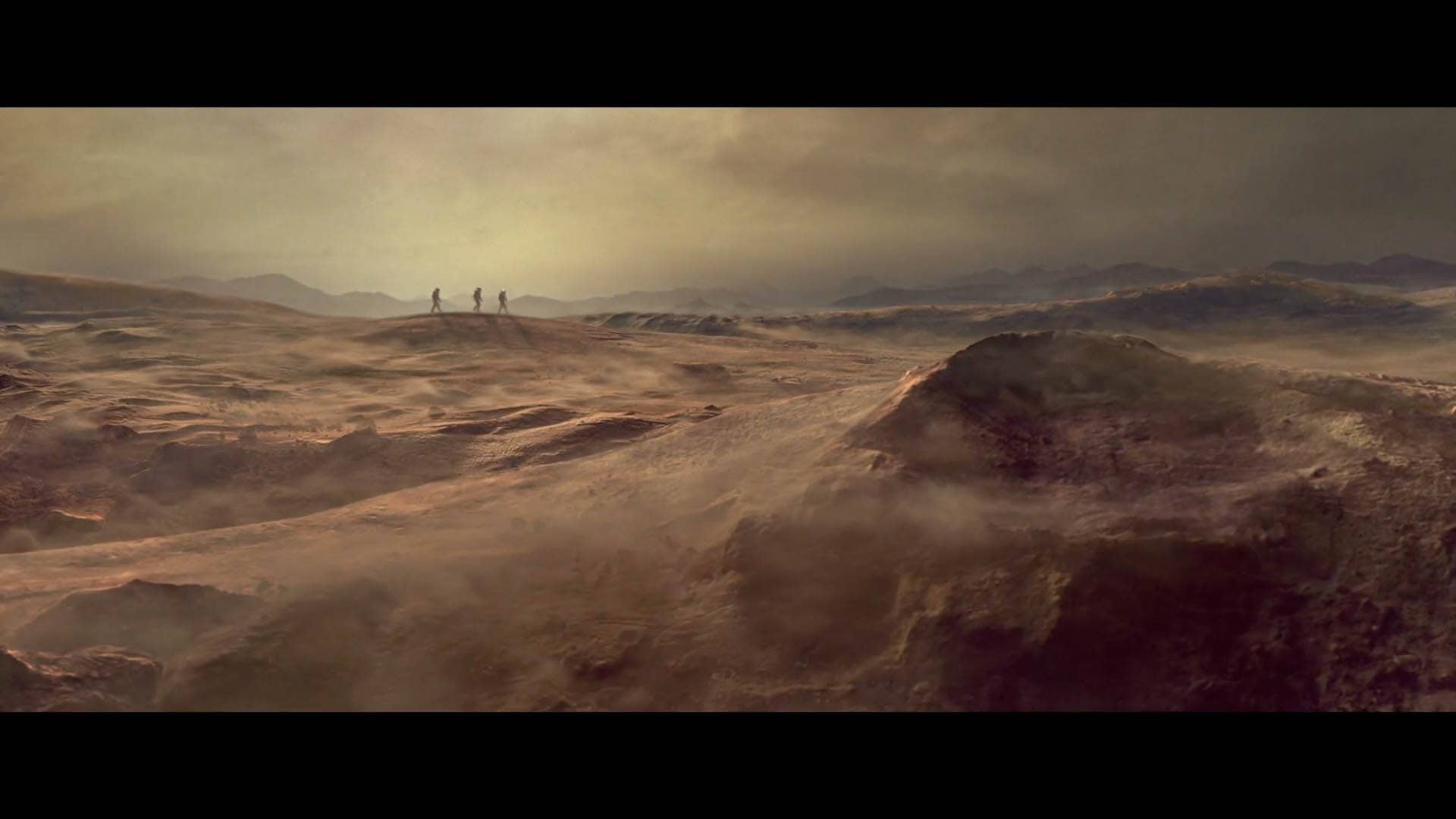 Making use of the way the software allows you to make "versions" of different grades and use mattes provided from the compositing team, it provided a way for me to have total control of the color of different elements in the shot.
Ilya Myself and Lee Nelson worked closely both in Nuke and AE to make the lapse of time seem slightly more than just jump-cuts. I thought it would be interesting to swap the horizon line to suggest both a stylized time-lapse and the fact that we are literally playing with scenery — just because we can.
A life's work, times two
I feel like this project touches on both of your portfolios collectively. It's anchored in a live action aesthetic, but there's obviously a strong design and editorial sensibility driving everything. Does this feel like the culmination of your work to date?
Simon This is definitely a culmination of everyones contribution to the job. Being something that Prologue had never attempted before got everyone really passionate and focused on ensuring it would be something would be proud of.
I am used to being on set and often dealing with all the time restrictions that accompany filming live action so it was great to be able to experiment in the camera in 3D space and not be concerned so much with time (to a point, of course). That being said, myself and Ilya both agreed that the camera should be controlled, grounded and be used as if we are shooting live action.
Ilya It was definitely a collective effort, a constant collaboration between creative direction, production, and our CG team that did amazing VFX work, let alone the fact that we did so much motion capture to have our character animation come across as subtle and as believable as possible, which was super exciting for everyone.
Collaboration and respect
I've worked on some game projects, and I know the level of story development can vary wildly by the time you have to engage on the project. How fleshed out was this script? How much collaboration was there and what was the story development process like?
Ilya Bungie was an amazing client. They liked us, and we liked them — along with their creative suggestions and input.
In terms of the script, there were a few formal changes in terms of the narrative, which we quickly accommodated. In terms of design, the team at Bungie were very collaborative with their notes on the costume design, as well as the spaceship and all the gadgets. I personally am quite proud about the backpacks the astronauts have and the analog map that is attached to one of the astronauts.
Simon Besides their talent and great personality, it was a pleasure working with their team because they knew what they were talking about, they had a clear vision and each modification to story made perfect sense.
Dissecting the Starmap
The last third of the opener switches presentational modes from live action to a more expository approach buoyed by motion design. What was the thinking behind that decision?
Simon Both sequences were actually created months apart from each other, the later being the "Starmap" sequence.
While the intent of the Mars section of the sequence is to explain the discovery of the Traveler itself, the second part is intended to narrate its backstory and importance of its arrival to our solar system.
Prologue was provided an animatic outlining what Bungie wanted to communicate along with in-game reference for the aesthetic of the menu systems. There was very clear reference of the look Bungie was gravitating towards for this section. This being said, to provide additional options, we presented at least seven or eight different takes on the sequence.
Designer Christian Antolin then intricately drew out all the line work in Illustrator and created original artwork for the space backplates, planet illustrations, and developed the 2D aesthetic of The Darkness. I then worked with Gabriel Diaz on editorial to get the pacing figured out with the VO. For animation, it was time to call upon an old friend Takayuki Sato, who we teamed up with to animate and composite the sequence.
Looking ahead
What's next for each of you? 
Simon At this point, the most I can safely say is that I desire to continue to develop as a director and engage in this genre of work.
Looking forward, I believe it is ever so important to stay true to the design and graphic sensibilities which have provided a foundation for the experiences I have had to date. Bridging design sensibilities with film making and directing in a longer format is something that is not new, however I feel there is more to explore in drawing upon these traditional skills and applying them to a new way of visualizing a film and storytelling.
Ilya The short answer would be: I don't know.
I think the video game industry is now converging with the film industry, which has become quite apparent. TV series have a bit of a renewal going on, so there is an opportunity for work there as well.
I think a lot of directors / designers are approaching a real capacity to make features or work within a narrative that is more interesting than something that simply sells well. But we are influenced very much by the society we live in, and "things need to sell and profits must rise, right?" So the question can become: If that is the direction we continue to head in, who would be interested in doing something that is sort of independent from all that salesmanship?
I don't know if there is interest in that kind of independence.
Credits
Studio: Prologue Films
Directors: Ilya V. Abulkhanov & Simon Clowes
CG Supervisor: Lee John Nelson
Producer: Armando Plata
Executive Producer: Unjoo Byars
Production Manager: Paul Alexiou
Animation Supervisor: Mitch Gonzalez
FX Supervisor: Allan McKay
Lighting Lead: Daniel Hayes
Compositing Supervisor: Sam Edwards
Character Modeler: Dan Katcher
Lead TD: Michael Fisher
Rigging TD: Peter Christensen
Animation: Brian Wyser and Colin Cromwell
Lighting: Desiree Lunsford and Patrick Vidal
Compositing: Siobhan Lo, Jessica Laszlo, Andrea Caretta, Sarah Brooke Grossmann, Nabil Schiantarelli & Ilya V. Abulkhanov
FX: Hnedel Maximore, Benjamin Liu and Patrick Schuler
CG Artists: Bora Jurisic and Jeffrey Dietrich
Matte Painter: Matthew Gilson
Concept Artist: Gavriil Klimov
Texture Artist: Paul Fedor
Previs: Zac Cavaliero and John Velazquez
Storyboard Artist: Doug Stambaugh
Storyboard Animatic: llya V. Abulkhanov
Editor: llya V. Abulkhanov
Colorist: Simon Clowes
Systems: Dylan Harper and Kevin McCartney
Managing Director: Kimberly Cooper
Mocap Artists: Scott Levy, Mikal Vega and Mitch Gonzalez
Motion Capture Services: Activision Capture Studio
Additional Fluid FX : Fusion CI Studios
Star Map Sequence
Director: Simon Clowes
Producer: Armando Plata
Executive Producer: Unjoo Byars
Designer: Christian Antolin
Animator: Takayuki Sato
Editor: Gabriel J. Diaz
Client: Bungie
Story / Creative Direction feedback: Jason Jones
Creative Director / Project Lead: Christopher Barrett
Producer: Dave Dunn
Director of Marketing and COO: Pete Parsons
Associate Producer: Scott Taylor
Technical Feedback: David Parker
Concept Support: Joe Cross
Story / Brief: Joe Staten
Budgets: Harold Ryan
Character Art Feedback: Shikai Wang
Localization Feedback: Tom Slattery
Weapon / Vehicle Feedback: Tom Doyle
Art Feedback: Ryan Ellis
FX Feedback: Steve Scott
Environment Feedback: Michael Zak
Animation Feedback: Bill O'Brien