LA-based Gentleman Scholar have joined the growing number of animation studios seduced by the creative possibilities (and technical challenges) of virtual reality as a storytelling medium. 
"Truffle Pig" is the story of a man and his pig on their daily morning expedition into a dark forest in search of truffles. Their journey is interrupted when the two suddenly find something far more intriguing than a mushroom.

The experience becomes immersive upon their unexpected discovery, transporting the viewer into the body of our hero. It is now up to the player to find their way home through a series of visually striking – and sometimes perplexing – settings and milestones.
The full experience can be downloaded for PC via the Gentleman Scholar website.
Making Of
The illusion of control
Echoing some of the ideas put forth in our recent op-ed ("Virtual Reality is not Filmmaking"), Gentleman Scholar co-founder Will Campbell explains that putting the user in control was a tricky challenge:
The biggest technical hurdle for us was putting the control in the hands of the viewer while still staying in control of the narrative. There's definitely a difficult balance that needs to be walked there, so that people have an enjoyable experience and don't get frustrated — and also end up in the place we want them to be, feeling the things that we want them to feel and seeing the moments that we've planned out for them while still maintaining the illusion of control.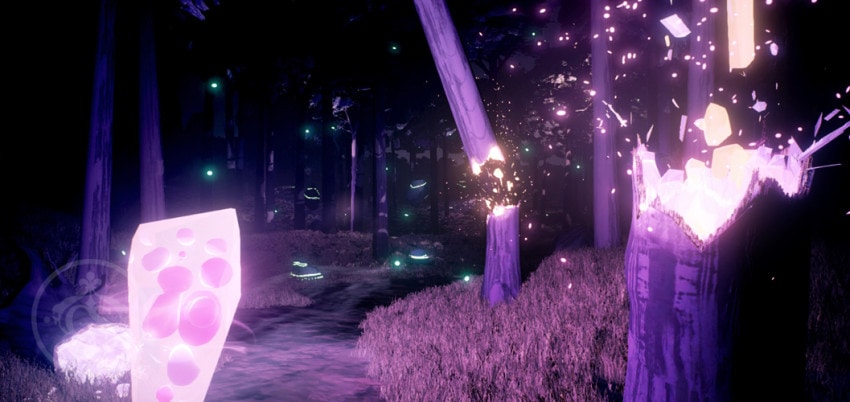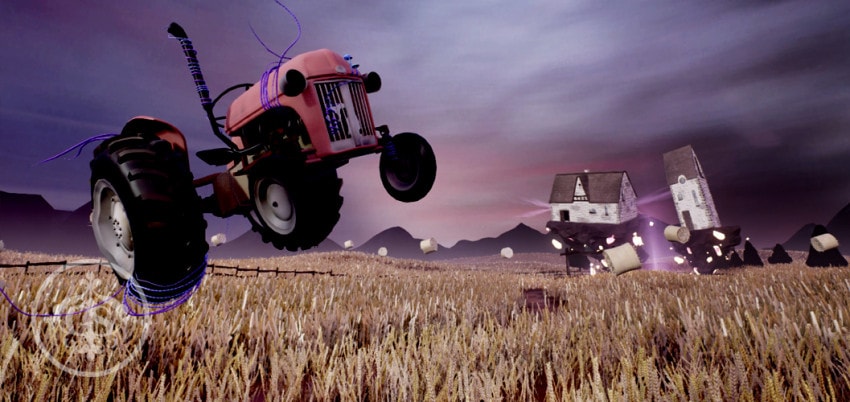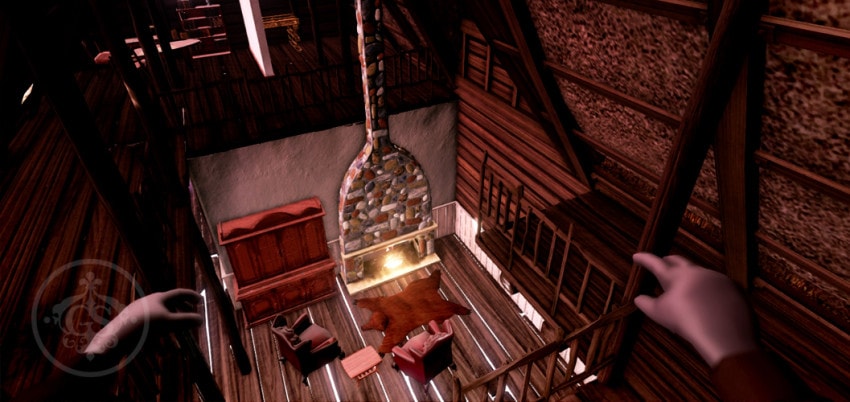 Moving from 2D to 3D
"Truffle Pig" started as a 2D short and then evolved into an experiment in real-time narrative. While the project itself shifts modes from 2D presentation to real-time 3D (using the Unreal engine), GS wanted to make sure the painterly aesthetics stayed as consistent as possible. Says ACD John-Patrick Rooney:
Transitioning from 2D to 3D, we made sure to really retain this illustrative style, even when texturing all the assets, we would take the exact same Photoshop brushes we were using to create the original concept art and use those to texture all the elements to really experience two worlds in two different forms.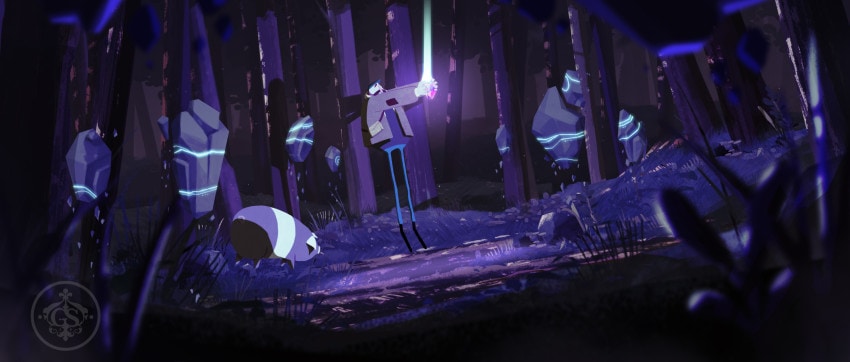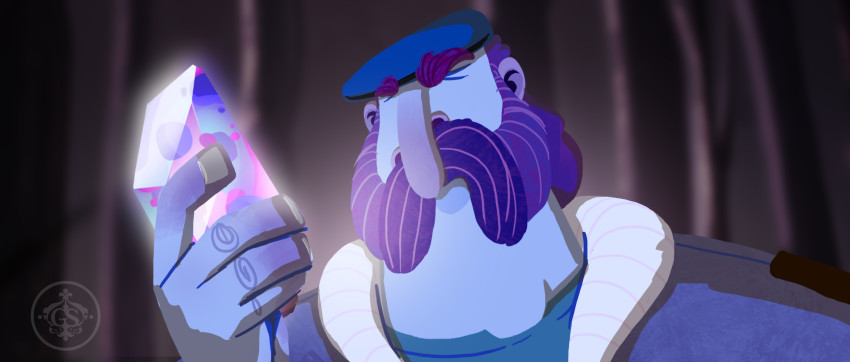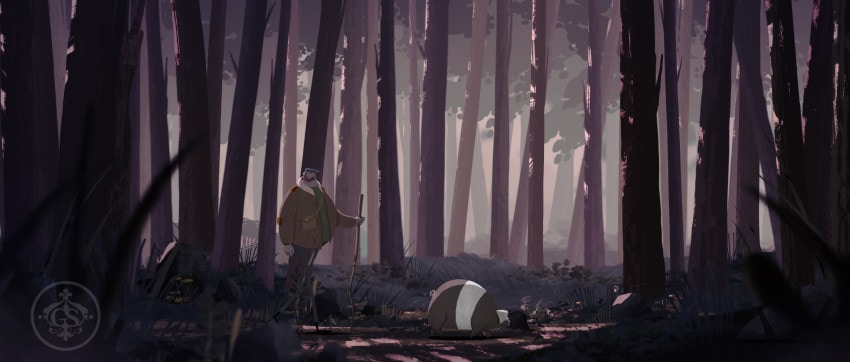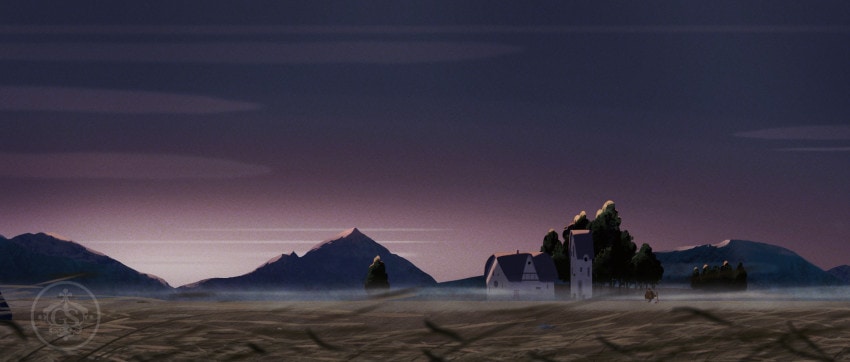 Striving for something more
On their project page, Gentleman Scholar closes with some inspirational thoughts on VR:
The world of VR is still very much a work in progress. At the moment, it is an added dimension, an extra layer of immersion that requires the viewers to become familiar with the usability of the devices before the storytellers can then push the limits of reality.

We can carry our design-driven mentality into the world and art direct a beautiful environment, but we want to create something more. We want an emotional connection, a story. Our hope for the next steps of VR is to begin to see another level of interactivity aside from simply sight and sound. For now, we are absolutely ecstatic about the direction of the medium itself and cannot wait to conjure up another story-driven adventure.
Credits
Production Company: Gentleman Scholar
Creative Directors: William Campbell & Will Johnson
Executive Producer: Jo Arghiris
Head of Production: Rachel Kaminek
Associate Creative Director: John-Patrick Rooney
CG Lead/Unreal Developer: Tim Hayward
Art Director: Trevor Conrad
Producer: Sabrina Futrell Designers: Sarah Beth Hulver, Macauley Johnson, Jordan Lyle, Michael Tavarez, David Park
Lighting/Look Development: Ovi Bogdan
Cel Animator: Harry Teitelman
3D Generalist: Ben Grangereau
3D Modeling & Texturing: Tiffany Chou, Caleb Ollivant, Xiaoya Zhao
2D Animators: Sarah Beth Hulver, Macauley Johnson, Shawn Lee, Lauren Tom
2D Compositor: Justin Mays Music – Intro Video: The Purge – David Wingo & Explosions in the Sky
Music – VR: The Light – The Album Leaf