Note: If you support Motionographer on Patreon at $10 or more per month, you'll get access to the source files for the gardener shot from the final animation. Join us here.
---
In this juicy making-of post, Michelle Higa Fox (Slanted Studios), Erica Gorochow (PepRally) and David Kamp reveal the process behind creating Motionographer's launch video for its Patreon campaign.
Let's not waste any time! Dig in!
The Team
Justin Cone When we decided to launch a Patreon campaign, we knew we needed a video that would be:
fun
informative
authentic
That last word, "authentic," gets thrown around a lot. But it's important. It means that we had to believe in everything we said and — just as importantly — the way we said it.
So it made sense to turn to two people who had helped shaped Motionographer directly, Michelle Higa Fox and Erica Gorochow.
At various times in Motionographer's history, Michelle has saved Motionographer from certain doom, running the site as I disappeared into my various day jobs. She's always had a clear vision of the role Motionographer should play in the industry.
And while I was working out of NEW INC in New York City, Erica not only contributed as a writer, she helped me re-think the value of Motionographer and believe in what it could become.
So when they agreed to make the Patreon launch video (at a steep discount, I should add), I was elated. With Slanted producer Jennifer Vance on board, it was the perfect team.
Erica Gorochow I've been following Motionographer since it was Tween. It's not an exaggeration to say the site helped me to find my career. Taking on this video on was a no-brainer, not to mention a huge honor.
This past fall, I moved my office from NEW INC to Slanted Studios. Michelle Higa Fox, the owner of Slanted, has long been a friend, even a mentor. We have wanted to collaborate on something for over a year. Michelle's been a part of Motionographer longer than myself. So this seemed like a perfect opportunity to combine forces.
Writing
Justin I wrote a two-column script, with voiceover on the left and visual ideas on the right. The earliest version was too wordy, and it lacked "oomph."
So Erica jumped into the Google Doc, and we started making edits. We whittled it down to about a minute, with me doing scratch voiceover recordings to make sure it all worked.
Justin I set up a super professional "recording booth" in my closet, but I wasn't convinced it'd be much better than my office setup. Here's a test of both rooms. I say the word "'plosives" a lot.
Design
Erica It was fun making something expressly for your peers (though also crippling if I thought about it too much).
One of the challenges was trying to pay respects to the breadth of what motion design can encompass: from VFX to collage to claymation and everything in between. We also wanted to pack the video full of technical jokes, especially for AE users.
Erica We hoped to give viewers a reason to watch more than once. By nerds, for nerds.
Personally, I don't always get a chance to design and animate characters, so I relished the chance to use this project as a creative excuse.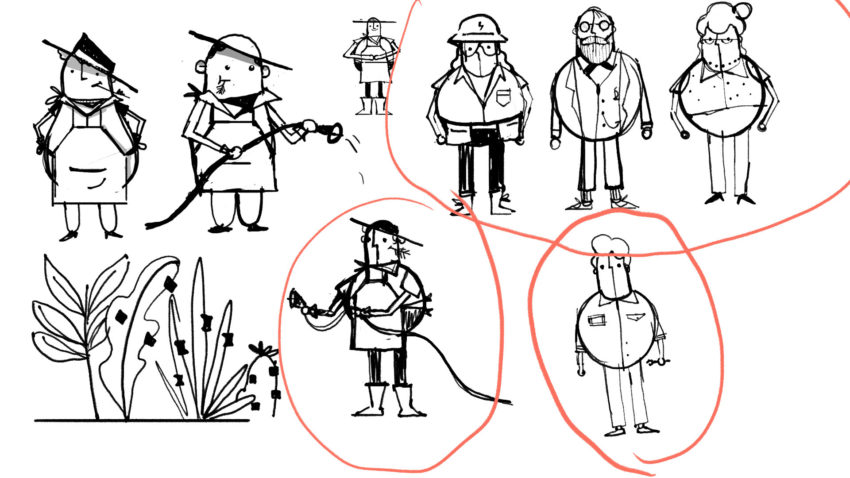 Erica Characters helped us to get a little weird and move away from something overly see-say.
Erica I also have to thank Michelle for steering me towards mixing photos with the illustrations vs. staying fully illustrated. (I don't know if she's fully embraced shape layers, but in my mind, that's the challenge-turned-gift I gave to her.)
Production
Michelle Higa Fox This is a comparison of our earliest storyboards, some work in progress and the final render. We locked our basic structure at the script level, but I had completely forgotten how much the 10 sequence and the overall color palette had changed over the course of production.
Erica Overall, the production process was filled with a lot nostalgia and laughs. It always helps to have a client that really gets the production process. (Thanks, Justin).
Erica And it was especially great to work with some of Slanted's younger staff: Ana Kim and Tynesha Foreman. They both really rose to the occasion and infused each shot with a lot of detail and love. Directing is always easier when your team is talented.
Jennifer Vance Watching Ana and Tynesha get challenged with new styles and techniques was really wonderful. We couldn't have done this project without them. Ana really blew it out of the water with those dollar dollar bills.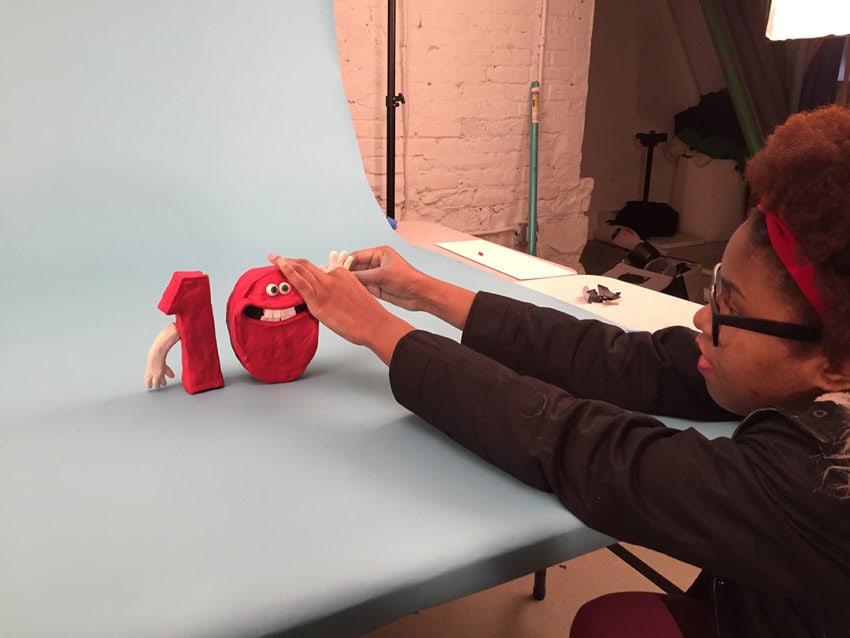 Michelle We had a lot of fun brainstorming ideas for 10s – I hope people recognize all of the techniques.
The paper craft and claymation 10s were shot practically. We shot all of the hands in the spot as both video and stop-motion, but found that pixilation gave a much more compelling, exaggerated performance than video.
In addition, the high-res RAW files were much easier to deal with in terms of VFX and color correct. So, when in doubt, we recommend shooting stop-motion!
Michelle From the beginning, Erica and I wanted to do a mixed-media style that mashed up collage with flat design.
The typing sequence was the most heavy duty sequence, but also the most satisfying. We actually had to shoot the hands two separate times and VFX together different takes, as well as different forearms/biceps.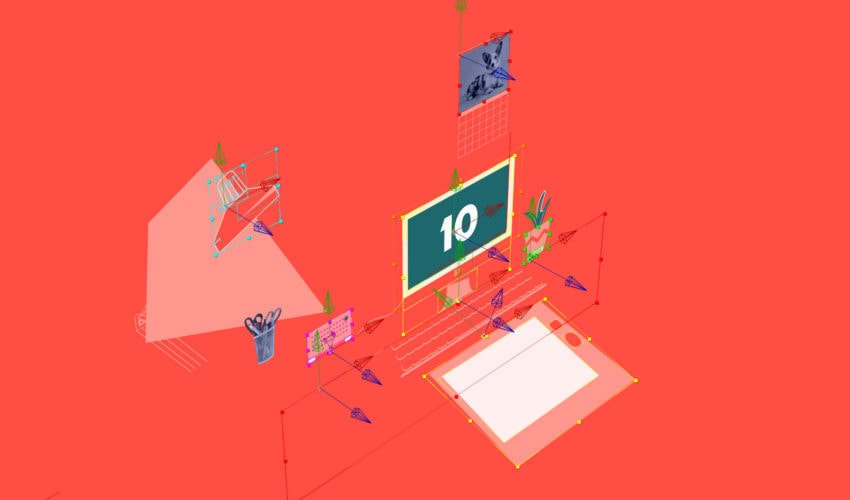 Michelle Even though the bulk of the spot is in a flat, graphic style, we still used true 2.5D space to build the scenes.
Music and sound design
Justin Working from his studio in Germany, David Kamp created all the music and sound design for the video. All of us — Slanted, PepRally and Motionographer — were ecstatic that he agreed to take on the project (again, at a steep discount).
David Kamp It was fun to collaborate with Justin and the team on this project.
One of the challenges on this piece was balancing all the audio elements that were happening at the same time. It was a tricky mix: There was Justin's VO throughout the whole piece.
I wanted to compose a piece of music that was intense and moving things forward all while there where many distinct visual actions happening that needed sound effects. In the end, I think we found a nice balance but it took a bit of experimenting to dial in all the elements.
Sheep outtakes
David Also, in case you were wondering: the "render fail" sheep sound is my own voice. Over the years in my work in animation I've voiced dogs, cats, mice, flies, mosquitos, birds, rats, giants and other creatures – but sheep were a first."
Source files: Gardener Shot
Justin If you support Motionographer on Patreon at $10 or more per month, you'll get access to the collected source files for the "gardener shot" from the final animation.
Michelle Very excited to share some of our scene files.
Little known fact: Slanted Studios almost never uses shape layers. This was our first project using a ton of shape layers, RAY Dynamic Color and RubberHose. We couldn't have had a better shape layer mentor than Erica. :)
There's some handy expressions included that helped us in production, like one that dynamically grabs the comp name and another that grabs the frame number.
Credits
Production Company: Slanted Studios & PepRally
Producer: Jennifer Vance
Directed by Erica Gorochow & Michelle Higa Fox
Design/Illustration: Erica Gorochow
Animation: Ana Kim, Tynesha Foreman
Additional Animation: Yussef Cole
Music & Sound Design: StudioKamp
Special Thanks: Gabriel Pulecio, Erin Kilkenny, Dan Savage